H3C Partners with ACA to Empower Malaysia's Digital Economy
14-05-2020
[Kuala Lumpur, Malaysia, May 14, 2020] H3C and ACA Pacific Technology ( "ACA Pacific") recently announced their partnership in the Malaysian market, during an online "H3C & ACA Partner Launching Event". ACA Pacific Technology, a well-established regional distributior, has served the Asia-Pacific markets for more than 30 years by providing expertise in selecting and integrating superior software and hardware, which meets changing business dynamics. This represents a new milestone in H3C's continuing quest for business innovation and digital transformation alongside global partners.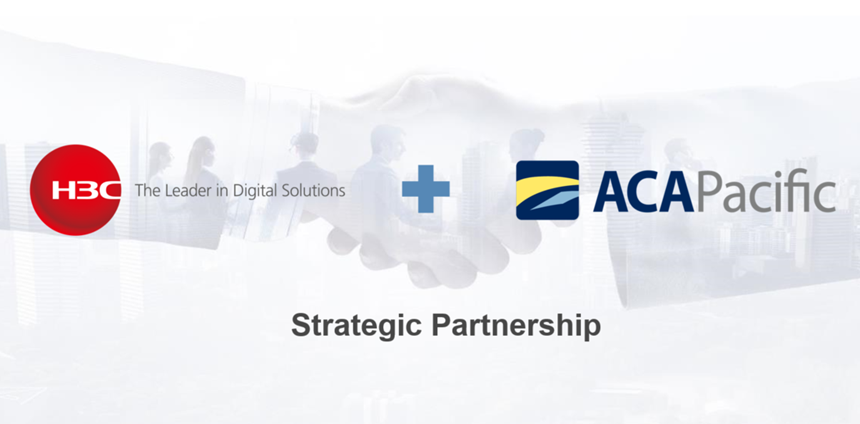 "H3C is thrilled to cooperate with ACA Pacific in our quest for digital transformation. We believe in the ongoing progress for H3C and our shared growth with ACA Pacific in the Malaysian market," said Gary Huang, President of the International Business Department and Senior Vice President of H3C at the launching event. "As an industry leader in digital solutions, H3C heavily invests in research & development (R&D). Among a number of over 13,000 employees, more than 50% are R&D personnels. H3C also invests a total of 17% of its revenue to R&D. To this day, it has more than 10,000 patents and 90% of them are innovation inventions. Based on these figures, H3C has very clear strategies of primarily providing the best products and technologies."
While introducing the latest development of H3C's global business, Gary Huang said that H3C currently has seven global offices, including one in Malaysia, and plans to open several more global offices this year. He emphasized the importance of H3C's integration into the Malaysian market since it was first launched in August 29, 2019, which is the first stop of H3C's global exploration.
Among their key global developments, H3C held an online NAVIGATE 2020 summit, titled "Smart-Volution", officially launching its new AI in ALL intelligence strategy that will provide new insights in the era of digital transformation and serve as an effective guide to H3C's new Digital Brain Project 2020. The Digital Brain Project 2020 will help achieve digital solutions, ushering the evolution of original business empowerment platforms into cloud and intelligent platfforms, in an effort to build a core engine for the Digital Brain and strenghten its key component capabilities through full AI integration.
"In our global layout, Malaysia is a crucial market for H3C. We have launched solid businesses in Malaysia alongside our partners and channels with a full-service solution, including H3C's Application-Driven Campus (AD-Campus) Solution which received very positive feedback," said Gary Huang.
Following a channel-first strategy, as of April 2020, H3C has signed with a total of 158 overseas partners, with 58 sign-ups in Q1 alone. In fact, the overall channel activation rate has sharply risen from 12% to 22% in the beginning of the year.
When speaking about the collaboration with H3C, Craig Gledhill, CEO at ACA Pacific Technology said, "There is wide recognition for H3C's leading role in digital solutions in the ICT industry. We appreciate H3C for selecting us as their trusted partner to jointly enrich the Malaysian market. It's an honor to officially join H3C's team of partners and we look forward to being part of its growth within the current challenging environment."
Malaysia is actively embracing the digital economy, consistently increasing its investment in the ICT fields. Through strategic collaboration with partners including ACA Pacific, H3C will pursue its channel-first strategy inside and outside China; ultimately, becoming a leading player in the Malaysian market.