NAVIGATE 2020: H3C Empowers Carriers to Lead in the 5G Era of Innovation
23-04-2020
At NAVIGATE 2020, a forum themed at "H3C Empowers Carriers to Lead in the 5G Era of Innovation" was launched on April 21, where H3C and technical experts from various industries shared the insights on the convergence of 5G in different industry scenarios, the evolution of 5G networks and the innovative technologies for building 5G networks.
China is accelerating the construction of new infrastructure including 5G networks infrastructure. Under the background, 5G networks infrastructure will hence become more open, and the construction costs will be lowered through full cloudification of networks, with an improvement on cloud availability and agility. In the meantime, 5G will be entering into the vertical markets of government and enterprises to birth new industrial ecosystems in the future. Driven by industry-wide convergence to 5G, carriers will be empowered to open up new markets and speed up industrial innovation.
Open and Converged 5G Facilitates a More Intelligent Future for Industries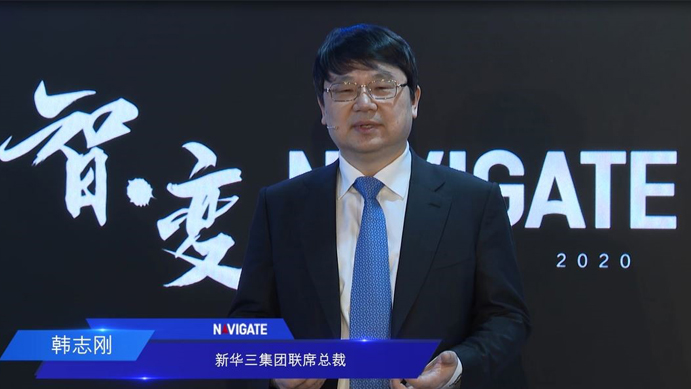 Han Zhigang, Co-President of H3C
The 5G era not only creates unprecedented opportunities for carriers, it also imposes severe challenges on traditional business modes. With large investment being poured into 5G also comes tremendous pressure on operations. Therefore, to build open and cost-effective 5G networks with the deep integration into different application scenarios is crucial to the success down the road of 5G.
Speaking on 5G convergence, Han Zhigang, Co-President of H3C, said at the forum that in the 5G era, B2B will be a burgeoning "blue ocean" market for carriers, and therein lies the important opportunity to make profits. H3C will enhance its cutting-edge technology of "Cloud Network Convergence" to deliver much higher flexibility and performance of 5G networks. It will jointly delve into the demands of government and enterprises with carriers, and create and bring in the industry application scenarios for the convergence of 5G, facilitating the success of carriers in the operations of 5G.
Cloud-Adaptive 5G Bearer Networks, Mutually Beneficial Collaboration
For the commercial application of 5G, the bearer networks is the top priority for carriers. In order to meet the bearing requirements of carriers, H3C provides a 5G Bearer Networks Solution that uses the industry's only programmable FlexE module, AI self-diagnosis protection technology, orthogonal architecture equipment, the T-level hardware platform that meets carriers' requirements for 5G large-capacity bearer networks, FlexE network slicing capability, EVPN technology and SRv6 technology. The solution can work with SDN controllers to realize cloud-network convergence. To build the 5G Bearer Networks, the routing solution is the first to tackle with. Relying on years of accumulation, H3C's key high-end routing equipment has passed the centralized procurement tests of China Telecom, China Mobile and China Unicom with excellent performance, and it has won high recognition from carriers by comprehensively applying to MAN networks, mobile transport networks and backbone networks of the three leading carriers.
Industry-wide convergence to 5G, Succeeding in Edge Networks
5G technology is to empower the digital transformation of the government and enterprises. H3C is keenly aware that the key to the success of carriers' business transformation lies in the dynamic integration of the 5G network capabilities and the government-enterprise vertical industry. Featured by fragmentation and individuation, the government-enterprise market values the solutions to on-site problems. With rich experience in the government-enterprise market and the vertical industry market, H3C integrates cloud infrastructure, 5G O-RAN cloud small cells, 5G network elements, edge computing equipment, security equipment and industry application solutions to create its 5G Converged Edge Networks Solution.
The solution has realized the convergence of clouds, networks and application scenarios, aiming to support the industry application scenarios and help carriers speed up the integration of 5G network capabilities with industry application scenarios. So far, H3C has formed a close cooperative relationship with carriers and has been engaging in introducing 5G to such fields as the Industrial Internet, smart water conservancy and safety, creating a slew of industrial benchmarks.
As a reliable core value partner of carriers, H3C has always been dedicated to the R&D and innovation of products and solutions in 5G. It has helped carriers to achieve cloud-network convergence in terminal, network, cloud and application. Additionally, it has also made every effort to develop its business in the individual user market, the home customer market and the government-enterprise industry market. H3C will continue to joined hands with carriers to empower the government-enterprise industry to advance successful business transformation, and make new breakthroughs in business development.