H3C Partners with Spirent in the Successful Completion of an Industry's First Ever Large-Scale 400G Test
02-05-2020
Recently, H3C jointly with Spirent Communications conducted tests on an H3C S12500 Data Center Switch with up to 72 400G ports for its 400GE full-connection line-rate forwarding performance and SRv6 (Segment Routing over IPv6 dataplane) performance. It is the first SRv6-based 400GE performance testing in the industry. The tests fully prove that the H3C S12500 Data Center Switch delivers the industry-leading 400GE performance.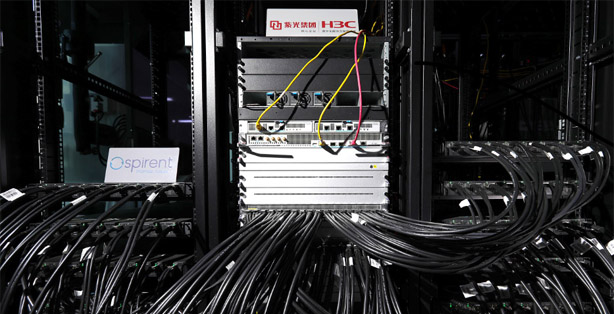 H3C S12500 Data Center Switch
With the rapid development in new technologies and applications such as 5G, cloud computing, IoT and the explosive growth in Internet traffic, 400G interconnection technology has already become one of the key technologies for date centers to tackle with the torrent of digits in the future. That's why the large-scale data centers have embarked the transition to 400G connection. While the new technology of SRv6 uses IPv6 addresses as path node information and supports customized extensions, thus fulfilling the end-to-end orchestration requirements of cloud-network integration services and creating an important connection environment for the application of 5G, Big Data and AI. The data center switch, which integrates 400G and SRv6 technology, will be a reliable foundation for network infrastructure from the underlying architecture and upper-layer protocols.
H3C's switches have become the leader in the global data communications industry with their excellent performance, through more than 20 years' development and business practice. The test of H3C S12500 Data Center Switch was conducted using Spirent TestCenter network performance test solution, which supports the industry's highest density 400G/200G/100G/50G high-performance, multi-rate Ethernet test modules. During the test, H3C S12500 Data Center Switch successfully completed high-standard tests including the full-mesh high-density 400 GE modules L2-L3 traffic wire speed processing test, SRv6 10-layer labeled traffic forwarding, and the power consumption test. The successful test verification of H3C S12500 Data Center Switch demonstrated its strong capabilities of wire speed forwarding of 400G module, and leading traffic forwarding performance of 10-layer labeled SRv6, which therefore has established an industry benchmark for 400G core switches.
Bi Shouwen, President of Networking Product Department and Vice President of H3C, said "H3C S12500 is the highest-performance core switch device in the industry. Single chassis can provide 3,072 wire speed 10G/25G ports or 768 wire speed 40G/100G ports, and also supports 400G port extension. The successful 400G validation reinforces the high performance and reliability of H3C S12500 and its industry-leading research and development capabilities."
"H3C is taking the industry lead in Ethernet switches, and also our long-time partner. We appreciate H3C for selecting us as their partner to conduct the SRv6 and 400G Ethernet performance tests, which amply verified its utility value in 5G era," said Tan Hao, VP of Spirent Communications and General Manager for APAC, adding that H3C has advanced hardware design and manufacture, which can realize the programmable ASIC wire speed forwarding of SRv6-baesd 400G-port traffic. As tested, H3C S12500 series switches demonstrated high performance of full-mesh wire speed forwarding with 400G ports and 10-layer labeled SRv6.
"This test has once again set a world record on core switch performance, and verified that H3C S12500 switches demonstrated high capability of SRv6 forwarding node in 5G bearer network and industry-leading forwarding performance," said Tan.