Grand Opening - Pakistan Partner Event
29-11-2019
As the new wave of scientific and technological revolution and industrial transformation accelerates, many countries are driving digital transformation to enhance their competitive advantages and development.
[Islamabad, Pakistan,November 12, 2019], H3C hosted a Pakistani Partner Event with the theme "Digital Navigation, Smart Future" and announced a new series of technical products and solutions for the Pakistani market, marking its official entry into the Pakistani market. The Event was attended by Dr. Khalid Maqbool Siddiqui, Federal Minister for Information Technology and Telecommunication, Gary Huang, SVP of H3C, and delegates from the Pakistani government and clients in relevant industries. During the Event, Gary shared H3C's overall strategy in international business development and future development goals in Pakistan.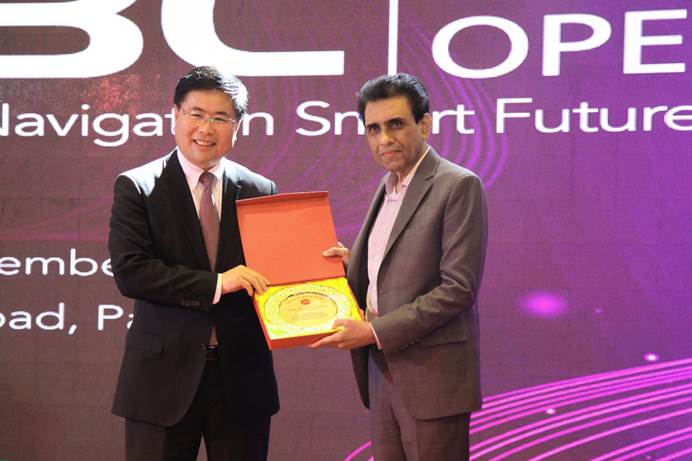 Gary Huang presented souvenir to Dr. Khalid Maqbool Siddiqui
Meet the demand for transformation and improve digital infrastructure
In recent years, steady progress has been made in the construction of the China-Pakistan Economic Corridor and Pakistan has been actively promoting the development of the digital economy. 'The digital Pakistan' policy has been approved and aims to offer preferential policies for the information technology service industry and build a digital ecosystem for Pakistan that can support rapid innovation of digital services and information applications, to promote industrial transformation and economic development.
In response to Pakistan's need for digital transformation, H3C will use its successful industry experience and leverage its integrated digital infrastructure capabilities in compute, storage, networking, security and related domains, and provide a comprehensive one-stop digital platform that includes cloud computing, big data, interconnectivity, information security, new safety, Internet of Things (IoT), edge computing, artificial intelligence (AI) and 5G solutions, to actively support the digital development of local industries and develop the digital economy market in Pakistan.
Expand industry cooperation and join hands on the road to digital transformation
Relying on the "Digital Brain Project" announced at Navigate 2019, H3C will fulfill the strategies "Inclusive Platform and Borderless Ecology" and "Channel First" to empower high-value partners and offer strong support for techniques and solutions of key projects. H3C's successful industry practices will integrate with its eco-system partners' strength to help customers build their own Digital Brains in their respective domains, thus helping business innovation and digital transformation.
"H3C attaches great importance to the development of international business. Pakistan is one of the first key countries where H3C has established an oversea subsidiary and the key area for H3C's overseas deployment." said Gary Huang, SVP of H3C. "H3C is looking forward to working with local partners and customers in more areas to build a more integrated industry ecosystem and jointly promote the digital transformation in Pakistan."