Chemical industry, from oil refining to fertilizer production, has always been the pillar of the national economy, playing an irreplaceable role in the development of urban industry. However, despite the benefits, there are also hidden risks—the improper disposal of chemicals will cause explosion or leakage, endangering the safety of residents' lives and property. In the face of the dilemma in hazardous chemical management, intelligent technology innovation enables a set of digital chains to be built, including data collection, data transmission, data processing, and value insight regarding hazardous chemicals. Smart hazardous chemicals supervision becomes an important basis for the development of new smart cities.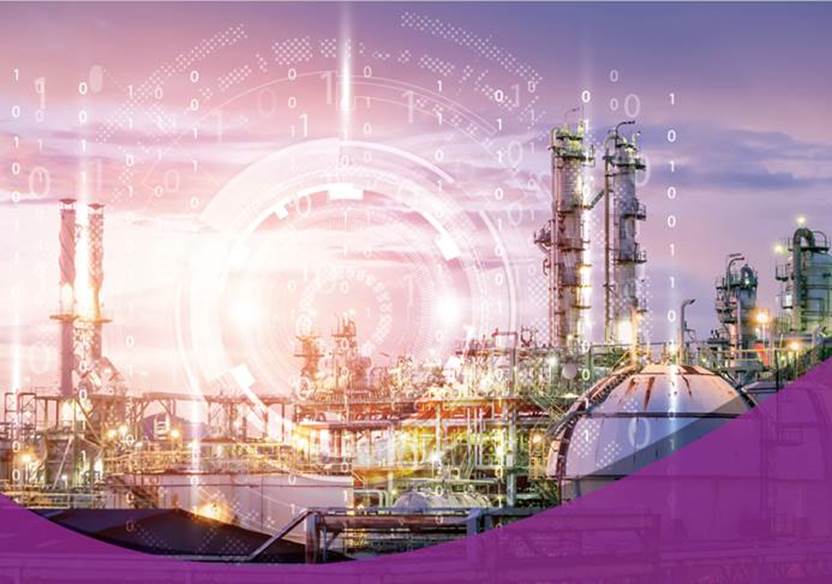 Since the establishment of Tianjin Binhai New Area, the chemical industry has been an important driving force to promote the economic development of this favored coastal area. In order to strictly manage and trace hazardous chemicals when proactively developing the industry, the relevant department in this zone cooperates with H3C, the subsidiary of Tsinghua Unigroup, to build an "full-scenario hazardous chemical supervision platform" featured with risk management, intelligent early warning, and emergency rescue based on digital technologies such as cloud computing, Internet of things, AI, and digital twins. This allows for the visual supervision, whole-process coverage, and integrated control of hazardous chemicals in Binhai New Area, and becomes a typical case for smart city construction.
Full-stack innovation
Acts as the cornerstone for full-scenario smart supervision
Because of the demand for hazardous chemical control brought by the development of chemical industry, H3C and Unicloud plan and build a supervision system consisting of "one chemical brain, three-level supervision, six links, and N smart applications" for this area. Among them, the chemical brain consists of the Internet of Things, data exchange platform, and government affairs network, and can implement data collection, classification, governance, and analysis. Based on the brain with three-level supervision on government, park, and enterprise, the supervision system coordinates the six links including production, storage, and transportation, and implements N applications such as high-altitude observation as well as online monitoring and early warning to build a digital supervision platform with a full-stack architecture for Binhai New Area and also a complete support platform for hazardous chemical supervision.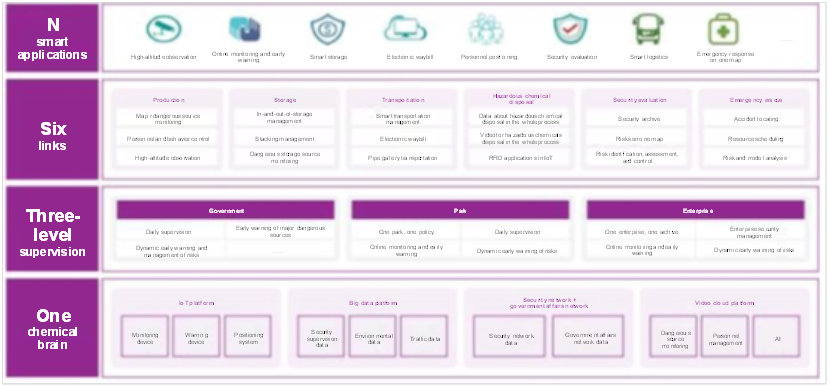 As the two core enterprises in Tsinghua Unigroup's cloud network sector, H3C and Unicloud have integrated their comprehensive strengths in infrastructure, virtualization, and cloud platform to build an efficient, reliable, and scalable cloud data center. In the data platform and service platform layers, data can be collected, classified, governed, and analyzed by using big data engine, distributed database and other technologies and products. Moreover, with the help of application management, container management, data and AI services, a good data foundation is built for the smart applications of the upper layer.

Smart supervision implementation
Achieves overall control of hazardous chemical management
After the completion of the project, the supervision platform can generate an electronic map showing regional risks for relevant departments, comprehensively show the distribution of enterprises and major hazard sources, and report dynamic warnings and analysis based on data models and algorithms. This can not only dynamically evaluate the social risks brought by hazardous chemicals to urban security, but also provide reasonable suggestions for the management of hazardous chemicals and the layout of chemical enterprises in the city based on the collected data, so as to ensure the safety management of hazardous chemicals in the whole process. More importantly, one-to-one digital mapping about hazardous chemicals can be formed in the virtual twin cities based on digital twins, and the corresponding attribute information can be obtained to let us touch, operate, search, proofread, and deal with these chemicals. This allows the dangerous factors can be "seen" and "touched", ensuring that people live and work in peace and contentment.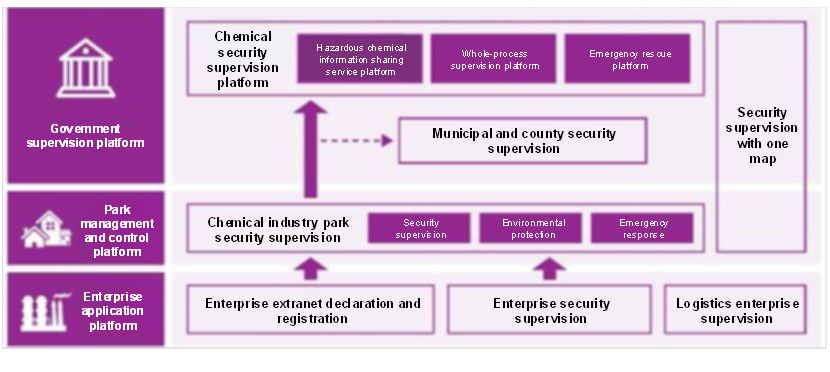 Moreover, in order to adapt to changing supervision requirements, the platform adopts an open, shared, and reconfigurable underlying architecture to be scalable, on-demand, intelligent, and convenient. On this basis, the professional risk assessment model will carry out scientific risk management and control based on advanced concepts, such as risk management and security system engineering, to achieve source and precise governance. Users can flexibly use it according to actual business scenarios.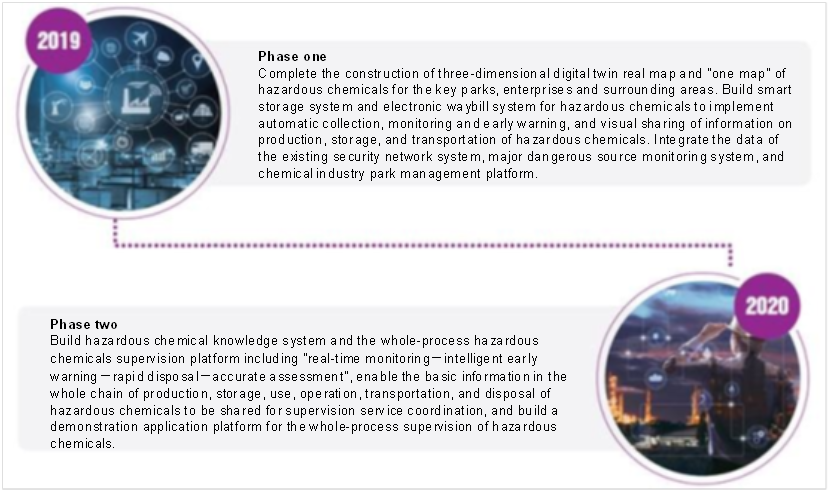 Full-scenario hazardous chemical supervision informatization system plays an irreplaceable role in preventing major safety and environmental risks and safeguarding the safety of people's lives and property in Binhai New Area. As digitization is a must for improving government and city management, H3C and Unicloud will provide innovative digital solutions that are more responsive to actual needs and more efficient, reliable and comprehensive for the government governance modernization based on the full-stack strength of "Digital Brain Project 2020" to build new smart cities with greater happiness and security.