H3C: Powering Sunwah Kingsway, 24x7
21-05-2018
Home

Products & Technology

Enterprise Products

Switches

Cases
H3C technology powers Sunwah Kingsway's relentless 24 x 7 non-stop business routine:
"Our business is heavily dependent on making sure that our customers have secure and reliable access to business critical information as and when they need it, from anywhere in the world. Today, thanks to H3C, we can now comfortably assure our customers that they can rely on us, 24x7."
– Samuel K W Kwong, Director, Head of IT, Sunwah Kingsway.
Background
Founded in 1990, Sunwah Kingsway has evolved from a Hong Kong brokerage house into a globally-focused mid-market financial services provider with a strong track record.
To strengthen its position as a preferred mid-market financial service provider, Sunwah Kingsway needed to upgrade its network infrastructure to support further business growth, to build a 24-hour non-stop trading platform and to achieve the seamless business resilience required to deliver a millisecond-level experience. Sunwah Kingsway turned to H3C for help designing and constructing a next-generation network infrastructure to enable the firm to achieve its global aspirations via meeting the needs – current and future – of its expanding client base.
The Solution
A business with global scope, Kingsway needed uninterrupted, 24x7 trading platform and other business-critical operations.
The core of the new network infrastructure is a pair of H3C S7503E switches, interconnected with two 10 Gigabit Ethernet <uplinks|lines> providing multi-service core routing. Using H3C's IRF2 (Intelligent Resilient Framework version 2) virtualization technology, the two S7503E core switches are virtualized to function as a single core switch with a single IP address in both L2 and L3, obviating the use of Spanning Tree Protocols (STP). The result is millisecond recovery times across the entire network, even in the event of a core switch component or link failure. The H3C S7503E switch also features 480G switching capacity and 276Mpps throughput, some of the fastest on the market. Designed with Carrier-class features like dual power supply, and hot swappable interface modules, it comes with built-in multiple service integration capabilities, for Firewall, IPS, wireless, etc.
New-H3C-supplied S5120SI GE switches provide full GE wire-speed performance at the access layer, giving customers access to full L2 features such as ARP Detection, IP Source Guard, ACL and QoS. The S5120SI also provides basic L3 features including Static routing and IPv6 support. More importantly, using H3C's IRF2, multiple S5120SI can be stacked to function as a single logical switch, delivering unparalleled performance, resilience and management convenience.
Sunwah Kingsway also recognized that mobility is an important aspect of day-to-day business. In this regard, the new network infrastructure includes H3C's AC+FIT Access Point (AP) wireless solution.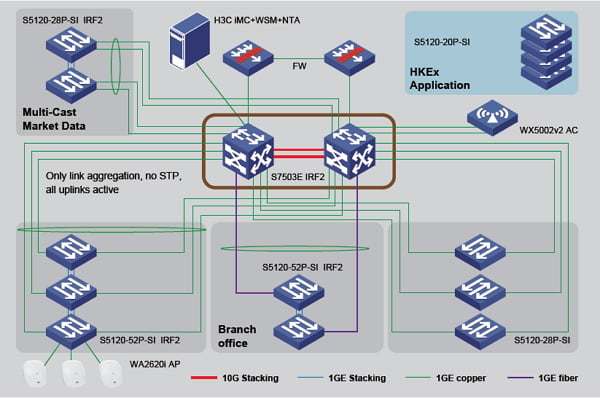 User authentication, security control, policy and AP configuration will be centrally controlled by the AC, ensuring wireless network security. In addition, the brand-new hardware-based intelligent antenna WA2620i AP can not only support both radio 802.11a/n and b/g/n bands, but also provides unmatched wireless coverage.
Finally, while a mobile workforce is important for the business, it also adds a significant burden for the network administrators managing its infrastructure. The H3C Intelligent Management Centre (IMC) provides an industry-leading unified wired-and-wireless management experience, greatly simplifying network management on a single platform. In addition, the NTA (Network Traffic Analyzer) module together with the S7500E flow function can provide customers with full details of network data and application usage status – enabling the company to take appropriate action when the need arises.
Why H3C?
Sunwah Kingsway understood the complexity of the demands on its network, and chose H3C for the technical expertise and deep industry experience which were critical in identifying the right approach to meeting the financial services provider's business objectives. H3C offers a full suite of networking solutions – core-to-edge, wired-and-wireless – together with a unified network management approach that is second to none.
In addition, Sunwah Kingsway appreciated H3C's commitment to project success, and the close cooperation that ensured that all aspects of the migration were on-time and on-budget.
The Benefits
H3C's solution for Sunwah Kingsway has greatly simplified the broker's network infrastructure, the proven IRF2 stacking solution in particular allowing the company to avoid reliance on STP. With its new STP-free network, Sunwah Kingsway can confidently provide an uninterrupted 24x7 non-stop trading platform, with other business-critical applications enjoying similar benefits. Thanks to IRF2's millisecond failover, network convergence times too now fall within the millisecond range: any link or network failure will have negligible impact on business operations.
H3C also helped Sunwah Kingsway satisfy employee requirements without introducing any unnecessary complexity. With H3C's IMC network management tool in place, Sunwah Kingsway's network administrators have an easier time managing both wired and wireless networks. Topology, alarm-monitoring, trouble-shooting, and device audit – all are now conveniently available from a single unified platform.
Are you an H3C partner? Log in to see additional resources.
You can find excellent H3C partners, or you can become one of them to build a
partnership with H3C and share success together.