A signing ceremony for the strategic cooperation between H3C and UNICON.UZ was successfully held on April 21. Gary Huang, Co-president of H3C Technologies Co., Limited and President of H3C International Business, and Makhmudov Mahsum Mubashirovich, Director of UNICON.UZ on behalf of both sides signed a Memorandum of Understanding (MOU), which marked that H3C and UNICON.UZ will collaborate to explore new ways of technological innovation to facilitate a mutually beneficial relationship between ICT and other industries in Uzbekistan.
UNICON.UZ is a research centre in the field of telecommunications, which was established in 1992 by the Ministry of Communications of the Republic of Uzbekistan. The organization studies the trends of ICT development. It is responsible for formulating scientific industry development policies and establishing regulatory frameworks for the telecommunications department. Its duties also include the development of standardized and regulated measurements, as well as the certification of telecommunications network equipment. UNICON.UZ plays a crucial role in Uzbekistan's development of digital technology by drafting and formulating industry-related normative and guiding documents as well as national standards for the Ministry of Communications.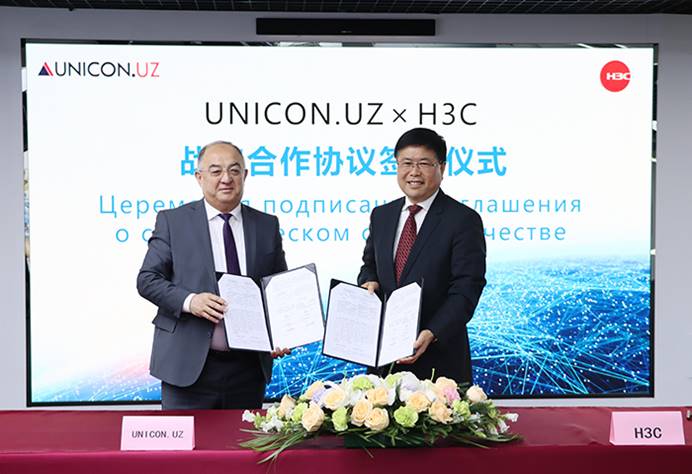 Gary Huang (right), Co-president of H3C Technologies Co., Limited and President of H3C International Business, and Makhmudov Mahsum Mubashirovich (left), Director of UNICON.UZ, signed the MOU on behalf of both sides
Mahsum Mubashirovich highlighted that "The use of innovative technical solutions proves its effectiveness in various sectors of the economy, opening up new opportunities for business and providing government organizations with tools to improve the quality of public services. UNICON.UZ plays a significant role in the development of digital technologies in Uzbekistan, working on telecommunications networks modernization and developing a legislative framework in the IT industry. International cooperation in the scientific and technical field allows us to achieve even greater results, promotes a reasonable allocation of resources, rapid exchange of experience to create a reliable and flexible IT infrastructure. We consider the cooperation with H3C, one of the leaders in the development of solutions for digital transformation, as a mutually beneficial partnership and a promising step towards further implementation of the new technologies in Uzbekistan."
Huang said that "UNICON.UZ is an important guarantee to accelerate Uzbekistan's digital transformation and stable development. As one of the most reliable partners for customers in China and around the world, H3C is committed to leveraging innovation to push forward the progress of the ICT industry. We aim to seize every opportunity available in the global market and expand our business in various fields across different markets by adopting a localized strategy."
"It is our great privilege to partner with UNICON.UZ in creating a new research centre to provide integrated technical services for Uzbekistan. The two companies will continue to promote research on new technologies such as cloud computing, big data, and other ICT technologies, as well as provide digital tech training in Uzbekistan. We will fully exchange our experience in digital products and industrial evolution with UNICON.UZ while collaborating to facilitate the development of local talent cultivation mechanisms. We believe that through this strategic partnership, we will help Uzbekistan to embark on a new chapter of sustainable digital development," said Huang.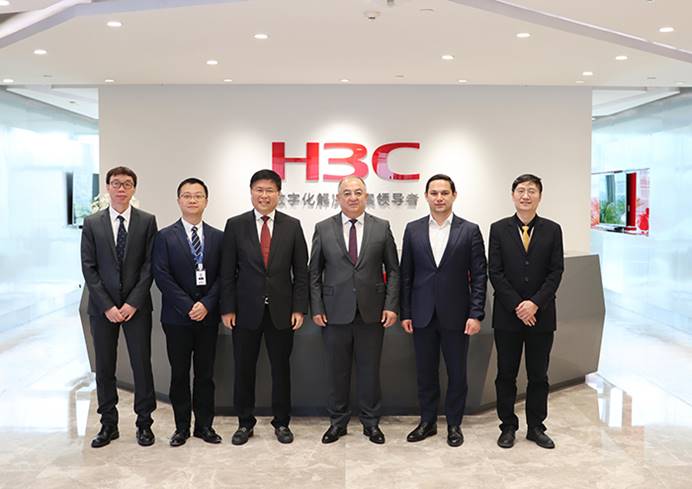 A group photo of the representatives from both sides at H3C Beijing Innovation Experience Centre
This strategic collaboration between H3C and UNICON.UZ is not only a landmark achievement for H3C in the Uzbekistan market but also a significant step forward in its international expansion. Looking ahead, H3C remains committed to the localized strategy and collaborating with the partners to discover new growth opportunities and the most effective methods for advancing the global digital economy. H3C will continue to work with the global partners to improve the local digital infrastructure and establish a sound technology governance system to contribute to the flourishing digital age.