Focusing on New Industry Revolution Trends: H3C and IDC Jointly Release WLAN Industry White Paper
09-08-2019
Jinan stop of "2019 H3C Digital Brain Project-China Trip" opened officially on August 8. Together with the global ICT market research authoritative institute, IDC, H3C released the white paper named Future Connections: New Rigid Requirements in Digital Era. The white paper reviews the development process of WLAN in terms of technologies, industries, markets, and ecosystems. It concludes that WLAN will further drive digital economic development and reshape industry models in the future digital economic development by virtue of its technology advancement and innovations.
10 Years' Leading in the Industry
H3C Driving Innovations and Development in the WLAN Industry
In 1997, IEEE released the 802.11 protocol to unify wireless communication standards and enable interconnection between wireless products of different vendors. Afterwards, IEEE successively released the 802.11a, 802.11ac, 802.11ad, and 802.11ax standards, which promoted continuous technology and product updates. With the development of technologies and applications from 1999 to 2008, WLAN has become the mainstream LAN connection model and integrates deep into enterprise services and applications as both the production and commercial networks of enterprises.
For a long time, H3C is engaged in researching and promoting wireless standards. In 2003, it released the first wireless product"FAT AP WA1208E". For a decade, H3C focuses on user requirements and application scenarios, applies advanced technologies to create innovative products, and provides products and solutions applicable to various industries and scenarios. In addition, in the era of wireless cities, mobile internet, and IoT, H3C always keeps pace with changes in the application area and releases advanced and reliable products, leading the industry evolution trend.
By taking full use of its own technological strength and application expansion in the ecosystem, H3C boosts its core advantages by utilizing advanced technologies, enhancing R&D capability, enriching scenario-based applications, and improving the ecosystem. It has ranked first in the Chinese enterprise WLAN market for 10 years ever since 2009. More than 300 scene products and solutions have been launched, and more than 750 patented technologies have been acquired. The solutions are applied to hundreds of industries and promote the world into the intelligent new era of the Internet of Everything.
WLAN is Urgently Needed in the 5G Era
In the 5G era, with the emergence of novel technologies including AR/VR, AI, and unmanned automobile, various terminals increase explosively and have more requirements on networks. Large bandwidth, low latency, and low consumption of 5G allow it to replace WLAN in some application scenarios. However, WLAN is irreplaceable in building unique production, office, and service environments and providing hierarchical network management. According to IDC, in the context of increasingly large scale 5G commercial deployment, WLAN and 5G will co-exist and supplement each other. In non-WAN areas, WLAN allows access of more terminals. It integrates application scenarios and business models, helps enterprises set up all-wireless access environment, and promotes wireless development.
At the release conference, the associate research director of IDC, Xiangdong Hu said that WLAN will increasingly integrate with services and provide a connection environment that can change with requirements for governments, enterprises, and users in a flexible, intelligent, and simplified manner.
Based on the latest wireless LAN technology Wi-Fi 6 (802.11ax) technology innovation, it will further enhance security, privacy, stability, and connection speed of the network platform, thus providing upgraded network experience. Based on wide integration with services, WLAN will forge ahead toward intelligent wireless featuring high-quality and intelligent network O&M, ubiquitous wireless supporting access of massive terminals, and cloud wireless featuring cloud-based network services.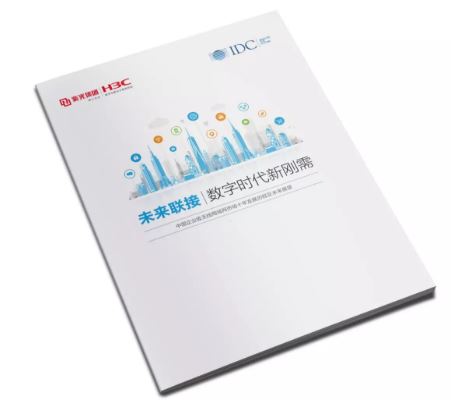 Currently, H3C WLAN solutions have helped hundreds of industries realize digital transformation through technological and product innovation. For example, Wumart adopts the WLAN solution to provide immediate network services, including electronicprice tags and customer behavior track analysis. Beijing Xuanwu Hospital uses WLAN in multiple fields including surgery, admission, and out-patient services to provide better services. Zhejiang University covers its five campuses using over 30,000 wireless terminals, facilitating data analysis and smart applications. These cases indicate that H3C is cooperating with customers from various industries, and it is also accelerating service evolution by wireless network innovation, improving service efficiency, and optimizing management expertise.Such efforts will enhance its competitiveness in the digital era.
As the digital solutions provider leader, H3C will fully utilize its technological accumulation and industry influence over the past decade in the WLAN market and focus on technological innovation and network architecture transformation.By providing highly-efficient, reliable, and stable enterprise WLAN, H3C will help its customers to embrace service innovation, procedure revolution, and experience re-defining. In the future, H3C will combine WLAN with IoT to serve more application scenarios, and help hundreds of industries to achieve digital transformation and usher into the Intelligent Plus era featuring "IoT driven by applications."