MWC19 Shanghai | H3C Launches Excellent Business AI Platform H3C UniServer R5300 G3
28-06-2019
During MWC19 Shanghai, H3C has launched H3C UniServer R5300 G3, its independently innovative new generation server which serves the era of AI. The product received unanimous praise on site for its high performance, innovative ideas and excellent design.
As digital transformation deepens, all industries are enhancing their comprehensive competitiveness through improving experiences, upgrading products and optimizing processes. AI has been widely used as a direction of development to enhance comprehensive competitiveness. Its need for higher performance and better graphic computing capability brought forward strict requirements for hardware IT infrastructure.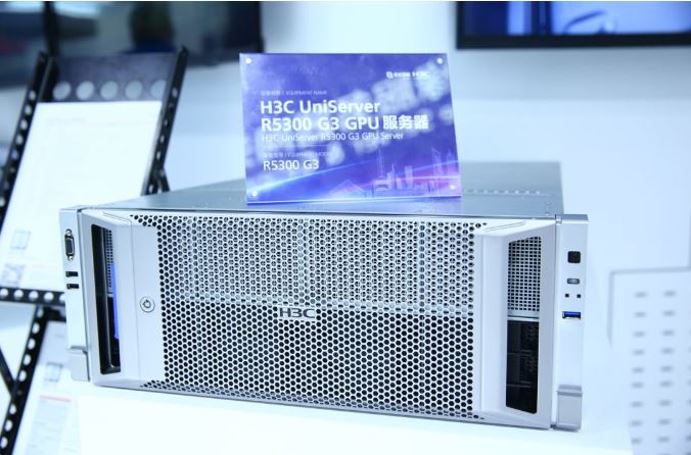 Based on the next generation processor, the leading system architecture and design concept, H3C UniServer R5300 G3 achieved overall improvements in computational performance, storage capacity, network performance, scalability and stability, thus has a leading comprehensive performance among GPU servers. Enterprises can deploy the platform to meet the requirements of a variety of business scenarios, such as high-performance computing, big data analysis, and AI. Focusing on providing AI services, H3C UniServer R5300 G3 has unique features in many aspects:
• High performance: H3C UniServer R5300 G3 carries 2 Intel scalable processors and supports 24 3.5-inch hard disks and 8 NVMe SSDs, and has an industry-leading storage capacity of 288T. Being able to support 8 dual-width GPUs or 20 single-width GPUs, it has better performance than other products of the same level in the industry, accelerating operational efficiency in AI and deep learning scenarios. Furthermore, based on an advanced design concept, H3C UniServer R5300 G3 adopts PCIe 4.0 link design for the first time, doubling the bandwidth. It is the first AI server to adopt PCIe 4.0 in the industry. Its 20 PCIe slots provide the platform with extremely high scalability to accelerate data interaction and enhance AI operational efficiency, making H3C UniServer R5300 G3 the industry leader and the ultimate in performance.
• Security and stability: Since H3C UniServer R5300 G3 is a hardware platform carrying extremely high load, its security and stability was carefully considered. The modular design greatly increased the usability of devices. The status management and remote monitoring of the platform is implemented by the integrated management module to achieve convenient operation and maintenance and enhance product safety. In addition, stability is also reflected in the redundant design, including four 2000W power supplies of the N+N redundant design, eight hot-plug fans of the N+1 redundant design and high-performance memory controllers, which improve the overall reliability of the system and provide guarantee for AI.
• Independent Innovation: As a independently innovative server product, H3C UniServer R5300 G3 was designed, developed and manufactured by H3C independently. At the same time, it can be customized for different scenarios such as AI scenario to help users in different industries explore the potential of deep learning.