Standard Performance Evaluation Corporation (SPEC) recently released the results of its latest CPU performance benchmarks (as of February 2023). The H3C UniServer R4900 G6 server scored 174, the highest in the SPEC CPU® 2017 Floating Point, setting a new world record in this test. H3C rewrote the world record again in SPEC benchmarks after topping the SPECvirt performance test list in 2022.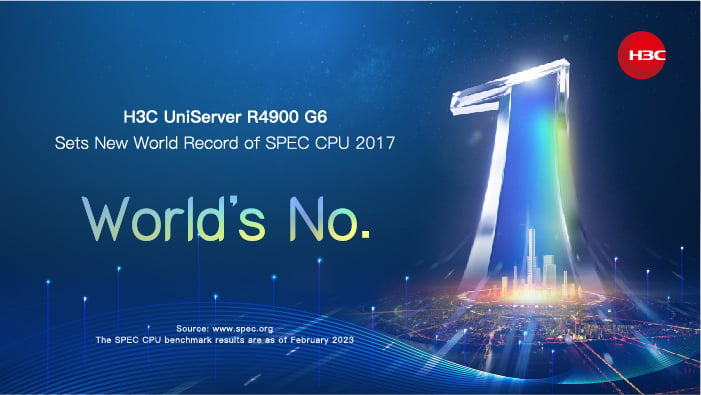 Founded in 1988, SPEC is a third-party non-profit organization with international authority, composed of dozens of prestigious universities and research institutions around the world, such as Stanford University and Tsinghua University. SPEC is committed to establishing, maintaining, and certifying a series of benchmarks to evaluate server application performance. Its tests fully simulate real-world usage requirements and focus on the overall performance of systems participating in the tests and their performance in practical application. Relevant test results provide important reference indicators for banking, financial securities, insurance, telecommunications, and other industries, widely recognized by global enterprise customers.
The SPEC CPU® 2017 is a set of industry-standardized, CPU-intensive benchmark suites, focusing on evaluating server computing performance. The excellent performance of the R4900 G6 server once again demonstrates to the industry that H3C is capable of providing efficient computing support for data centers. The R4900 G6 server incorporates two 4th Gen Intel Xeon Scalable processors and uses 8-channel 4800MT/s DDR5 memory technology, bringing up to 12TB memory expansion and a 50% bandwidth increase. The new full-OCP infrastructure supports eight OCP 3.0 slots and hot swap. It achieves excellent scalability through local storage support of up to 14 standard PCIe slots and up to 41 drive slots. Besides, H3C intelligent management system enables life cycle management for data center servers and allows flexible and user-defined configuration and deployment for dedicated O&M environment.

As a flagship server of general computing servers, R4900 G6 can be widely used in cloud computing, virtualization, distributed storage, and enterprise resource planning. It has balanced computing performance, storage capacity, power saving, scalability, and reliability. The 96% power efficiency provides users with higher energy efficiency returns, contributing to the building of efficient, green, and intelligent next-generation data centers for the Internet, carriers, enterprises, and governments. R4900 G6 also supports chassis intrusion detection, software guard extension, trusted platform module, and many other protection mechanisms, to ensure user data security and stable service operations.
Computing power is pivotal to the development of the digital economy. With the accelerated integration of traditional industry and digital technology, computing power has become a key production factor in economic and social operations. As an industry leader in the provision of digital solutions, H3C will uphold the Cloud & AI Native strategy and practice the technology concept of endogenous intelligence, and provide more efficient, greener, and smarter computing power, facilitating industrial innovation and upgrades and unlocking the infinite possibility of an intelligent world.