Global market research firm International Data Corporation (IDC) recently released the IDC PRC Quarterly Server Tracker Prelim, 2022Q4. According to the report, H3C servers' market share rose 7.5% year on year to 17.2% in 2022, continuing to rank second in China's server market. In particular, H3C's x86 servers commanded a market share of 18% with an annual growth rate nearly twice that of the industry average; while its blade servers ranked first in the industry for the fourth consecutive year with a 54.8% market share.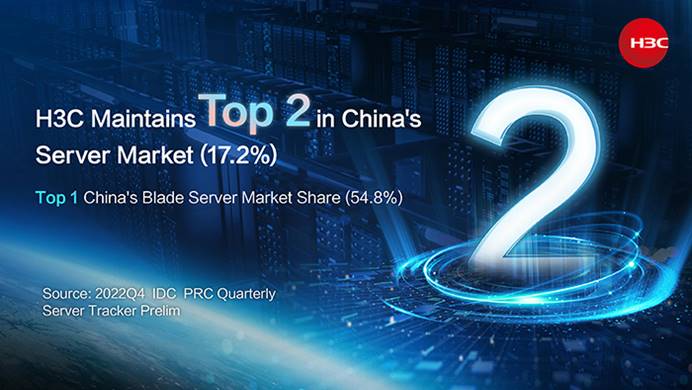 While continuously practicing the idea of endogenous intelligence in the development of technologies, H3C helps customers dig deep into data, speeds up innovation in upper-layer smart applications, and contributes to the continuous deepening of digital transformation in various industries. During the past year, H3C launched flagship products including the "One System, Two Engines" intelligent compute system featuring a multivariate computing system, an intelligent management center, and an intelligent computing center, and rolled out a string of server products, such as H3C UniServer G6 series and HPE ProLiant Gen11 series. The launch of these products indicated the full-stack evolution of H3C's intelligent computing-related capabilities from underlying architecture and hardware products to software platforms. As a result, H3C has given a stronger boost to AI-empowered innovations and digital transformation in various industries by virtue of its intelligent computing power that is 3-dimensional efficient, 4-dimensional green, and 5-dimensional intelligent.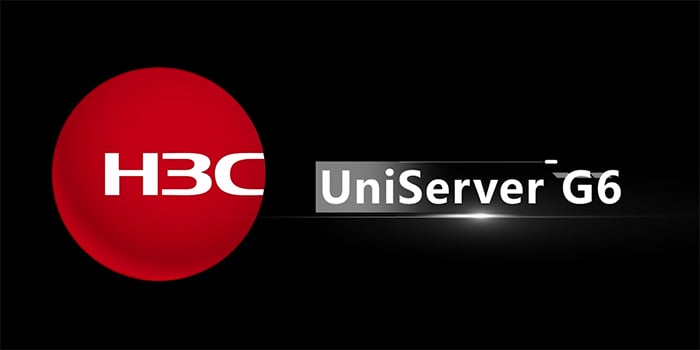 H3C has gained frequent recognition for its contributions to China's carbon peaking and carbon neutrality goals and accelerated AI computing market performance.
Outstanding Contributions to "Dual Carbon" Goals, Exemplary Products with Superb Computing Power and Efficiency
H3C UniServer R5350 G6 series has been listed, with a five-star rating for both computing power and efficiency and performance in saving energy and reducing carbon emissions, among the low-carbon products and solutions for data centers under a program aimed at promoting the green development of data centers. The series is the only server product that has been recognized by the program, which was jointly launched by the Open Data Center Committee (ODCC), China Academy of Information and Communications Technology, and the information center of China's Ministry of Industry and Information Technology. With forward-looking insights into the development of technologies and great strength in research and development, H3C has injected fresh vitality into the development of smart information technologies.
Winning Frequent Acclaim in AI with Enhanced Intelligent Computing Power
In 2022, H3C products topped in 86 performance items in the MLPerf AI benchmark test. At the beginning of 2022, H3C was rated as a large established player in the AI systems market by Forrester, a leading global market research company. In addition, H3C also achieved second place in China's accelerated computing market at a rate much higher than the market average.
Looking forward, H3C will deepen the continuous transformation of intelligent digital platforms with its Could & AI Native strategy, continue to leverage its IT infrastructure with endogenous intelligence to provide intelligent, efficient, safe, and agile intelligent computing products. Meanwhile, H3C will work together with upstream and downstream partners to accelerate the integration of digital technologies and business applications and facilitate faster development and upgrade of the digital economy, so as to lay a solid foundation for the digital transformation of various industries.