Domodedovo International Airport Group visit H3C Beijing Headquarters
07-11-2019
[Beijing,China,November 6, 2019 ] Mr. Alexey Raevskiy, CEO of Russia Domodedovo International Airport Group, and Mr. Andrey Kapinos, Director of Network and Traffic Development, visited the H3C Beijing Headquarter. Gary Huang, SVP of H3C and President of the International Business Department, attend the meeting. The two sides had deep communications on the digital transformation of civil aviation and opportunities in future cooperation.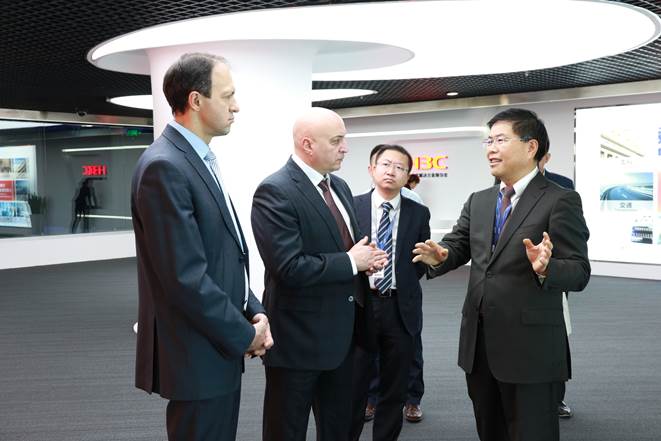 Mr. Raevskiy visit H3C Beijing Innovation Experience Center
At first, Mr. Raevskiy visited H3C Beijing Innovation Experience Center, and learned about H3C's technical advantages and industry-leading position in fields including cloud computing, big data, interconnectivity, information security, new safety, IoT, edge computing, artificial intelligence and 5G. During the visit, Mr. Raevskiy showed great interest in H3C's technical products and solutions in the field of smart traffic.
Later, Mr. Raevskiy were presented with H3C's contributions to the construction of Beijing Daxing International Airport in terms of digital innovation. With mature digital integration solution, H3C has realized the data-based analysis of passengers and the overall operations of the airport, which helped Beijing Daxing International Airport in building Airport 3.0 (Smart Airport) and providing intelligent, digital, networked and personalized air travel services. At present, Beijing Daxing International Airport has become one of the new benchmarks for China's construction of transportation hubs in the digital era, representing China's leading position in terms of new technology. Mr. Raevskiy highly appreciated H3C's technical strength and practical ability in the transportation field and expressed his hope for future cooperation.
Gary Huang expressed his gratitude to Mr. Raevskiy for his visit. He said: "In recent years, Russia's digital economy has been growing more rapidly. This opportunity is rare and promises huge potential." In the context of the development planning of the digital economy, digitalization in the civil aviation sector has become an inexorable trend. H3C hopes to cooperate with Domodedovo International Airport Group, and will give full play to the potential of Smart Digital Platform, empowering partnership with high value and uniting various eco-partners, so as to promote Russia's digital transformation in the civil aviation industry and other industries, and help Russia's digital construction.
As a leader in digital solutions, H3C has always focused on digital development and has contributed to the rapid growth of the digital economy through technological innovation and application innovation. At present, international business plays an important role in H3C's overall strategy. Relying on years of technical accumulation and experience precipitation and strategically led by the Digital Brain Project, H3C will cooperate with partners at home and abroad in various fields and share the results of the development of the digital economy.