MOHD ZUKEPLI BIN HJEMBON,Envoy of Malaysian Embassy of China Visits H3C HQ in Beijing
16-08-2019
On August 15, MOHD ZUKEPLI BIN HJEMBONG (Mr. Zu) and Officer Charles Cao from the investment department of Malaysian Embassy of China, Yang Luhan, deputy director of China-Arab investment promotion association, and other accompanying officials visited the H3C HQ in Beijing. Gary Huang, SVP of H3C, and Wang Chen, vice president of H3C International Business Department, received the visitors and had in-depth exchange with them on several topics including how H3C could better engage in Malaysian ICT construction.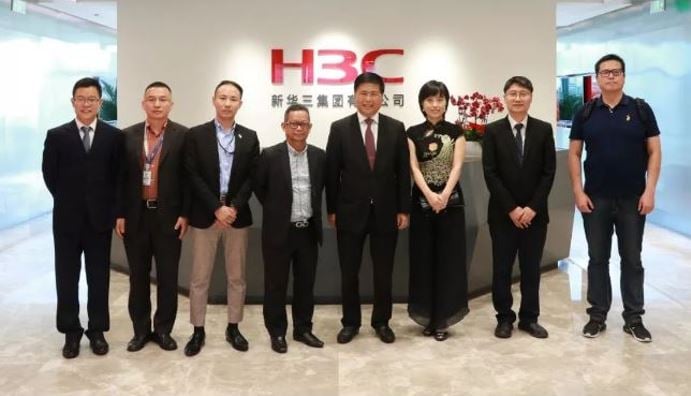 Envoy of Malaysian Embassy of China led by MOHD ZUKEPLI BIN HJEMBONG from the investment department visited H3C HQ in Beijing.
The envoy first visited H3C innovation experience center and learned about H3C's strong capability in traditional areas such as networks, computing, and storage as well as its exclusive advantages in areas including cloud computing, big data, interconnectivity, information security, new safety, Internet of Things (IoT), edge computing, artificial intelligence (AI)and 5G solutions. The envoy were also impressed by H3C's one-stop and all-round digital solution, E2E technological service capability, and advanced technological innovation.
Afterwards, Mr. Zu learned about the service layout and industry situation of H3C. He appreciated the overall capability and success H3C had made and expressed his expectation for future bilateral cooperation. Mr. Zu said that Malaysia had great potential in digital economy and suggested H3C take an active part in helping construct a digital Malaysia and advance Malaysia digital transformation.
On behalf of H3C, Gary Huang extended welcome to the visit of the envoy led by Mr. Zu and Mrs. Yang. He introduced H3C's development strategies in the international business sector, especially its service progress in Malaysia. He explained that, under the advocacy of major national initiatives, H3C had been devoted itself to helping various countries in digital transformation and development. H3C has registered in Malaysia as an entity and will start operation in the office in Kuala Lumpur. In addition, H3C has set up its own channel system and after-sales service system in Malaysia. Such systems provide advanced products and solutions designed for Malaysian customers, with Malaysia as one of H3C's key overseas markets.
As a global leading digital solutions provider, H3C sees clearly the digital transformation requirements over the world and aims to "provide digital solutions for global customers". Under this goal, H3C has gradually set up complete sales networks and service systems. With accumulated experience of serving overseas markets, H3C will finally be able to deliver solutions and services to global customers and contribute to the digital transformation and development.