With SDN as the core, the Application Driven Data Center (AD-DC) solution establishes a new mode of data center construction and operation. As a unified solution that supports multiple scenarios, AD-DC solution provides an open, standard, automated programmable fabric network.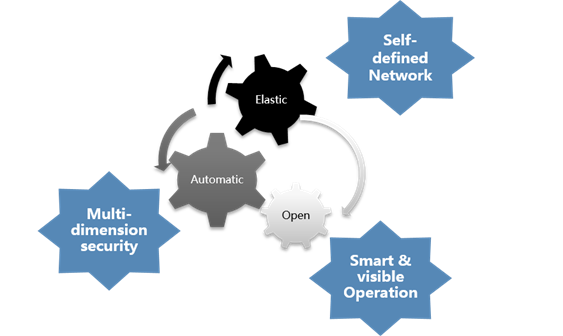 Elastic
Based on resilient expansion of Fabric, ADDC solution provides a Spine-Leaf network infrastructure, which supports horizontal and vertical expansion.
Automation
Clear mapping of physical/virtual resources: Underlay/Overlay/VM networks, physical servers, unified physical storage/volume monitoring.
Automated deployment and provisioning, network equipment plug & play.
Open
Supports third-party cloud management platforms and integration
Provides standard neutron plugins for Openstack (K\L\M\O)
Supports Puppet, Ansible, Chef and other mainstream open source automation tools
New O&M Platform
New H3C VCF Director provides a new O&M platform for data centers
Role-based device configuration (reduction of 90% of profiles)
End to end visibility, intelligent perception and prognosis which increases O&M efficiency by 60%
Comprehensive Security
Microsegment for L2 security and IP overlapping
Service chain for L3 security
Supported hardware and software (NFV) security products, and support hybrid deployment