The Development and Application of Cloud Computing in the Power Industry
18-11-2019
1. Introduction
Cloud computing, as a significant shift in the IT field, has been defined and explained from the perspectives of technology and application since its birth and throughout its development. It is well known that cloud computing has already been applied in all industry. Clouds are fluid, like living things in motion. The fluidity of cloud computing is closely related to the fluctuation of IT applications. Resource consumption in IT applications is neither stable nor incremental. Instead, it is periodic, with crests and troughs — especially unpredictable crests that can be increased by several or dozens of times during emergencies. At the same time, different IT applications may perform during different periods. The fluidity of clouds means that they can automatically adapt to the resource utilization of IT applications under different periods and states, and they can be truly definable and autosensing. The fluid property enables clouds to be interconnected. Physically, cabinets and data center computer rooms are themselves clouds, while logically they are a large cloud. The fluidity therefore can logically gathers physically separated IT system, truly unifying and centralizing conflicting territories, boundaries and resources.
Along with the penetration of the Internet and mobile technologies, as well as with innovation in society and life, IT systems need better to address the requirements of terminal mobility, demand-oriented applications and a more flexible and reliable basis platform. A new IT system also needs to be definable and autosensing, capable of performing service model definition, auto-deployment, overall system monitoring and autosensing optimization. And it shall, therefore, be simple and easy to use, with smooth extensibility.
An important way to form this new IT system is with cloud computing, whose services and technological modes highly coincide with the application features in the power industry. China's Smart Grid Strategy will upgrade the traditional grid 1.0 into a smart grid 2.0 with highly close-looped and integrated power flows, service flows and information flows. The whole process of power needs support from more complex IT technologies. The modern power system is evolving and accumulating massive data and computing information. Thus, it is bringing great challenges to current system operation and advanced analysis. Focusing on the problems currently faced by the power system, building a "power cloud" system to maximize the integration of the data resources and processor resources of the current system will greatly improve the ability for the processing and interaction of grid data, thus providing effective technological support to the smart grid and jointly serving grids of all levels and computer terminals in terms of cloud computing. This will gather the originally dispersed resources and provide them to end-users as services, enabling collectivized operation, intensive development, lean management and standard construction. The adoption of cloud computing can realize data collection and sharing in the power industry. Therefore, it can help implement data mining, provide BI, assist decision analysis and promote the coordinated development of production. It can also help the grid and power companies transform data into services, increase service value and implement information neural network fusion.
2. The Application and Development of Cloud Computing in Smart Grids Around the World
International: In 2009, the United States made the construction of smart grids its national strategy. Top IT enterprises and new cloud computing enterprises in the US have entered the smart grid market with their respective superior technologies. The application and development of cloud computing in American grid enterprises will set the trend for the global grid industry. In 2006, the United Nations made it clear that smart grid technology is both a key technology and the development direction to guarantee the power quality of the UN's grid. At present, American IT giants are striving to enter the European grid cloud computing market. In Japan, the new energy field is the key focus of the smart grid. Considering the increasing supply of new energy, such as solar power, smart grid technology is needed to guarantee the stability and reliability of the power supply system. Thus, the development of cloud computing in Japan's smart grid will have Japanese characteristics.
In China: In 2009, State Grid proposed a smart grid development goal for the first time. Both State Grid and China Southern Power Grid actively participated in setting smart grid standards. In 2010, constructing smart grids became one of China's national strategies. Theoretically, both grid companies conducted relevant research. In practice, both companies competed with each other to implement cloud computing strategies and carry out research on a demonstration platform.
3. The Application of Cloud Computing in Power Systems
For the current power system, the systematic integration of IT infrastructure is complete. Through IP communication data networks, the headquarters is connected to provinces and cities, forming an integrated platform, two-level data centers and three-level application systems. The allocation of IT resources, however, still relies on physical partitions in accordance with applications. Such allocation method brings the following risks and challenges.
l A Low Resource Utilization Rate
As application and resource are closed related, applications need to allocate resources according to the peak volume of service. Thus, many resources remain idle most of the time, resulting in the low utilization rate of server resources and natural barriers to resource and data sharing.
l High Operation and Maintenance Costs
Along with the rapid growth of primary grid construction, access to distributed energy resources, the popularization of new energy electric vehicles, service process changes resulting from the promotion of the energy IoT and the separation of marketing and distribution, and the increasing new power services including large grid planning and management, smart charging and battery replacement operations management, smart power marketing and big data mining, the number of devices equipped with IT-supported system servers, the Internet and storage will boom. This will, under the traditional data center construction mode, cause a sharp rise of costs in terms of land occupation, power supply, cooling and maintenance, bringing challenges to the long-term IT input and O&M of power enterprise information centers.
l Slow Service Deployment
Under the traditional mode, when departments of power enterprise information centers deploy new services, significant delays exist between submitting change requests and making operational changes. Each service deployment goes through hardware selection, procurement, rack installation, the installation of operating systems and applications and network configuration, making the process extremely slow.
l Dispersed Management Policies
The current power enterprise information system lacks a unified centralized IT construction policy in terms of O&M management, making it incapable of monitoring, managing, reporting and having remote access to the infrastructure of power enterprise information centers. IT management policies are dispersed.
Cloud computing has wide application prospects in power systems due to its many advantages, such as its powerful computing and storage capacities, its ability for dynamic extension, its convenience in sharing computing resources, its continuously optimizing configurations, its continuously developing and upgrading software, the fast launch of its services and its user-friendliness.
The smart grid, however, is a large parameter-distributed closed-loop system that will be supported by multiple distributed clouds performing cloud computing in the future. At the same time, to ensure the security and stability of the power system, private clouds will be exclusively used in the power system. The following part will be a rough analysis of the relevant fields in power systems to which cloud computing is applicable.
3.1 Grid Analysis
For large-scale power systems under the UHV grid, time-domain simulation requires massive computing power. In the future, cloud computing would further improve the speed for analyzing the transient stability of large systems through time-domain simulation and also realize online analysis.
3.2 Large Grid System Recovery
To some extent, in terms of recovery, new challenges are brought to power systems by the market-oriented operations of the power industry, the development of remote interconnected power systems and the access of a large number of distributed power supplies to the power system. As a shared computing platform for all power system members, cloud computing can better enhance information sharing and coordination, and it can help find the best recovery plan for complex interconnected systems.
3.3 Monitoring and Scheduling
In the future, power systems may gradually turn from centralized control to distributed control. Information sharing and the coordination of distributed control centers can be enhanced by a unified power system cloud computing platform. Due to the large number of distributed generations in future power systems, the calculations for system scheduling and operational control will increase significantly. Cloud computing can better solve the problem of insufficient computing power.
3.4 The Big Data Analysis of Electricity Consumption
The most important feature of cloud computing for smart grids is distributed computing. Electricity meter data will be one of the sources of massive power grid data in the future. In terms of cloud computing power, it can completely realize the classification, analysis and processing of massive data for smart grids.
3.5 Power Cloud Terminal
In the future, employees of power enterprises will be able to connect to exclusive virtual hosts with their own accounts at any station. This will be characterized by diverse office modes and multi-level information security audit mechanisms anywhere, anytime, as well as by having the obvious advantages of environment protection and being low carbon. The power cloud terminal has a powerful cloud server, which enables multiple users to share computing equipment as a virtualized resource pool while allocating computing resources according to ordered needs. This will significantly improve the utilization rate of equipment and improve the efficacy, efficiency and benefits of data centers.
The above outlines several areas in which cloud computing technology is expected to be applied in power systems. In fact, because cloud computing is a general service mode, many power system applications can be published on cloud computing platforms. These include a power cloud search engine, a power video cloud system, a cloud remote training system, a power quality cloud online monitoring system, a power Google system, a power distribution network, an intelligent cloud fault identification system, a cloud-based power grid production management system, a power grid production cloud disaster recovery system and a series of applications closely related to power grid production management.
4. Challenges to the Migration from IT to Cloud Computing in Power Enterprises
Over the past one or two years, power enterprises and scientific research institutions have successively carried out pilot research projects and scientific research on power cloud computing at a small scale. After a period of trial and error, the cloud computing of power enterprises encountered the following challenges in the process of migration and construction.
First, application administrators pay attention to the deployment of applications, and security administrators pay attention to the implementation of security policies. So how should applications and security policies be deployed to the IT infrastructure, and how should convenience in the deployment process be realized? This is the key to improving the operating efficiency of IT.
The current reality, however, is that network management, storage management and computing management are three separate systems, leading to the fact that the deployment of all applications and security policies requires the cooperation of multiple systems, as well as a large number of manual operations.
At the same time, the current IT infrastructure of the private clouds of power enterprises, which is composed of clouds, networks and terminals, is undergoing great technological changes. BYOD technology is transforming IT terminals from traditional PCs to intelligent mobile terminals. The traditional data center is shifting to the cloud, realizing the elastic expansion of computing resources, delivering and working on demand.
Moreover, infrastructure that lacks unified management also creates many obstacles for the IT departments of power enterprise information centers when providing external services. Cloud computing technology has changed the consumption mode and service mode of the traditional IT industry. It has realized the transformation of consumers from "purchasing software and hardware products" to "purchasing IT services,' and it has allowed consumers to acquire and use IT services by themselves through enterprise networks. This has greatly improved the service efficiency and agile delivery of IT resources.
In a cloud data center, IT resources are published outward in the form of a service catalog. As the name implies, this service catalog is a catalog composed of various published service templates. Through the service catalog, the supply problem of IT resources as services can be solved. Users can browse and apply for services that they need through the service catalog.
5. An Overview of the H3C Cloud Network Convergence Solution Serving the Power Cloud
How can we realize the deployment of power enterprise applications in the clouds, and how can we achieve the corresponding application services of various terminals based on security policies? These questions have become the content that the IT departments of power enterprises need to pay attention to. The H3C Virtual Converged Framework (VCF) solution has become a new IT solution for the private cloud construction of power enterprises. The VCF architecture is divided into three levels from bottom to top (as shown in Figure 1).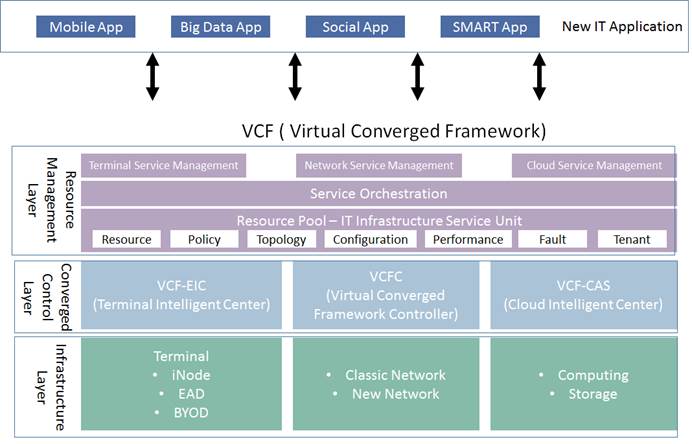 Figure 1: VCF Architecture
5.1 Infrastructure Layer
The Infrastructure Layer includes the infrastructure of endpoints, networks and computing and storage, which involves all the facilities of enterprise IT infrastructure. In the network section, not only traditional networks are included, but also new network technologies such as OpenFlow, NFV and Overlay are added. In terms of terminals, the management from traditional PCs to Smart Terminals (Apple IOS, Android and Windows 8) is achieved. The data center section includes the integration and overall delivery of the server and its Hypervisor system, storage and network.
5.2 Converged Control Layer
The Converged Control Layer includes VCFC, VCF-EIC and VCF-CAS, realizing the software definition of networks, terminals and cloud computing, respectively.
Among them, VCFC is the H3C SDN Controller, which provides support and centralized network control for traditional classic networks, the OpenFlow network, the Overlay network and the NFV network. More importantly, it provides various SDN applications based on OF to realize the value of the SDN, such as the software defined L2, L3, QoS and TE forwarding app, the Overlay forwarding app, the Service Chain app, the large-scale SDN cluster architecture app and third-party apps based on the VCF Controller SDK.
VCF-CAS implements the software definition of cloud computing, realizing the centralized management functions of VM, such as creation, migration, cloning and snapshotting.
VCF-EIC implements the software definition of the terminal, realizing security authentication, health checks and the centralized management of Mobile Device Management (MDM) and Mobile Application Management (MAM can be applied to the push and erase operations of the terminal according to policies) of the terminal (this is not limited to devices, but also includes iNode, iOS and other software).
5.3 Resource Management Layer
The Resource Management Layer implements the resource virtualization for endpoints/users/applications, the unified and automatic orchestration of resources such as computing, storage and networks, and the on-demand delivery and on-demand movement of resources.
Based on OpenStack, the original H3C iMC platform can support computing, storage, databases, security, DNS and other resource applications, as well as management and business orchestration, while realizing network business orchestration. It can also provide a complete self-service portal, providing a full set of operations and maintenance, services, management and monitoring services for the construction of enterprise IT infrastructure.
Based on the Resource Management Layer, it can provide an Open API, support third-party apps based on the iMC VCF SDK, support third-party software linkups and support application linkage requirements.
5.4 IT Infrastructure of Power Enterprises under the VCF Architecture
The development and evolution of the IT infrastructure of power enterprises have successively gone through stages of standardization, virtualization, automation and a transformation to being service-driven, and they have finally completed the transformation to a smart grid private cloud mode (as shown in Figure 2).

Figure 2 Evolution Route of the IT Infrastructure of Power Enterprises
Through software definition architecture, H3CVCF realizes the intelligent and automatic collaborative deployment of applications in IT systems (servers, storage, networks and terminal systems), and it achieves a new IT architecture that is more efficient and convenient.
Especially on the control plane, the construction of the IT infrastructure of power enterprises, through the H3C VCF Controller, can clarify application-oriented unified strategic control points, provide complete network policy control, including terminal access control, VM access control and other policies, and can also provide the L4-L7 service chain deployment strategy. Thus, application deployment, security deployment, and VM deployment need to obtain profiles or policies from the VCF Controller. It not only realizes the centralized control of deployment strategies for networks, computing and storage, but also provides a unified policy entry and control point for higher-level applications.
In the era of cloud computing, the amount of data added every day is huge, and the data to be processed is also multiplying. This requires higher processing performance from power IT systems. The traditional processing method mainly improves the performance of IT systems by purchasing high performance equipment, but the resulting performance improvement of entire IT systems is not obvious. The main reason for this is that the internal components of an IT system work independently and cannot work together effectively. Centralized control and scheduling of IT systems are realized through a unified controller, and application-oriented automatic operations and maintenance are realized by an integrated management platform. In addition, the collaborative work of IT systems is realized by the cloud-network convergence of IT architecture, providing an efficient IT infrastructure platform and technical guidance for various cloud applications.
With the development of product technology and the continuous decline of product prices, it is time for data centers, especially large power data centers, to abandon traditional architectures, as an era of integration has come. Only a fully virtualized and automated integrated data center can make cloud computing bo. The H3C Cloud Network Convergence Data Center Solution has opened up a new direction for the construction of power data centers in the future through innovative comprehensive virtualization, converged control and converged management, and it has also made full preparations for the implementation of cloud computing.
Are you an H3C partner? Log in to see additional resources.
You can find excellent H3C partners, or you can become one of them to build a
partnership with H3C and share success together.