H3C SecPath firewall family attains ICSA Labs corporate firewall certification
15-01-2020
Recently, H3C SecPath Firewall Family products, relying on their highly reliable hardware architecture, excellent software platform, professional security properties and other characteristics, have passed strict tests by ICSA Labs, an international authoritative security detection organization, fully met the enterprise firewall security testing standards and won an ICSA certification, the highest-level international testing certificate in the security field.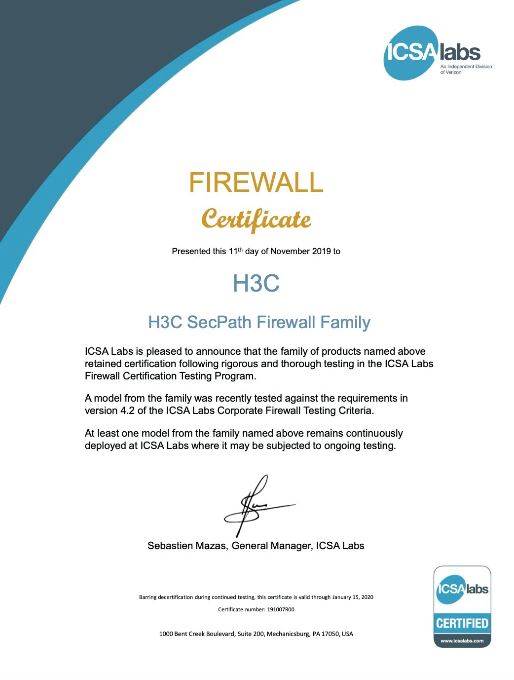 H3C SecPath Firewall Familyawarded ICSA Labs Corporate Firewall Certification
Authoritative certification with security capability internationally recognized
ICSA (International Computer Security Association) is the most well-known and credible international organization in the field of information security. Since 1989, ICSA has been committed to protecting the security of end-users and enterprises and providing credible and independent third-party security product testing and certification for the world's top network security suppliers and security service providers. Enterprises in various fields around the world will measure the security, stability, compatibility and security compliance of products according to the testing and certification standards of ICSA Labs.
According to the official ICSA Labs report, following the latest firewall security certification test standards, the H3C SecPath Firewall Family has passed a series of rigorous tests and specification verification in aspects including testing system configuration and installation, security policy setting, system management, system log and security effectiveness. Such a series of products have performed well in different test schemes and test environments, especially in threat protection, stability and reliability, and successfully passed the complete set of ICSA Labs corporate firewall security test requirements. At present, only a few security suppliers have obtained the ICSA firewall products certification, which indicates that H3C has been among the forefront in this field worldwide.
Excellent quality to drive enterprise innovation and development
H3C SecPath Firewall Family represents an important capability output of the active security system. Relying on massive data and analysis capabilities, deep learning and artificial intelligence technology and the cloud-network-terminal cooperative linkage capability, H3C SecPath Firewall Family products have gained such edges in security as active security phase evolution.
In terms of performance, relying on gigabit and 10-gigabit port access capabilities, such products can provide customers with high-performance software and hardware processing platforms and ensure the high reliability of carrier-grade devices;
In terms of security, such products can support flexible and extendable integrated in-depth security protection, carry out comprehensive traffic identification and management and real-time virus protection in the application layer, and effectively ensure network security;
In terms of smartness, such products can provide integrated security policies and achieve such functions as policy redundancy detection and policy matching optimization suggestions. They can also achieve unified management through H3C IMC SSM and implement the functions of security information and event collection, analysis and response.
At present, rich hierarchies have been formed among H3C SecPath Firewall Family products which have achieved a more comprehensive market coverage, providing industry-leading performance and security for VPN access, data centers, carriers, large-scale enterprises and campus networks and other application scenarios that require 10-gigabit or higher-level port.
In the future, based on over 10 years of experience and industry insight in the field of network security, H3C will rely on its continuous research and development capabilities to be devoted to the construction and service of domestic information security while promoting the overall development of the world's network security industry with a global vision.