MIDA Delegation Visits H3C Beijing Headquarters
26-09-2019
On September 25, the delegation led by YBhg. Dato' Abdul Majid Ahmad Khan, Chairman of Malaysian Investment Development Authority (MIDA), and Mr. Arham Abdul Rahman, Deputy CEO I of MIDA, visited H3C Headquarters in Beijing. Gary Huang, SVP of H3C, and Wang Chen, Vice President of the International Business Department of H3C attended the activity.
Gary Huang, on behalf of H3C, expressed welcome to YBhg. Dato' Abdul Majid Ahmad Khan, Chairman of MIDA, Ms. Yang Luhan, Vice President of China-Arab Council For Investment Promotion (CACIP), and other accompanying officials for visiting H3C, and extensively communicated with YBhg. Dato' Abdul Majid Ahmad Khan and other senior officials on promoting Malaysia's digital economy development and opportunities for future cooperation.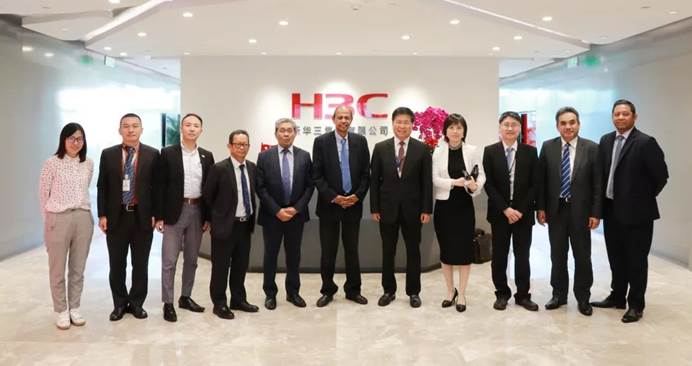 MIDA Delegation visits H3C for communication
During the visit, YBhg. Dato' Abdul Majid Ahmad Khan and the delegation visited H3C's Innovation Experience Center in Beijing and learnt about H3C's technical advantage and industry-leading position in such fields as cloud computing, big data, digital interconnectivity, information security, new safety, IoT, edge computing, artificial intelligence and 5G.
H3C has been contributing to the rapid development of China's digital economy with both technological innovation and application innovation as driving forces. In terms of technological innovation, by the end of August 2019, H3C had submitted 10,376 patent applications, 90% of which are patents for invention.
During the following discussions, Gary Huang shared H3C's development strategy in terms of international businesses and highlighted H3C's process of development in Malaysia. Gary Huang pointed out that with years of experiences in the Chinese market, H3C has expanded in Malaysia, regarding the Malaysian market as one of its key overseas markets. H3C has officially established a Malaysian subsidiary in this August which will provide a series of advanced ICT products and solutions in the Malaysian market. It has cooperated with dozens of local channel partners to actively develop in terms of sales, technical and service support, as well as channel expanding. In response, YBhg. Dato' Abdul Majid Ahmad Khan highly praised H3C's advanced technologies and ability to rapidly develop in overseas markets, and expressed positive expectations for future cooperation between the two sides.
CACIP, as a Chinese private investment promotion organization directing at Arab countries and Muslim areas, is responsible for helping Chinese enterprises to conduct business and safeguard their legal interests in Arab countries and Muslim areas, according to Ms. Yang Luhan, Vice President of CACIP. Ms. Yang welcomed YBhg. Dato' Abdul Majid Ahmad Khan and the rest of the delegation for visiting and inspecting outstanding Chinese enterprises like H3C, and said CACIP would continue to bridge China and Malaysia for economic cooperation.