H3C Explores Malaysian Market, Shaping a Smart Future with Partners
29-08-2019
[Kuala Lumpur, Malaysia, August 29, 2019] Digitalization is rapidly emerging as the key factor for success in today's changing global economy. As a major player in the economic development of Southeast Asia, Malaysia is working hard to fulfil its vision by digital 2020 project to promote digital construction.

H3C Malaysia Grand Opening Event
On August 29, H3C, an industry leader in the provision of Digital Solutions in China, hosted a Malaysian Grand Opening Partner Event with the theme of "Digital Navigation Smart Future". At the conference, H3C unveiled a full range of products and solutions for the Malaysian market. Gary Huang, SVP of H3C, and the clients from government, technology companies and other industries attended the conference and joined a discussion on building Malaysia's digital future.joined the ribbon cutting ceremony for H3C's Malaysian company.
Exploring New Transformation Requirements and Stimulating New Industry Potential
Malaysian authorities have consistently increased investment in ICT fields including big data and information security in recent years, aiming to support the digital transformation of local industries. Specifically, it promotes the systematic and comprehensive development of enterprises in talents, processes, and technologies, and advances business transformation and economic development.
Based on its in-depth insight into Malaysia's current ICT situation and demands, H3C offers a full portfolio of Digital Infrastructure products, spanning across compute, storage, networking, security and related domains, and provide a comprehensive one-stop digital platform that includes cloud computing, big data, interconnectivity, information security, new safety, Internet of Things (IoT), edge computing, artificial intelligence (AI) and 5G solutions, as well as the end-to-end technical services.
In addition, H3C will continue to carry out its strategies of "Inclusive Platform, Borderless Ecosystem" and "Channel First" to empower high-value partners, support the technicals and solutions in the key projects. H3C looks to combine the strengths of partners ecosystem to unleash the potential of the intelligent digital platform, and helping to support customers' business applications, which could further apply and develop the "Digital Brain Project" launched this year.
Exploring the Opportunities for Win-Win Situation and Creating the Smart Future Together
Embracing the digital economy will be key for Malaysia to maintain its competitive edge in the new global market. Considering the diversified industry structures in Malaysia and the nation's ICT construction plans involving smart education and safe city, H3C will replicate its previous successful industry experience, cooperate with key local partners, and grasp new opportunities to help advance Malaysian economic development.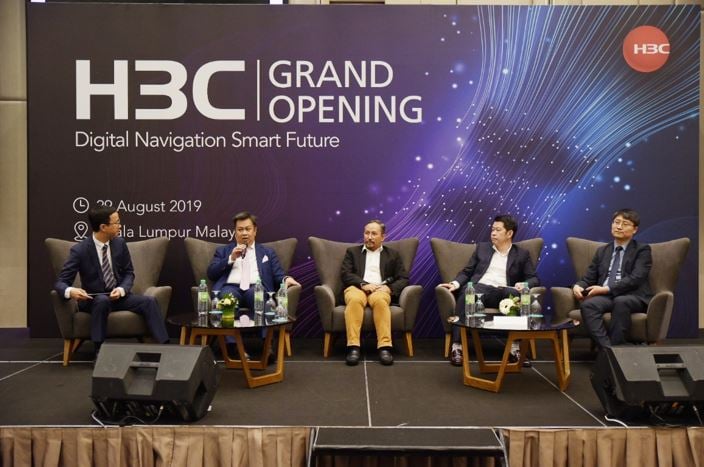 Roundtable Forum
At the event, the client from Malayisa government shared his views on the significance of digital transformation for the Malaysian government and enterprises. "As a leader in national information technology, we see digital transformation as its core business. By establishing a deep partnership with H3C, we look forward to working together to promote digital construction in the government and public system based on the experience of both parties, speeding up the fulfilments of Malaysia's network construction." and thus improving the government public service efficiency.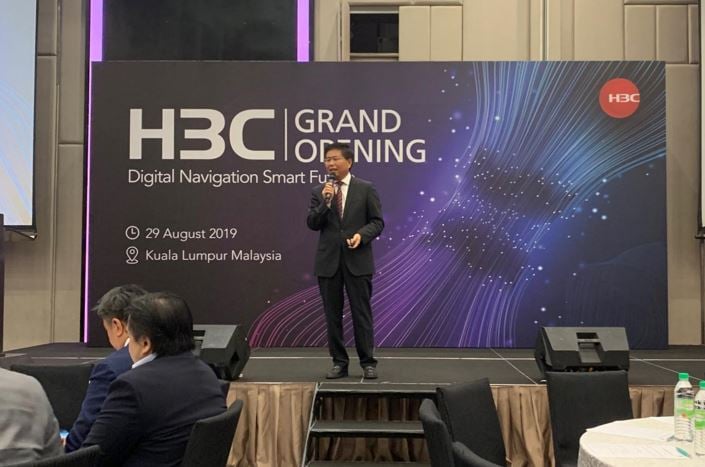 Gary Huang, SVP of H3C
"Besides the cooperation with customers and partners in the ecosystem, we are also advancing the team construction locally. We have founded a local team in the Malaysian market to push forward sales, technical and services support, channel development and establish partnerships with dozens of channel partners," said Gary Huang, SVP of H3C. "In the future, we look forward to joining hands with more partners in exploration and innovation, to empower our clients in government , education and other industries to promote digital transformation and build a new smart future in Malaysia."