H3C Launches Ultra-high-performance Server Dedicated to Computing-intensive Services
23-04-2019
With the theme of "IT Reform in Digitalization", the IT infrastructure sub-forum of NAVIGATE 2019 was held in Chongqing on April 20. On the forum , H3C launched the independently developed new generation computing-intensive server H3C UniServer R6700 G3, a professional high-performance platform for massive data analysis in the digital era, which will further underpin the computing infrastructure of data centers and boost the efficient and stable operation of user business systems.
Accelerating technological evolution
Setting new heights for superior performance
As a high-density enterprise-level server for core business, the new generation H3C UniServer R6700 G3 is equipped with Intel's newest Xeon scalable processor and the DDR4-2933 memory. It supports Intel's newest data center-level persistent memory module (DCPMM) and uses the 2U high-density architecture to provide four-channel high-performance computing, thus realizing high scalability and reliability. It is currently the most advanced computing-intensive four-way server computing platform in the market.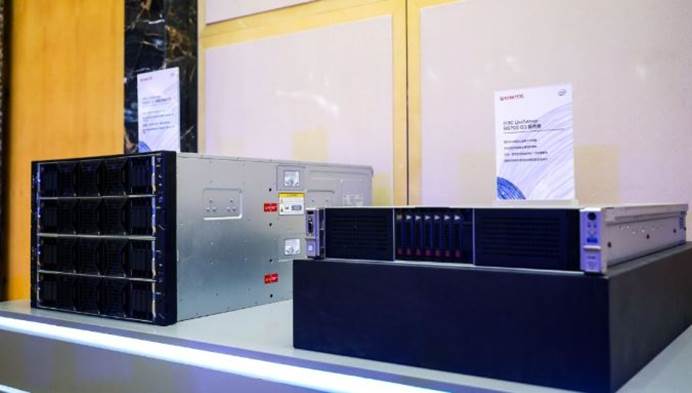 Physical Display of H3C UniServer R6700 G3
The H3C UniServer R6700 G3 is also modular and configurable to support up to 26 SFF hard drives, including 16 optional NVMe SSD hard drives. It is characterized by remarkable flexibility and scalability with up to 10 standard PCIe3.0 I/O channels.
In addition, the R6700 G3 server features excellent maintainability and usability relying on the embedded HDM software and batch management and maintenance tool FIST, as well as comprehensive repair support. It implements real-time control of smart energy conservation combining software and hardware operation, thus minimizing enterprises' O&M costs.

H3C UniServer R6700 G3 Server
Adhering to quality and security
Obtaining authoritative certificate
The new generation computing-intensive server H3C UniServer R6700G3 not only meets enterprises' requirement of high-performance computing, but also complies with national policies for security design, such as the use of TCM encryption chips. It supports chassis intrusion detection and other protection, and has passed the national standardized test of National Institute of Metrology of China.
As the subject of this conference, the R6700 G3 server has passed a series of tests in extreme environments, including the electromagnetic compatibility test, anti-interference test, anti-vibration test, constant temperature and humid test, and its performance in radiation interference field strength and high-intensity vibration impact tests in the frequency range of 30MHz-1GHz are all well ahead of the national standards. While providing robust performance, the R6700 G3 server operates in a temperature range of 5-45 ℃, dynamically adjusting the internal temperature of the chassis through advanced 3D precise temperature control and other technologies, so as to provide users with the highest energy efficiency returns.
The ideal choice
Supporting multiple mission critical workloads
The H3C UniServer R6700 G3 supports multiple mainstream operating systems, including Microsoft®, Windows®, and Linux, as well as various virtualization environments, such as VMware and H3C CAS. Suitable for a variety of core applications and computing-intensive businesses, it is an ideal choice for mission critical workloads, virtualization, server integration, databases, business processing, and general 4-way data-intensive applications.
The R6700 G3 server provides database support for real-time transaction business, enabling a high-reliability and high-availability key support platform for various business systems. In the support for customer business, it comprehensively helps enterprises understand the data, thus enhancing customer satisfaction and loyalty; In the planning of enterprise resources, it facilitate the enterprises' business operation in real time. In addition, the R6700 G3 server supports HANA, data analysis and other memory computing businesses, providing large-memory, high-performance, fat-node computing and GPU support for high-performance computing and deep learning.
As the leader in digital solutions, H3C has always adhered to the advantages of efficiency, agility, security and quality in the innovation of server products, and realized faster update and more accurate positioning of products through the introduction of AI technology and scenario-based R&D model. By launching this new generation computing-intensive server, H3C will provide customers with better IT services featuring security, reliability and efficiency and facilitate the digital transformation of enterprises, thus ushering in the era of smart computing.