H3C Showcased Cloud EXPO Asia, Leading Cloud Transformation
07-11-2018
On October 11, 2018—Singapore, "Cloud Expo Asia", one of the most authoritative IT events in Asia, is concluded in Singapore. H3C, a leading digital solution provider, affiliated to Tsinghua Unigroup (hereinafter referred to as "H3C") attended the Expo and displayed innovative products and technologies including CAS platform, Cloud OS, UIS and SD-WAN. Meanwhile, Wang Chen, vice president of H3C Group, was invited to attend the "SD-WAN Architecture and Virtualization" forum to share the Group's cutting-edge insight and latest progress in cloud computing.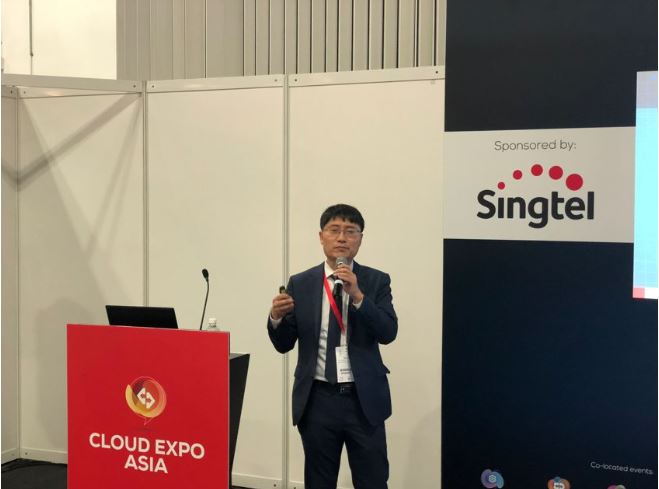 Wang Chen, Vice President of H3C Group, delivers a keynote speech at the conference.
With the further development of cloud model, the traditional data center or cloud service cannot satisfy the users' demands, and cloud computing has entered a profound zone. With the increasing demand of users for cost, flexibility, security, management and others, many new cloud technologies have been continuously developed. In view of the difficulties encountered by users in the implementation of cloud solutions and many new demands, H3C has exerted all-round efforts in cutting-edge technology insight, scenario application, ecological system, R&D and others.
By combining advanced technologies such as big data, AI, container, micro-services, GPU virtualization with existing solutions, H3C has made many technological progresses. Its Cloud OS platform featuring full-stack management has entered the 3.0 era, while CAS for infrastructure virtualization ranks top in the global SPECvirt performance test list, which has taken the lead in completing GPU virtualization technology exploration and product virtualization in China.
With years of innovation and practice, H3C's cloud computing has become the top brand in many fields such as government cloud, domestic virtualization, hyper convergence, cloud management platform, and software storage, serving over 60,000 customers, including the national-level government cloud, 13 ministerial-level, 19 provincial-level, over 300 city or county-level government clouds, and over 200 cloud platforms for universities, colleges.
Singapore-centered Southeast Asia is one of the key regional markets with great growth potential in the Asia-Pacific region. In the future, H3C will provide more efficient, flexible, innovative and reliable cloud computing technologies, products and solutions for Singapore and other markets in the world, to promote the process of digital transformation.