H3C attended NV&SDN Asian Summit 2018 in Singapore
07-11-2018
On September 19 2018-Singapore, TECHXLR8 2018 Asia, was held in Singapore. Themes including IoT, 5G, AI, NV&SDN and social networking were covered in the summit. H3C, a leading digital solution provider, affiliated to Tsinghua Unigroup (hereinafter referred to as "H3C") attended NV & SDN Asian Summit 2018., showed its innovations and practices in new digital network to customers and partners worldwide.
TECHXLR8 2018, originated from London Science and Technology Week, is one of the largest activities in the technology and communications industry, bringing together world-renowned network equipment suppliers, operators and experts. Mr. Li Li, deputy president of H3C, presented the keynote speech "Embracing AI, Advancing Toward the Future of Network Intelligence" at NV&SDN Asian Summit 2018, analyzed and prospected the future development of SDN, NFV and AI technologies in the network, and expounded the viewpoint of H3C towards intellectualization of network.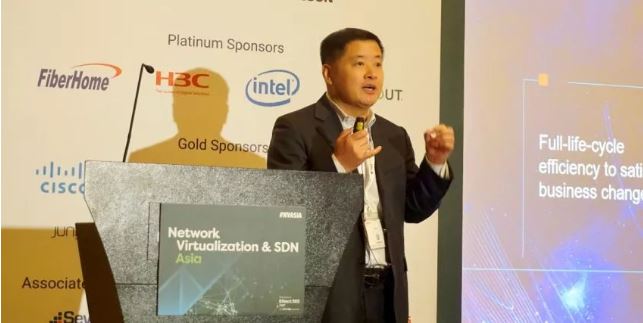 Mr. Li Li, Vice President of H3C Group, delivers a keynote speech at the conference.
In NV&SDN Asia 2018, the digital transformation of the operators' networks is still a hot topic. H3C reckons that the digital transformation of operators' networks is a systematic project. Rebuilding an open and flexible New Network by using technologies like SDN and NFV will be a critical step for digital transformation of networks. Based on standard and open source platforms, H3C is committed to win-win cooperation with partners within the industry in an open mind, serving partners and users with a flexible business model. It not only provides virtualized network products and solutions, but carries out co-innovation and exploration of new business models with operators.
Mr. Li pointed out that during the digital transformation of operators' networks, in addition to SDN and NFV, AI should also be introduced to realize intellectualization of networks, which still requires cooperation and efforts of the whole industry. H3C, as an enterprise advocating Open Ecosystem Model, hopes to work together with partners such as academic institutions, standard open source organizations, and industry leaders to build a healthy, open and win-win new intelligent network and promote the development and construction of the network.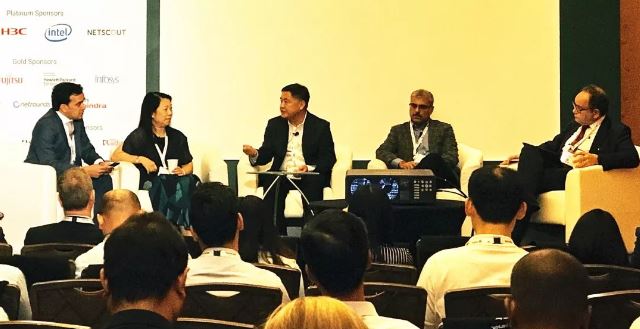 Guests Participating in Theme Discussion
In addition, Mr. Li was also invited to participate in the thematic discussion of the conference, discussing with industry experts and opinion leaders over the key issues such as the impact of NFV and SDN technology on the transformation of operators' networks, and their corresponding challenges and responses. In the past time, the New Network technology represented by SDN and NFV has made great progress, and the telecom operators generally reconfigure the network based on SDN and NFV technologies. H3C has also established a number of SDN and NFV commercial pilots with domestic operators, committed to helping our customers build intelligent, open, and efficient digital networks.
The concept of "AI + SDN/NFV" pointed out by H3C highlights the insights and practices of H3C towards the medium and long term development of network. Based on SDN and NFV technologies, H3C holds a positive outlook on the upcoming intelligent network era, and will build the most valuable network platform with this regard, providing a one-stop and all-round digital platform for customers and partners in various industries around the world, shifting customers' focus from the network itself to business value, and shaping an application-driven digital future.