Shenzhen, August 15, 2018 -- Yesterday, the International Conference of Future Network Technology and Engineering (ICFNTE) in Shenzhen, a high-end domestic network research platform, jointly sponsored by the Department of Information and Electrical Engineering at the Chinese Academy of Engineering and Pengcheng Laboratory (Shenzhen Cyberspace Laboratory), was held in Shenzhen. Experts and practitioners from the industry, universities, and research projects from Peking University, Tsinghua University, Chinese Academy of Engineering, New H3C, and others participated in the event. At the conference, Bi Shouwen, Vice President and General Manager of the Product Marketing Department of New H3C Group, gave a keynote speech entitled "Embrace a Futuristic Intelligent Network Era", unveiling the in-depth concepts and meaningful exploration on how New H3C will realize phased evolution and orderly development in a futuristic intelligent network era.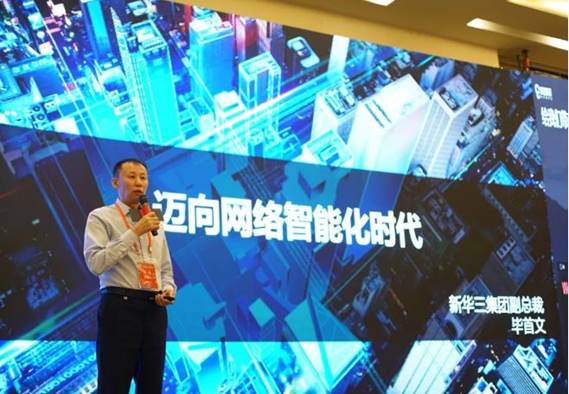 Bi Shouwen, Vice President and General Manager of Product Marketing Department of New H3C Group
With the rapid development of network technology, traditional networks are facing urgent demands for digital transformation: It is difficult for the original network to cope with the new enriched and diversified business demands. It begs the question of how to achieve efficiency and flexibility, which then becomes an important goal for network evolution. The answer is: Network architecture needs to be transformed, with the introduction and development of AI technology revitalizing the network transformation in this process. New H3C is committed to accelerating the intelligent transformation of the network via AI, promoting the application and deployment of AI in network technology in terms of four dimensions: architecture transformation, technology integration, phased evolution, and a co-building ecosystem.
In terms of architecture, New H3C Group has employed the network analysis platform to introduce network operating status feedback, which establishes a network cornerstone oriented to new business society through self-learning and self-awareness of the network; in terms of technology integration, the group will further promote the integration of IT, CT, DT, OT, and other technologies; in terms of phased evolution, the group believes that embracing a futuristic intelligent network era is evolution that occurs in steps, which currently focuses on visualization and automation, while the ultimate aim is to create a fully automated intelligent network. In terms of co-building the ecosystem, the group points out that creating an intelligent network is not only a matter of changing the network itself, but also a comprehensive and systematic project that requires multilateral participation. New H3C will jointly establish a healthy, open, and co-building business ecosystem for an intelligent network with industry partners including scientific research and academic institutions, standard and open source organizations.