H3C Launches New Cloud Desktop Solution Based on NVIDIA vGPU, leading the Trends in Computing Innovation
06-08-2018
On July 20, H3C Group (H3C) under Tsinghua Unigroup announced the official launch of a brand-new commercial cloud desktop solution usingthe NVIDIA® vGPU technology and based on the KVM virtualization platform. Relying on the continuous accumulation of H3C in desktop cloud and the excellent performance of NVIDIA vGPU, the solution can achieve centralized coding, capturing and rendering through GPU server clusters, reducing the workload of the front end and providing a great use experience. The solution features the NVIDIA Quadro® virtual data center workstation that provides advanced workstation functions for designers and professionals, and the NVIDIA GRID™ virtual PC that provides local PC experience for knowledge-based employees.
Zhu Guoping, Vice President of H3C Group, John Fanelli, Vice President of the virtual GPU business at NVIDIA, and Shen Wei, Director of the Asia-Pacific business at Proviz, attended the ceremony and introduced the cutting-edge technical advantages and industrial application value of the cloud desktop solution.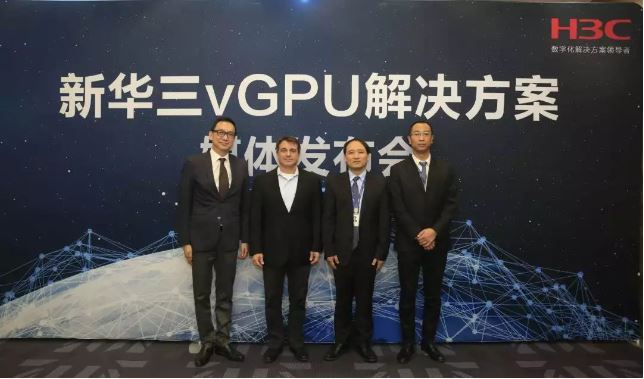 Shen Wei (Left), Director of the Asia-Pacific business at Proviz,
John Fanelli (Middle), Vice President of the Virtual GPU Business at NVIDIA,
Zhu Guoping (Middle), Vice President of H3C Group,
Chang Long (Right), Product Director of the Cloud Computing VDI at H3C Group
The rise of emerging technologies represented by deep learning is pushing all industries to acquire data values and reshape business models. This trend creates an unprecedented opportunity for the GPU that is good at parallel computing and floating-point computing. Under the software-defined infrastructure, innovative solutions such as GPU virtualization and graphics workstations have become new drivers for the business transformation of clients.
As a leader in digital solutions, H3C is the only provider of the cloud desktop solution in China that supports SoftVM, GPU Passthrough, and vGPU at the same time on the KVM virtualization platform. This new version of NVIDIA vGPU-based H3C cloud desktop caters to multiple demands of clients with innovative virtual desktop infrastructure, based on a stable, reliable and efficient CAS virtualization platform. It promotes transmission efficiency and reduces delay with efficient H-V data sharing, reduces CPU load with H.264/H.265 hardware compression, reduces network bandwidth occupation with differential image transmission, considers both cost and definition and achieves coexistence with terminal hardware and software decoding, and supports users' different demands for 3D and coding and decoding with flexible vGPU management.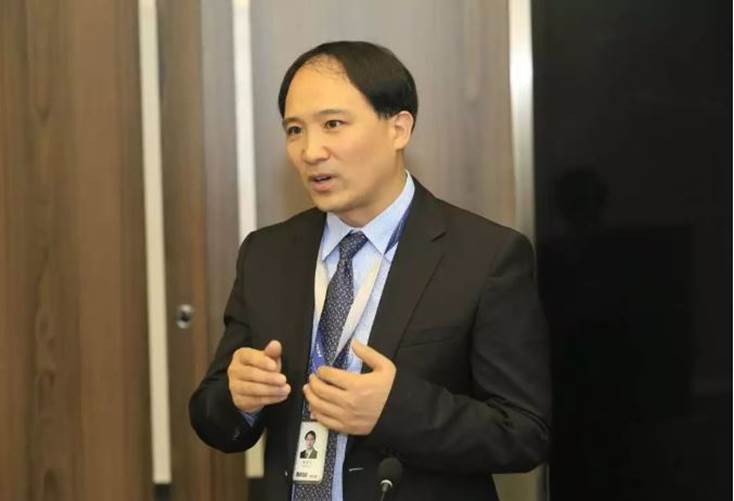 Zhu Guoping, Vice President of H3C Group
At present, H3C takes the opportunity of cloud computing and AI to provide clients with integrated solutions including infrastructure, cloud platform, cloud desktop and thin client, meeting the development demand of clients for the ICT business centered on cloud computing. At the same time, based on the concept of openness and cooperation, H3C has joined hands with NVIDIA to provide the end-to-end cloud desktop solution covering all industries and scenarios and help clients build advanced and efficient IT platforms, relying on the self-developed virtualization platform CAS that ranks first in domestic market share as well as the practice of cloud desktop in education, government affairs, enterprises, media convergence and many other industries.
According to Zhu Guoping, vice president of H3C Group, as AI is becoming one of the most promising innovative technologies in digital transformation, the GPU is playing a more important role in meeting the clients' demands for computing. By combining its technological accumulation and practice advantages in various fields with NVIDIA's superior GPU products, H3C will open an era of smart reform for its clients.