Exclusive Interview with Tony Yu: H3C is Marching into Security Market 《zhiding.cn》
13-06-2018
"Compared with leading enterprises in foreign countries like the US, we need to be assiduous learners, studying with a humble attitude." The words of Tony Yu, President and CEO of H3C, gave an amiable impression to the journalist of zhiding.cn during the interview. Although today's H3C has taken the leading position in the field of ICT, Tony Yu seldom mentioned words like "surpass" or "leading" in terms of security for his clear recognition about what the position of H3C is in this market.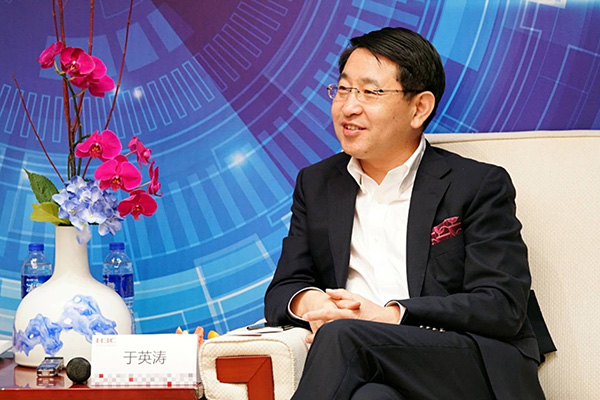 Tony Yu, President & CEO of New H3C Group
The global security market has never seen any Chinese enterprise acting as the pioneer regarding the techniques. As for the importance of the current security market, it is abnormal that many Chinese manufacturers are now playing significant roles in ICT field across the world, including H3C. Then, what makes security exceptional?
On the one hand, the investment proportion of China's enterprises in information security construction is small; on another hand, the security market of enterprises have seen a hundred schools of thought from five to six hundreds of companies of different sizes with the leading position vacant. The most substantial security manufacturer in China only has the annual revenue of about RMB 2 billion, making it still a small player in the global market.
As the focus of national level, industrial development space, and the forces of laws and regulations have all taken network security to the recorded level, what should we do to seize opportunities in this market and enhance the influence of China's security enterprises in the global market? At the 2017 Heifei Cybersecurity Conference, Tony Yu pointed out, "Big companies should take the leading role in innovation." To shoulder the burden, Tony Yu has put his hope on H3C Information Security Technology Co. Ltd. (H3C Information Security), which started operating in 2017.
H3C's pursuit for "speed"
In March 2017, the H3C Security Center and H3C Information Security in Hefei started operating. As the previous security product line of H3C, the two entities have over ten years of know-how and technical insights. Handing businesses as companies means they have independent R&D, market, sales force, and service team. And such structure is in line with the current enterprise strategy of H3C—pursuing developing speed.
H3C has regarded information security as one of the developing directions of core strategy, and the two entities in Hefei have accumulated an absolute scale of employees. Tony Yu said "I have thoroughly empowered H3C Information Security, gave full play to the security teams and guaranteed enough expenditure for R&D."
He has promised to enlarge resource investment to the security entities and also held a big target—Within two years, H3C Information Security should rank in the top 2 in the Chinese market.
Since its operation in 2017, the developing speed of H3C Information Security has satisfied the expectation of Tony Yu. In the words of Zhang Li, Vice President of H3C and President of H3C Information Security, "we will vigorously expand independent projects and provide service in the professional security market." The independent company mechanism has served as an excellent driving force to enhance the efficiency of market expansion of H3C.
In addition, to better integrate resource coordination in the group, H3C also plans to organize a technical strategy department this year for the purpose of mobilizing all internal resources and handling significant projects by integrating brands, techniques, and overall solutions.
Tapping into the global markets with partners
In the sight of H3C, the network security industry needs to achieve three changes: From the passive response to attacks to overall security concern based on security; from complete dependence and infatuation to techniques to security integration; from single-point protection to the platformization of security. From the perspective of user requirements and protective effect, security providers need to offer users integrated and comprehensive security protection system and one-stop solutions to enable them to concentrate on business development. To achieve this objective, H3C has recognized that it can't provide all kinds of security solutions alone.
So it hopes to play the role of coordinator or integrator. Tony Yu gave an example and said that there are many excellent startups, good at R&D but fail to handle marketing well. H3C hopes to join hands with well-performing partners to build the ecosystem of security, and lead its partners to tap into the global market of network security by utilizing its robust R&D capabilities and market platform. The severe situation of network security and the fact that no manufacturer can handle this issue alone also attribute to the cooperation. The field of network security has seen continuous technological innovation. Without collaboration and information sharing among security manufacturers, new isolated islands will also form no matter how many security devices have been deployed. So H3C plans to provide reliable and all-around security protection to China's governments and enterprises from bottom-level information security infrastructures to top-level applications by creating related industrial ecology. Zhang Li emphasized that most cooperation between H3C and its partners is about R&D instead of stopping at OEM level.
The "all-covering security" of H3C
People familiar with H3C may know that its security products are mainly about hardware, but it can never depend on such equipment alone to elbow its way out and rank in the top 2 in the industry. Besides taking hands with partners, H3C will also broaden its security product line to realize the concept of "all-covering security".
In fact, constructing dependent security company is to break people's traditional impression that H3C only takes hardware as its major business. And it will issue the series of solutions pertaining to data security. Zhang Li said, cloud technology and data security will be the major direction of H3C Information Security.
In the 2017 Heifei Cybersecurity Conference, H3C issued its newest core product of security defense system—situational awareness system, which is the "command center" of the active security system created by H3C. It has also integrated network-side and application-side security equipment, which were scattered before, included partners' security solutions, combined machine learning, and artificial intelligence, and explored and analyzed large and heterogeneous data. In doing this, H3C aims to improve the pre-judge ability of users and help them find and solve problems, satisfy requirements of safety and compliance, thus realizing active finding and coordinated defense to risks. The system is said to be an achievement of H3C Information Security.
From hardware to software, from network to cloud, and from security management to situational awareness technology, H3C is utilizing its sophisticated know-how and strong ability of solution integration to build a large security capability set. H3C also stressed that it would change traditional thinking about security and promote the development of network security industry with the overall and big-picture concept.
Tony Yu also pointed out that H3C Information Security will start from the limited security field to charge into "all-covering security", and security business will be one of the significant parts of H3C.