Flourishing and Leap-forward Development: Cities and Industries in Strategic Views of H3C 《ZOL.COM.CN》
13-06-2018
IT industry in 2017 has some new development features: first, driven by technologies like cloud computing and big data, IT services focusing on technology + application become mainstream; second, innovation on product and scheme attaches greater importance to actual effect in specific industries; third, ecological cooperation develops into deeper and more fragmented fields.
Actually, almost all large-scale technology enterprises are trying to figure out a way to rapidly and effectively integrate their core competitiveness with market and industry as well as to develop industrial ecology in that they not only have to complete targets set for annual performance, but also bear the responsibility to encourage the growth of whole industrial chain.
As H3C is a leader in China's IT industry and given that digital economy is undergoing a fast development, the Group brought forth a new IT strategy of "leading the future with application-driven and cloud-based innovations" in April. The key lies in driving IT cloudization with technology application to let the dual drivers of technology and application herald and promote the digital economy in the future in a generalized new IT environment.
To follow the development guideline, H3C launched the "Leading the Future with Application-driven and Cloud-based Innovations—2017 H3C Road Show in Cities" (hereinafter as "Road Show in Cities") in Shanghai in autumn.
Competitiveness centering on new, integrity and upgrade
Focusing on three significant changes in three keywords of new, integrity and upgrade, Road Show in Cities brought H3C's unique, powerful and unprecedented competitiveness to the current IT market.
First
New products brought by R&D investment
Relying on investment gained as a state-owned company, H3C aims to become the leader in IT industry. Of course, research and development rest in the core of building corresponding strength and capacity. H3C has a firm belief in the development of its core competitiveness in that R&D investment accounts for 15% of its sales volume, R&D employees takes up 50% of overall employees and it has 5 R&D centers.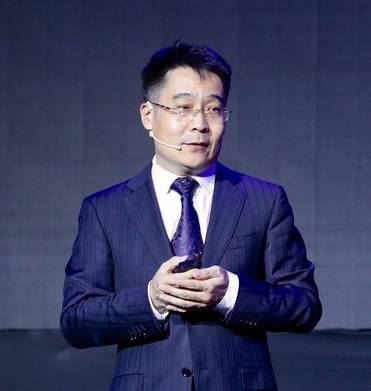 Wang Jingpo, Senior Vice President of H3C Group and President of H3C Group China
Wang Jingpo, senior vice president of H3C Group and president of H3C Group China, said: "Being the leader of China's technology industry is not only a goal of H3C, but also a proof of the Group's resolution on following the new IT strategy of 'leading the future with application-driven and cloud-based innovations.' And the upgrade and investment on its capacity is another evidence of that!"
It was worth noting that as one of the most important events in this year, H3C released its overall products and solutions of digital transformation. Starting from Shanghai, the road show will bring H3C's powerful capacity in technological innovation to many other capitals in China. Many significant innovative achievements of new IT technologies and products concerning edge computing, cloud computing and servers and storage have been displayed to the industry.
Second
Explanation on its confidence
Currently, H3C is able to provide a full range of new IT products and solutions, including IT infrastructure for compute, storage, networking and security, innovative platforms for cloud computing, big data and IoT as well as consultation and service in full lifecycle. It has become one of the few leading enterprises that have such an extensive and complete capability.
When accepted exclusive interview in Shanghai station of Road Show in Cities, Wang said that H3C was one of the best enjoying a full range of integration capability on IT infrastructure, which was a result of the Group's resource integration.
H3C has the most powerful voice in explaining "integrity" for it has an integrated product line. Based on technological deployment of "three bigs and one cloud," the Group enjoys whole series of products like servers, storage products, networking, security, converged system and IT management system, while providing a complete, one-stop IT solutions compromising big interconnectivity, big security, cloud computing, big data and IT consultation and service. In addition, H3C is also the exclusive provider of HPE® branded servers and storage products as well as technical services in China.
Supported by such abundant and solid infrastructure, China's industrial digital transformation will play an increasingly important role in improving people's wellbeing, developing economy, optimizing governance and many other sectors. Currently, 85% of China's enterprises are experiencing the exploration stage of digital transformation but the transformation in 60% of China's companies is held up by insufficient IT infrastructure. Fortunately, H3C's product eco-system is competent in assisting them in realizing digitalization.
Third
Further development in upgrading of brand and influence
After self-integration, H3C won more attention from clients. Wang emphasized that the integration enabled H3C to become a representative of current China's overall strength in information technology and a model with world-class capacity.
He provided with two pieces of evidence. First, headquarter of H3C in Hangzhou welcomes a growing number of visitors, including leaders from different regions and valuable people in charge of diversified departments. It's great to win concerns from specialists and leaders in various sectors. Second, influenced by the state security strategy and digital transformation, more clients attach importance to new changes in products and service innovation achieved by H3C. It was obvious in the completed Road Show in Cities.
Root in regional enabling industries
It's well known that H3C has superiority in traditional IT chain. Favorable assists including extensive and powerful channel partners and its identity of being held by state-owned enterprise can maintain the Group's fast and sustainable expansion in enterprise network market.
In this campaign, the industry grew a deeper understanding of H3C's importance attached to regional development and industrial expansion.
Tao Jian, vice president of H3C Group, thought the two was closely tied with each other. Exertion of the Group's three strengthens plays a significant role in developing regional market: take Shanghai as the example. First, H3C makes full use of its capacity in platform integration, encouraging clients and channel parterres to carry out business innovation and transformation. It aims to form an overall business community with them, so as to jointly address challenges and grab opportunities. Second, H3C has powerful internal resources. After integration, various resources within the Group including human resources have been doubled. Comparing with competitors, it enjoys a strong team with plenty of professionals. Third, H3C builds a sound cooperation with channel partners who are familiar with markets and clients and are able to deliver direct feedback from the market. Accordingly, the Group will boost the channel partners with products, policies and empowerment.
Other than occupying of strengths, understanding of the growing direction of regional economy counts. As one of China's economic central cities, Shanghai leads the domestic digital economic development. According to the White Paper of Digital Economic Indicators in China's Cities released by H3C in April, Shanghai ranked second with 83.8 points in 40 important cities relating to the survey and was one of the best with sound digital economic development. Digital economic application in fields like medical care, education, transportation and government affairs is well developed and wins great achievements in urban governance.
As industrial IT application is becoming mature and sizable, it's conceivable that customized demands on IT products in different industries and requirements on security, independence and controllability in diversified scenarios will witness an increase. And of course, these requirements will be more diverse and complicated. H3C stressed that it would cooperate with channel partners to build the most suitable IT architecture for clients, which can effectively integrate with the latter's business development plan and business model. It strives to turn IT into a value-added center instead of a consumption department, so as to accelerate growth of clients. The Group makes great efforts to assist clients in sustaining competitiveness and staying at the top in the industry. Meanwhile, it tries to advance the industry's revolution and transformation.
These can be proved by this year's Road Show in Cities. H3C embedded its comprehensive understanding and implementation of industrial digital transformation in its products, solutions, services and consultation with a focus on industrial enabling.
And H3C's importance attached to implementation of industrial solutions can be identified everywhere in the campaign. For instance, IoT, which is bound up with smart city, and application-driven edge computing (AD-EC) have raised visitors' concerns.
H3C AD-EC solution targets edge computing scenarios with the concept of "edge is cloud" promoted by H3C. It includes a whole range of edge computing solutions like AD-EC controller, LA series converged gateway and ecological application. AD-EC controller adopts open SDN control platform with north-south standard interface. It has an integrated ICT management capability and can realize efficient operation and maintenance. LA series integrated gateway features IT&CT convergence, open platform, abundant IoT interfaces and scenario customization.
With application-driven edge computing (AD-EC) solution, clients can realize ICT integrated efficient operation and maintenance, efficient collaboration between edge and cloud as well as demand assignment of edge pooling. They can also get an application effect of sense-free location change and indifferent experiences. Other than that, clients can distribute computing resources based on application requirement with converged resource pool built with the concept of cloud computing on massive edge nodes.
Based on AD-EC solution, H3C along with its partners has launched a series of scenario solutions concerning people's daily life, including smart parking, smart classroom, smart restaurant and smart bus. These achievements have significantly advanced the popularization of edge computing application.
Road Show in Cities follows the strategic guideline of "leading the future with application-driven and cloud-based innovations" and relies on its competitive products and technologies, which brings its strength on integrating resources and dual drivers of technology and application to the public. In addition to that, the campaign mainly focuses on achieving a win-win situation by improving channel and regional partners' channel building and selling ability, encouraging common growth of regional markets and serving clients' transformation with its latest products and solutions!