H3C: Next-Generation Computing Product Opened a New Chapter
13-06-2018
Digital economy is influencing everywhere in work and life. As it is spreading around the world today, the requirements for business are more complicated under the trend of digital transformation. Enterprises need more flexible, dynamic, and on-demand IT infrastructures, among them, the support of server products is the priority.
Recently, New H3C Group (H3C) under Unisplendour Corporation Limited, the world's leading new IT solutions provider, held a launch conference themed by "New IT, New Dynamic, New Era", and issued the next-generation computing and storage products, providing new and more competitive selections to server users of all industries.

Efficient, Quick-responding, Security:
H3C opened a new chapter of "all-purpose" computing products
Server products play the core role in IT infrastructures of enterprises. According to IDC, China's server market has reached double-digit growth trend in the past two years, even enjoying the growth rate of 30%, indicating the urgent requirements of users to computing and overall capacities. Taking user's demands as the orientation, H3C issued about 20 server products including H3CUniServer G3 Series, HPE Gen10 Series, and HPEIntegrity i6 Series and covering the two platforms of industry-standard server and key-business computing. These products have properly satisfied users' demands of various aspects and embodied the highest level in its industry at present.
"It is now hard for today's traditional data centers to meet the requirements of high-performance computing, and network I/0 and disk I/0 have become the bottleneck for related data centers. Additionally, energy consumption is also a big problem, so the largest challenge of existing traditional data centers is inefficient", Chen Zhenkuan, Vice President of H3C and General Manager of China Region Product Marketing and IT Product Departments indicated. The newly-issued servers of H3C, taking computing reform through structure reform, have solved the low-efficiency problem faced by traditional servers and brought unprecedented performance and energy efficiency for users.
If efficiency is the heart of servers, then fast-responsive driving force should be the blood vessels connecting the heart. As our era permits no delay, any deferring may bring immeasurable losses to enterprises. Since rigid traditional data centers are no longer able to provide fast responses to digital transformation, the new-generation H3C servers, featuring accurate insights and flexible driving force, manage to make second-level supply, composable Infrastructures, intelligent optimization and streamlined management possible and provide software-defined smart computing.
Besides high efficiency and excellent responsiveness, security is also the critical characteristic of new servers of H3C. The data shows there are over 500 thousands of system attacks per minute on the Internet, and 55% security computing processes have been conducted on inspection and recovery. Security monitoring and controlling are important for servers. Chen Zhenkuan expressed that H3C will provide the "the safest server on the planet", which can protect data through rock-solid protection, cruise-styling inspection, intelligent recovery, reinforce and the like to help users bid farewell to weak data centers.
Continual development
Future security to key businesses
For finance, telecom, large manufacturing, and other industries need high-speed and stable servers, the future of key business servers should be the most concern. The nine critical business servers issued by H3C have led the advance of key-business platforms, continued to provide new momentum, and lifted the overall advantages of H3C in key-business field to a new stage.
Guo Tao, chief reporter of CCID Publishing & Media, indicated that as the market of key-business servers is undergoing reform, related products will exist forever, no matter what changes will happen on the environment or the names. These products are "tailored" for users in finance, transportation, and telecommunication industries.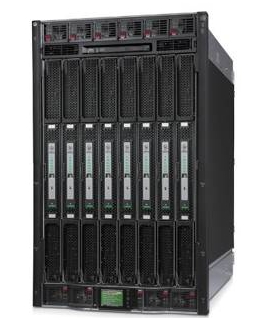 HPE Integrity Superdome X
As such key-business servers are essential parts of the product line of its kind, H3C has valued it so much and is striving to ensure the smooth transition of uses and businesses. Chen Zhenkuan expressed that in the future, H3C will make use of system containers and graft to enable X86 SuperdomeX to support HP-Unix, and transfer all related parts on key-business X86 server to realize continual development, which is the long-term commitment of H3C to all of its key-business users.
Work along both lines:
International experience plus self-dependent innovation
H3C UniServer R4900 G3
It worth mentioning that among over 20 newly-issued servers of H3C, four products including H3C UniServer R4900/R4700 G3 and R2900/R2700 G3 are of self-dependent innovation, embodying the excellent innovation ability of H3C in this field.
In fact, such innovative products of H3C have won recognition of server market. For example, R4900G2, the sales volume of the first self-dependent-innovation server of H3C has reached 50 thousand within half a year. With more related products coming into market, H3C has won more confidence to change the pattern of the future server market and realize the goal of "ranking the top 3" in domestic server and storage product market in 2018, put forward by Tony Yu, President and CEO of H3C, on this conference.
Chen Zhenkuan said that HPE and H3C have worked along both lines to satisfy the demands of different users. HPE has integrated international insights and sophisticated experience, and enjoyed broad user base in China; H3C is aiming to meet the demands of customization and self-control for customers in Chinese markets. The R&D team of H3C is developing and combining with the brand of HPE to satisfy user's demands for overall data centers. Guided by the core strategy in new IT field of "Driven by Applications, Leading the Future through Cloud Products", H3C will increase the R&D commitment and introduce more targeted server products and solutions.