Connecting the World! H3C Served Belt and Road Forum for International Cooperation
13-06-2018
"In the preparations for communication support of 2017 Belt and Road Forum for International Cooperation, every work was made possible thanks to the strong support of H3C. Facing the urgent, heavy communication support task that entailed high sense of responsibility, H3C has all along worked with us with strong sense of responsibility and impressive executive force to deliver satisfactory work."
Unicom System Integration Co., Ltd (Beijing Branch)

2017 Belt and Road Forum for International Cooperation concluded on May 15, 2017 in Beijing. The Forum brought together 29 foreign heads of state, heads of government, as well as three responsible persons of important international organizations, such as Secretary General of the United Nations, Chairman of the International Committee of the Red Cross (ICRC), and around 1,500 guests from 130 plus countries, and about 4,000 global reporters. Facing such a major event of high caliber and various needs, Unicom System Integration Co., Ltd (Beijing Branch) joined hands with H3C to shoulder the responsibility. Thanks to their professional security technologies, mature solutions, sophisticated service security system, strong executive force, rich experience in meeting support, and high sense of responsibility, they have provided all-dimensional communication security work and ensured the success of the forum.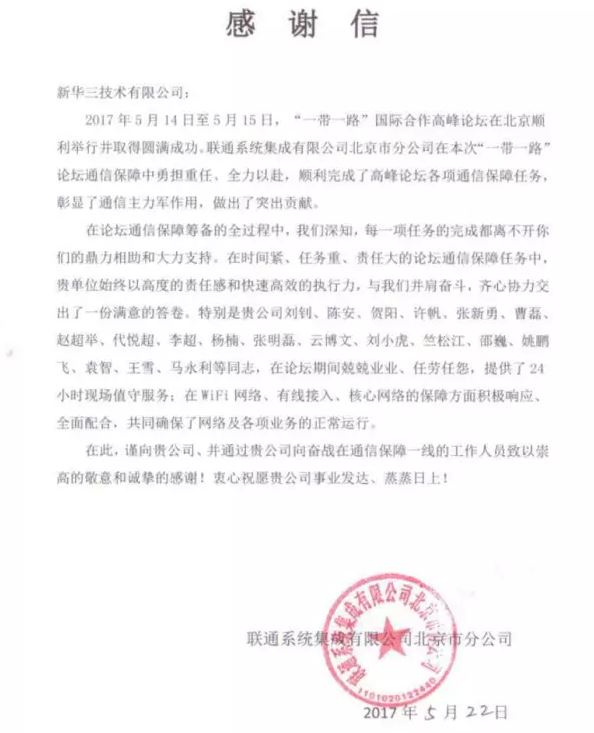 As the forum concluded, Unicom System Integration Co., Ltd (Beijing Branch) sent a letter of thanks to H3C
Sophisticated Solutions Ensured the Security and Reliability of Network
Based on quick response capability and rich experience of meeting service, H3C lost no time in engaging with product, R&D, after sale and other departments to analyze user need, and has also communicated with Unicom System Integration Co., Ltd (Beijing Branch) several times over its plan. As a result, it designed a solution for the forum, which covered H3C's core switch, M9000, load balancing, behavior auditing, vBRAS, R4900 server, CAS, wireless, iMC business software, and other products, and can meet the high standard network communication needs of the forum. The plan was recognized by the organizer of the forum.
Efficient Implementation Team Ensured that the Network Delivered as Scheduled
Despite the urgency, H3C completed such an important, complex task on schedule, which should be ascribed to its well-trained security team. On one hand, they quickly coordinated corporate supply chain to ensure the timely arrival of all goods. On the other hand, they conducted supporting verification of the plan in lab in advance. As equipment arrived, they used networking to build 1:1 environment to ensure the plan get verified. After equipment entered the scene, they worked day and night, and finished all site commissioning before schedule, and ensured smooth delivery of business.
All-dimensional Site Guard Ensured Stable Network
In order to ensure the success of the forum, the security team set up a security group covering product line R&D, after-sale office, after-sale second line, and spare parts center. In line with the actual conditions of sites, members of the security group were dispatched to meeting centers and 35 hotels for site guard, and to ensure timely response should problems occur. With their skilled expertise and rich experience of emergency response, members of the security group worked round the clock for 72 hours. They have ensured stable network and normal operation of all businesses, as well as the complete success of the forum.
Joining "Belt and Road"
By delivering successful communication security of 2017 Belt and Road Forum for International Cooperation, H3C has demonstrated to the world its reliable products, technologies, and solutions, as well as quality network security services. As a result, it was recognized by organizer and partners, which testified to its capabilities and is another honor for H3C.
Answering to the initiative of President Xi Jinping, H3C views "Belt and Road" as priority of the "going global" strategy of the Group. As such, it established "Belt and Road" working team, which is responsible of overall planning and implementation of relevant works of "Belt and Road". Up to date, H3C has offered support to AIIB, the national security command and control system of Ecuador (ECU911), Chambishi copper mine core backbone network of Zambia, the nickel mine of Tagaung Taung, Myanmar, Cabinda stadium of Angola, and the subway signal system projects of Pakistan, Australia, Ethiopia, and other countries, thus igniting the light of science and technology for countries along the "Belt and Road".