Better Experience
H3C Workspace Cloud Desktop product meets personalized requirements of users by optimizing its functions and performance for different application scenarios.

Act like a traditional PC
H3C Workspace Cloud Desktop product does not change the habits of user login and poweron/off. VDP desktop connection protocol deeply optimizes the transmission of desktop images, and enables users to log in to the desktop within a few seconds, thus greatly improving desktop access experiences.
Perfect software compatibility
Provide the software compatibility list, and support mainstream application software and anti-virus software. Own complete compatibility of industry software (for example, Client/Server (C/S) and Browser/Server (B/S) application software). GPU pass-through/hardware virtualization technology can meet the performance requirements of professional applications like industrial drafting, and support common mainstream mapping software, for example, 3DS Max, AutoCAD, and ProE. Customize software adaptive to special industry applications.
Smooth video experience
The video redirection technology significantly improves the video experiences of users, effectively reduces the server resource consumption by video decoding, and supports highly dense video concurrency scenarios.
Wide support for various peripherals
Use the independently developed peripheral redirection core technology, and keep a bus channel as a PC does. Thus, users can use such peripherals as printers, scanners and Ukeys just as they use PCs.
Stronger Security
Through Cloud-Connection-Client system-based secure, reliable design, H3C Workspace Cloud Desktop ensures multi-level security from clients, networks and cloud platforms to management. With focus on prevention supplemented by monitoring and audit, this product guarantees all-round information security of office desktops, and reliability of clients and platforms.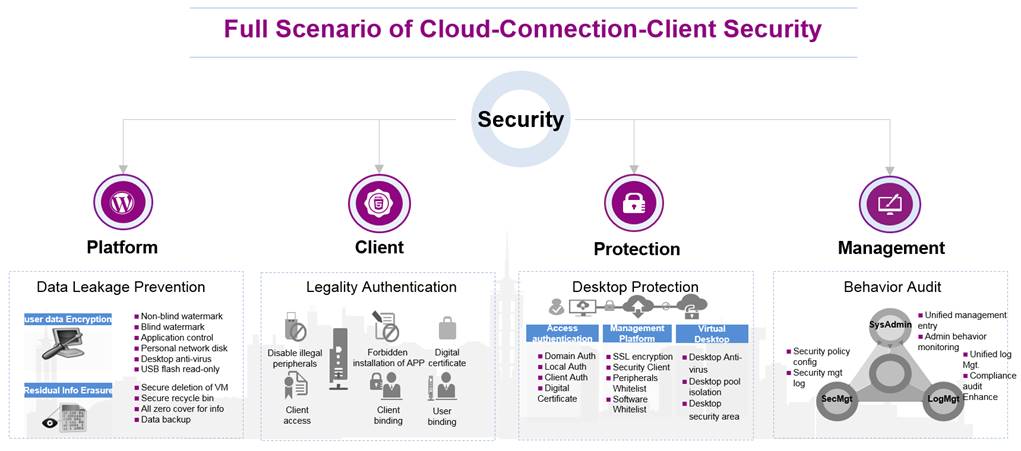 Client security: Authentication of client endpoint feature codes, identity authentication of multiple factors like fingerprint and USB key, blacklist/whitelist control of ports and peripherals, and so on.
Network security: Isolation of virtual desktop pools, desktop connection security, encrypted transmission and so on.
Data security: H3C Workspace Cloud Desktop sets the use policy of desktop peripherals, and uses application software to control the use of illegal software. Security properties such as desktop watermark and read only for storage equipment ensure that data is not lost.
Cloud platform security: Support the distributed storage, VM image tiering storage, data disk encryption, and data traceless processing. Support the integration with anti-virus software or security software of third parties such as Asiainfo to provide perfect security solutions in the virtualization environment. Without need of installing any agent in the virtual desktop, this product can protect the VM, thus ensuring the security of the virtualization environment.
Management security: An administrator can implement decentralized or domain-based management, and audit the behavior logs of desktop users.
All-round reliability guarantee: H3C Workspace Cloud Desktop offers network status detection, client self-service backup and recovery, automatic reconnection upon network crash, HA resource reservation of key components, batch backup of VMs and so on.
Simpler management
H3C Workspace Cloud Desktop Studio can manage physical resources, virtual resources, virtual desktop lifecycles, system alarms and failures in unified mode to improve the efficiency of IT O&M.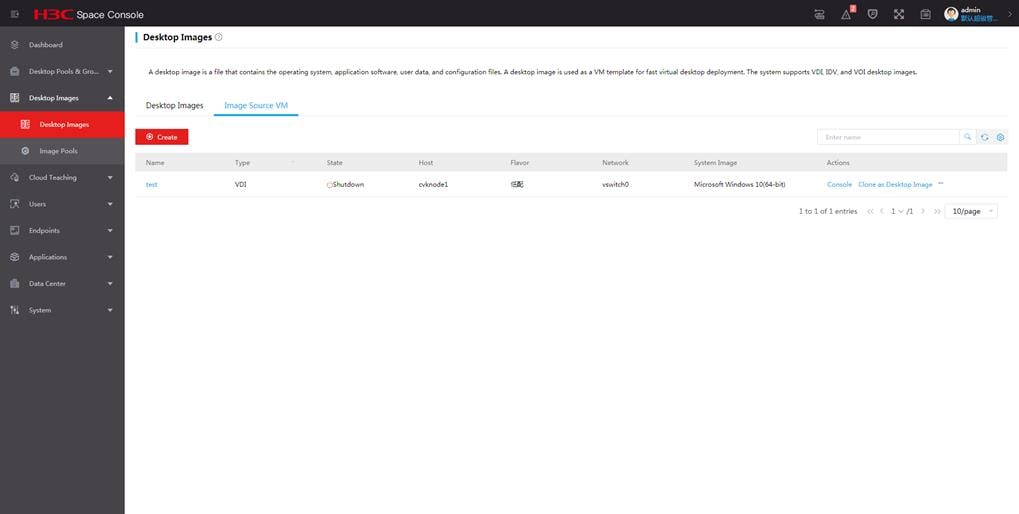 This platform manages virtual desktop lifecycles, alarms and failures in unified mode. It can quickly deploy the basic desktop environment, make the desktop quickly go online and expand, flexibly schedule resources to quickly respond to service change, and raise the service support capability and response speed.
It allocates different desktop resource pools to scenarios, and supports static, dynamic and manual desktop pools.
It supports the batch upgrade of OSs and application software when not affecting software independently installed by users and personalized data.
It manages network policies in centralized mode. It designates detailed security access rules (L2, L3 and L4 control, bilateral control, and time interval-based control) for virtual desktop traffic. In this platform, as a virtual desktop migrates between server hosts, the corresponding network policy configuration (ACL, QoS, VLAN, port binding and so on) file does the same concurrently. This ensures that services are not interrupted and the access control policy remains unchanged.
Smarter O&M
H3C Workspace Cloud Desktop Studio manages resources in centralized mode, simplifies the O&M process, and balances the cost and efficiency of IT O&M of enterprises to raise the value of IT O&M.

Rich automation O&M tools: One-key automatic collection and analysis of enterprise office environment information (CPU, memory, disks and so on), user experience optimizers, one-key log collectors and so on are available to reduce the maintenance difficulty and raise the O&M efficiency.
The platform automatically expands both flexibly and quickly, and automatically discovers the hardware upon being powered on; links and clones desktops to raise user experiences and management efficiency.
The platform has core components with independent intellectual property rights, and open, standard interfaces to flexibly adapt to industrial applications, and can quickly build solutions to meet unique requirements of industries.