H3C SeerNetwork Architecture (SNA) Center
03-03-2020
Product Overview
SeerNetwork Architecture (SNA) is the next-generation intelligent network architecture launched by H3C. As a core component of SNA, SNA Center provides unified management, control, intelligent analytics, and service orchestration capabilities for the entire network. Boasting a global perspective, SNA Center can coordinate resources across management domains to simplify O&M and reduce operating expenses. SNA Center provides real-time network monitoring and intent- or status-based analytics to enable automated service deployment and risk prediction, helping the network to serve critical businesses more concisely, intelligently, and efficiently.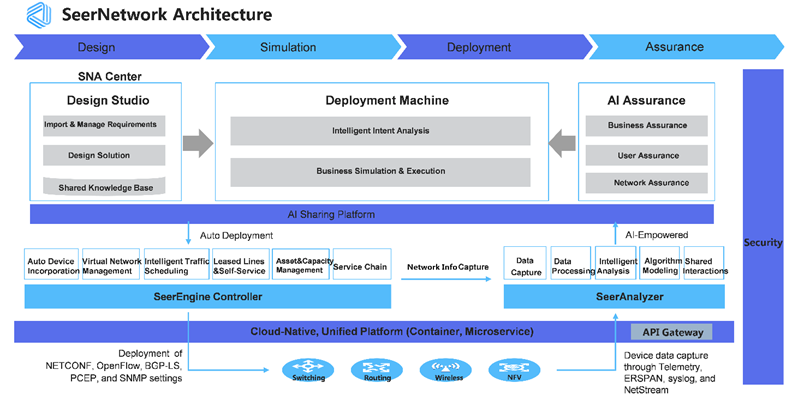 SNA architecture and position of SNA Center in the architecture
Features and Benefits
Leading, Open Software Architecture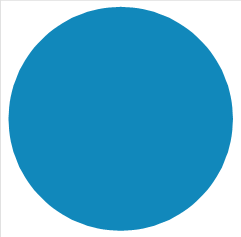 Northbound RESTful API—Through a high-performance API gateway, SNA Center provides standard northbound RESTful APIs to allow cooperation with third-party O&M systems, enabling programmable automation of the SNA network.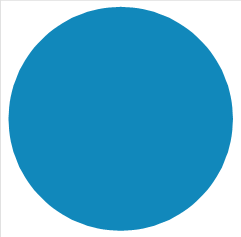 Southbound RESTful API—SNA Center provides abundant southbound RESTful APIs compliant with various protocol standards including NETCONF, OpenFlow, BGP-LS, PCEP, and SNMP. Those southbound APIs make SNA Center compatible with third-party devices of different vendors and models.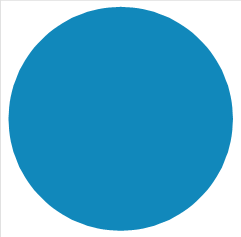 Containerized, mircoservice-based architecture—Based on a containerized, mircoservice-based architecture and AI-assisted data analytics, SNA Center can flexibly provision a variety of network applications to suit the needs of various scenarios. It provides an open development environment and various development tools, which enables third-party systems to develop their customized applications on the SNA Center platform.
Cross-technology, Cross-domain Integration of Service Functions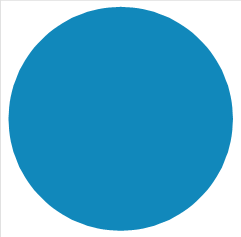 Cross-technology—By integrating the control, management, and analysis technologies, SNA Center integrates the traditionally fragmented deployment, management, and O&M functions. It provides a unified entrance and interface for the entire IT process encompassing service design, configuration deployment, and business assurance.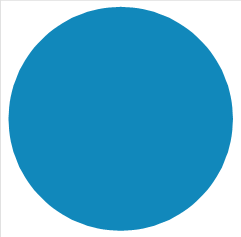 * Cross-domain—By integrating services across domains such as DCs, campuses, and WANs, SNA Center can take comprehensive consideration of various business needs to deliver cross-domain, end-to-end business design, deployment, and assurance capabilities. [1]
Full Lifecycle Management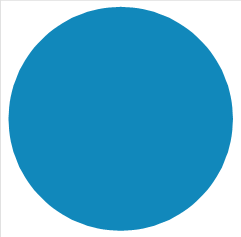 SNA Center provides full life cycle management for services covering from users' business needs to closed-loop processing of problems, integrating capabilities including business design, simulation, deployment, assurance, and closed-loop control. It provides comprehensive services for users and enables zero touch provisioning of networking devices and services.
AI-empowered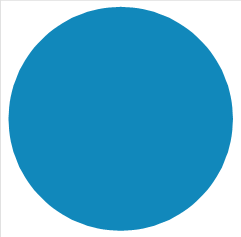 Automatic problem detection, location, and early warning—SNA Center can nip problems in the bud through automatic problem detection, location, and early warning empowered by the AI technology.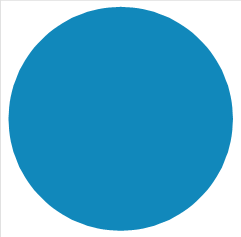 * Sharing of the global top-class network O&M experiences—Connected to the global version-based defect and problem database, the SeerEngine allows enterprises of all sizes to share the global top-class network O&M experiences.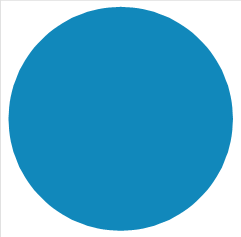 * Intelligent network evolution—User data is desensitized and uploaded to the cloud AI intelligent sharing platform to implement cloud training of intelligent models. The intelligent training results are delivered to users' local devices in real time to realize the intelligent evolution of the network.
Comprehensive Data Analytics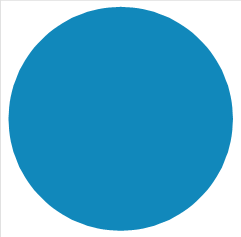 Real-time network monitoring and problem detection—By using the big data technology, SNA Center can capture, store, and analyze massive network data to monitor the network status and detect problems in real time to implement fine-grained O&M control.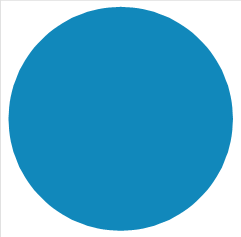 Running status tracing of the whole network at any time—By enabling running status tracing of the whole network whenever and wherever that is needed, SNA Center allows you to easily perform problem analysis, performance analysis, and behavior audit to meet specific network maintenance needs.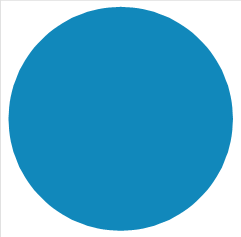 Business value discovery and network intelligence promotion—The network operation data accumulates with the network operation time, and finally form the base data that can be used for data mining and AI training. The data mining and AI training results can be used to discover new business values and further promote network intelligence.
Cloud-native Platform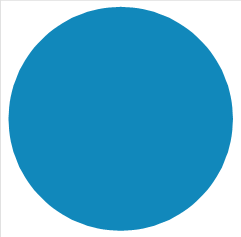 Agile—Based on the DevOps methodology, SNA provides continuous service delivery, rapid service provisioning, and smooth service upgrade, making user services more agile.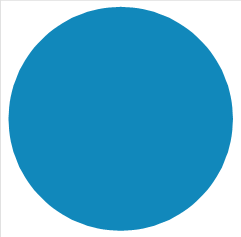 Scalable—Stateless applications use containers as the basic units and can be easily scaled.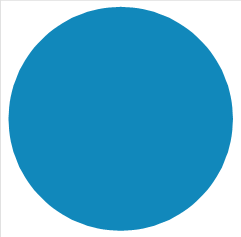 Rapid failure recovery—In the micro-service architecture, services are isolated from one another so the impact of individual service fault is limited.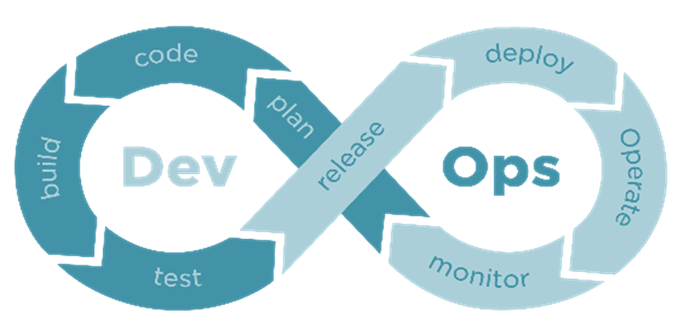 DevOps Methodology
Hardware Requirements
The following sections describe the hardware requirements for deploying SeerEngine with or without SeerAnalyzer on physical servers in cluster (3 nodes) mode. The hardware requirements are the same for deploying SNA Center in cluster (3 nodes) mode.
Deploying Only SeerEngine
Item

Requirements

CPU

x86-64 (Intel 64/AMD 64)

16 cores

2.0 GHz or above

Memory size

64 GB or above

Drive

· One of the following drive configuration options:

1 TB or above of SAS SSD or NVMe SSD

Two 1 TB or above of 7.2K RPM SATA/SAS HDDs

· One RAID controller

1 GB cache memory

RAID 1, 5, or 10 setup with the drive space no less than 1 TB

NIC

Non-redundancy mode:

· Campus/WAN: 1 × 1 Gbps or above Ethernet ports

· DC: 1 × 10 Gbps or above Ethernet ports

Redundancy mode:

· Campus/WAN: 2 × 1 Gbps Linux bonding interfaces

· DC: 2 × 10 Gbps Linux bonding interfaces
Deploying SeerEngine and SeerAnalyzer
Item

Requirements

CPU

x86-64 (Intel 64/AMD 64)

20 cores

2.0 GHz or above

Memory size

256 GB or above

Drive

· One of the following drive configuration options:

2 TB or above of SAS SSD or NVMe SSD

Two 2 TB or above of 7.2K RPM SATA/SAS HDDs

· One RAID controller

1 GB cache memory

RAID 1, 5, or 10 setup with the drive space no less than 2 TB

NIC

Non-redundancy mode:

· Campus/WAN: 1 × 1 Gbps or above Ethernet port for the controller and 1 × 10 Gbps or above Ethernet port for SeerAnalyzer

· DC: 2 × 10 Gbps or above Ethernet ports, one for the DC controller and the other for SeerAnalyzer

Redundancy mode:

· Campus/WAN: A bundle of 2 × 1 Gbps Linux interfaces for the controller and a bundle of 2 × 10 Gbps Linux interfaces for SeerAnalyzer

· DC: Two bundles of 2 × 10 Gbps Linux interfaces, one for the DC controller and the other for SeerAnalyzer
Order Information
Product

Description

SNA Center #1

LIS-SNACenter-Basic

H3C SNA Center Basic License

LIS-SNACenter-DC-VAR

H3C SNA Center Software Feature License, 1 Data Center Controller Cluster

LIS-vDHCP1000

H3C vDHCP1000 License(Comware 9,STANDARD Edition, Permanent)