Overview

With the aim of "Application-Driven, Interconnection of Everything", H3C Application-Driven Networking Solution (AD-NET) provides a proactive, adaptive and versatile network to achieve two capabilities: massive connection of things based on the Internet of Things (IoT), and network reconstruction based on the Software Defined Network (SDN). It creates a sustainable and massively-connected ecosystem to support the traditional industrial chain for digital transformation.

As a leading supplier of digital solutions, H3C has launched multiple Application-Driven solutions based on SDN for Data Center (DC), Campus, and Wide Area Network (WAN), etc.

Application-Driven Data Center (AD-DC) solution helps to realize resilient deployment of a network, and accelerates tenants isolation at cloud-based data centers.

Application-Driven Campus (AD-Campus) solution provides the benefits for user authorization, and streamline operation and maintenance at mobile offices.

Application-Driven WAN (AD-WAN) solution visualizes the traffic and application, and ensures the quality of key services.

AD-NET solutions based on SDN have been widely applied in the industries of Internet, finance, government, ISPs, enterprises, etc. It provides a reliable and nimble network infrastructure for digital transformation of the society.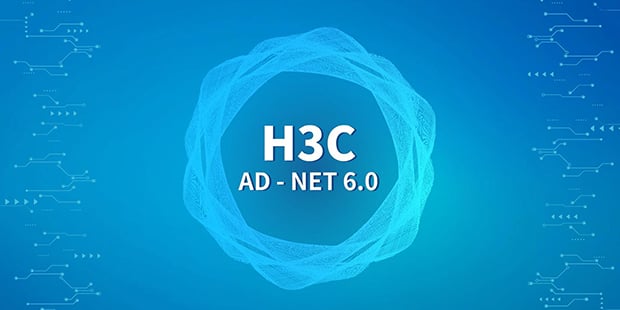 H3C Application-Driven Data Center (AD-DC) Solution is a data center solution based on SDN architecture. It accelerates network infrastructure deployment, simplifies network operation and management, and optimizes network efficiency. AD-DC solution integrates cloud platform, IBN network, and security to deliver a resilient, secure, visible and automated data center.
Solution

H3C Application-Driven Data Center (AD-DC) is a unified next-generation data center solution designed to support accelerated service delivery. It helps customers build an intelligent data center network that can change quickly to accommodate exponentially growing traffic and accelerated service provisioning driven by cloud computing, big data, and mobile Internet.

Products

H3C SeerEngine-DC controller is a core control component in MP-BGP EVPN-based AD-DC solution. It is an open platform and enables quick, automated service deployment and simple, flexible network management.

Traditional O&M faces great challenges as the network grows rapidly in scale and complexity and services are more demanding for network availability and minimized downtime. SeerAnalyzer is developed at this right moment to deliver a big data and AI-powered analytics solution that enables automated and streamlined O&M.

Case

Companhia de Electricidade de Macau (CEM, S.A.) is a public power supply agency specializing in the transmission, distribution and sale of high, medium and low voltage electricity in the Macao Special Administrative Region. It also has power generation facilities. The Macao Power Industry is an important cornerstone for the further prosperity and development of the Macao SAR.
Campus networks have great challenges in the face of increased mobility, emerging IoT and abundant applications. How to integrate applications with network infrastructure, ensure experience consistency, and simplify network management, it leads to a good subject for new generation campus solutions.
H3C Application-Driven Campus (AD-Campus) Solution creates a new-generation flexible network infrastructure. The solution converts campus network from "user adapts to network" to "network adapts to users", enabling users and devices to roam around campus seamlessly. It reduces complexity of network deployment and maintenance and meets the increased requirements of mobility and IoT access in campus network in digital transformation.
Solution

H3C Application-Driven Campus (AD-Campus) Solution is innovative campus network solution which aims to achieve great integration and convergence to easily reflect intent to network operation. With full lifecycle, open architecture and deep intelligence, AD-Campus is along with partner to be committed to solve existing challenges and assist customers to accelerate digital innovation and transformation.

Cases

The department was specifically incorporated in 1996 to undertake the privatization of water supply and distribution in Selangor and Federal Territories of Kuala Lumpur and Putrajaya. In 1995, it was appointed by respective federal and state governments to manage, operate and distribute quality clean water for over 10 million customers for a period of 30 years, making it the biggest water concessionaire in Malaysia. The department is made up of a professional, dedicated and skillful management committed towards excellent customer service and reshaping the local utility industry.
H3C Application-Driven WAN (AD-WAN) Solution adopts the architecture of SDN, rebuilds and reconstructs the conventional rigid WAN to its next generation with intelligence.
With an open network platform, users can intelligently steer the networking resources, and visualize the applications for "one-click" implementation, fully utilizing the bandwidth and streamlining the O&M of the network.
Solution

H3C AD-WAN (Application Driven – Wide Area Network) is a standard SDN network architecture. AD-WAN provides customer with simpler, safer, and smarter wide area network. You can quickly establish an AD-WAN overlay fabric to connect cloud, headquarters and branches with traffic steering and zero-trust foundation. Our solution can help customer realize intelligent O&M and workload reduction with advanced AI and big data technology.

Product

H3C Application-Driven WAN (AD-WAN) is an open, programmable, and scalable architecture. Using innovative H3C SeerNetwork Architecture (SNA) designed for digital networks, AD-WAN enables not only network wide unified network management, control, and analytics, but also provides a user-oriented, unified portal for end-to-end orchestration and unified service orchestration across networks.

Case

Entering the digital and cloud era, a large number of emerging enterprise business, such as 5G, VoIP, AI and IoT, are closely integrated with cloud computing. Traditional WAN, based on expensive leased lines like MPLS, cannot meet the surging enterprise WAN traffic. And SD-WAN has gradually become an inevitable trend. SD-WAN enables enterprise applications to balance and optimize applications among different hybrid links (MPLS, Internet, LTE, etc.) with multiple branches, thereby improving the reliability, flexibility, and operation and maintenance efficiency of enterprise WAN networks.
Are you an H3C partner? Log in to see additional resources.
You can find excellent H3C partners, or you can become one of them to build a
partnership with H3C and share success together.