For Hong Kong, China
H3C S10500 Series Switches
Home

Products & Technology

Enterprise Products

Switches

H3C S10500 Series Switches
S10506
S10508
S10508-V
S10510
S10512
The H3C S10500 switch series is designed for the data center cloud networks, next-generation enterprise core networks, and MAN convergence. It uses H3C's proprietary operating system Comware V5 and V7 and provides the following features:
CLOS-based architecture that support 40 GE and 100 GE standards
TRILL, MDC (Multitenant Devices Context), EVI (Ethernet Virtualization Interconnect), VXLAN, EVB and FCOE
IRF2 (Intelligent Resilient Framework version 2) & IRF3 (Intelligent Resilient Framework version 3)
Convergence of MPLS, VPN, and IPv6.
The above features can maximize your network ROI and reduce your TCO.
The S10500 switch series includes S10504, S10506, S10508, S10508-V, S10510, and S10512 models, meeting the need of different port density and performance requirements.
Advanced CLOS multi-grade multi-plane switching architecture
Adopt CLOS multi-grade multi-plane architecture, providing industry leading port density
Supports high-density 40GE and 100GE interfaces and can meet the existing and future application requirements of data centers.
Adopts independent switching fabric modules and MPU engines to improve device availability and ensure bandwidth expansion.
Innovative multi-engine design
Independent control, detection, and maintenance engines provide powerful control capability and millisecond-level HA.
Independent control engine - Uses a powerful CPU system that can efficiently process protocol and control packets, providing refined control for protocol packets and comprehensive protection against protocol packet attacks.
Independent detection engine - Provides highly reliable Fast Fault Detection and Restoration (FFDR) such as BFD and OAM, which can interact with protocols on the control plane to implement millisecond-level failover and convergence, ensuring service continuity.
Independent maintenance engine - a CPU system that provides smart power management, including sequential power-on and power-off and device status check. Sequential power-on and power-off reduces power impulse, electromagnetic radiation, power consumption, and extends the device lifespan.
Virtualization technologies - IRF2
IRF2 can virtualize up to four S10500 switches into one logical IRF fabric. IRF2 delivers the following benefits:
High Availability (HA) - Patented hot standby technology to provide data backup and non-stop forwarding on the control plane and data plane. This improves availability and performance, eliminates single-point failures, and ensures service continuity.
Distribution - Multi-chassis link aggregation to enable load sharing and backup over multiple uplinks, improving redundancy and link utilization.
Easy Management - A single IP address to manage the whole IRF fabric, which simplifies device and topology management, improving operating efficiency, and lowering network maintenance cost.
Virtualization technologies - IRF3
IRF3 virtualizes core and access switches into one logical device.
IRF3 delivers the following benefits:
Increased I/O ports and centralized maintenance and management.
Reduced network management nodes.
Simplified cable deployment.
Data plane virtualization.
Virtualization technologies - MDC
MDC virtualizes one S10500 switch into multiple logical switches, enabling multiple services to share one core switch.
The 1:N virtualization maximizes switch utilization, reduces network TCO, and ensures isolation of services.
DC-oriented features
TRILL/SPB—Designed for building large flat Layer 2 networks for data centers to accommodate more servers. TRILL or SPB integrates the simplicity and flexibility of Layer 2 with the stability, scalability, and high performance of Layer 3.
EVI—EVI is a MAC-in-IP technology that provides Layer 2 connectivity between distant Layer 2 network sites across an IP routed network. It is used for connecting geographically dispersed sites of a virtualized large-scale data center that requires Layer 2 adjacency.
FCOE—Integrates heterogeneous LANs and storage networks in data centers. FCOE and CEE integrate data, computing, and storage networks in data centers, reducing the costs for building and expanding data centers.
VXLAN—Uses MAC-in-UDP encapsulation method and tunnels Layer 2 network over Layer 3 network. It provides higher
scalability of Layer 2 segmentation to 16 million and better utilization of available network paths.
OAA
OAA provides an open service platform that supports multiple service cards, including firewall, IPS, Netstream, and AC cards. The integration of these cards to the switch allows for unified network security solutions.
Hardware level ring protection protocol
S10500 supports hardware level RPR 2.0 (Resilient Packet Ring version 2) technology combines SDH self-healing high reliability technology and Ethernet based advantages-economy, high bandwidth, flexibility and scalability to optimize ring topology based data management bandwidth and high-performance multi-service transport solution that enables hardware and milliseconds level ultra fast convergence and reliability assurance. Compared with RPR 1.0, RPR2.0 can integrate IRF2 / MDC and other virtualization capabilities, and support for load balancing double 20G ring topology.
Hardware level encryption technology MACsec
S10500 switch series supports hardware level encryption technology MACsec (802.1ae), which is an industry-standard security technology that provides secure communication for all traffic on Ethernet links. Compared with traditional application based software encryption technology, MACsec provides point-to-point security on Ethernet links between directly connected nodes and is capable of identifying and preventing most security threats.
Item

S10504

S10506

S10508

S10508-V

S10510

S10512

Switching capacity

17.28Tbps/
76.8Tbps

20.74Tbps/
115.2Tbps

27.65Tbps/
153.6Tbps

27.65Tbps/
153.6Tbps

34.56Tbps/
204.8Tbps

41.47Tbps/
217.6Tbps

Forwarding capacity

3360Mpps/
24000Mpps

5040Mpps/
36000Mpps

6720Mpps/
48000Mpps

6720Mpps/
48000Mpps

8400Mpps/
60000Mpps

10080Mpps/
72000Mpps

MPU slots

2

2

2

2

2

2

LPU slots

4

6

8

8(Vertical)

10

12

Switching fabric module slots

4

Redundancy

Redundant MPUs, switching fabric modules, power modules, and fan trays

Ethernet

IEEE 802.1Q

DLDP

LLDP

Static MAC configuration

Limited MAC learning

Port mirroring and traffic mirroring

Port aggregation, port isolation, and port mirroring

IEEE 802.1D (STP)/802.1w (RSTP)/802.1s (MSTP)

IEEE 802.3ad (dynamic link aggregation), static port aggregation, and multi-chassis link

aggregation

Routing

Static routing, RIP, OSPF, IS-IS, and BGP4

IPv4/IPv6 ECMP

VRRP

IPv4/IPv6 Policy-based routing

IPv4/IPv6 Routing policy

IPv4/IPv6 dual stack

IPv6 static routing, RIPng, OSPFv3, IS-ISv6, and BGP4+

VRRPv3

Pingv6, Tenetv6, FTPv6, TFTPv6, DNSv6, and ICMPv6

IPv4-to-IPv6 transition technologies, such as IPv6 manual tunnel, 6to4 tunnel, ISATAP tunnel, GRE tunnel, and auto IPv4-compatible IPv6 tunnel

Multicast

PIM-DM, PIM-SM, PIM-SSM, MSDP, MBGP, and Any-RP

IGMP V1/V2/V3 and IGMP V1/V2/V3 snooping

PIM6-DM, PIM6-SM, and PIM6-SSM

MLD V1/V2 and MLD V1/V2 snooping

Multicast policies and Multicast QoS

ACL/QoS

Standard and extended ACLs

Ingress and egress ACLs

VLAN ACLs

Global ACLs

Diff-Serv QoS

SP, WRR, SP+WRR

Traffic shaping

Congestion avoidance

Priority marking and remarking

802.1p, TOS, DSCP, and EXP priority mapping

H-QoS

SDN/

OPENFLOW

OpenFlow 1.3

Multiple controllers (EQUAL, master/slave)

Multiple tables flow

Group table

Meter

VXLAN

VXLAN L2 switching

VXLAN VTEP

IS-IS+ENDP distributed control plane

OpenFlow+Netconf centralized control plane

MPLS/VPLS

L3 MPLS VPN

L2 VPN: VLL (Martini, Kompella)

MCE

MPLS OAM

VPLS, VLL

Hierarchy VPLS, QinQ+VPLS

P/PE function

LDP

Security

Hierarchical user management and password protection

EAD

Portal authentication

MAC authentication

IEEE 802.1x and IEEE 802.1x SERVER

AAA/Radius

HWTACACS

SSHv1.5/SSHv2

Basic and advanced ACLs for packet filtering

OSPF, RIPv2, BGPv4 pain text and MD5 authentication

IP address, VLAN ID, MAC address multiple binding combination

uRPF

Active/standby data backup

System mgmt

Loading and upgrading through XModem/FTP/TFTP

SNMP v1/v2/v3

sFlow, NetStream

RMON and groups 1, 2, 3 and 9

NTP clocks

Fault alarm and automatic fault recovery

System logs

Device status monitoring mechanism, including the CPU engine, backplane, chips and other key components

HA

Independent switching fabric modules

1+1 redundancy for key components such as MPUs and M+N redundancy for power modules

N+1 redundancy for switching fabric modules

Passive backplane

Hot swapping for all components

Real-time data backup on active/standby MPUs

Hot patching

NSR/GR for OSFP/BGP/IS-IS/RSVP

Port aggregation and multi-card link aggregation

BFD for VRRP/BGP/IS-IS/OSPF/RSVP/static routing, with a failover detection time less than 50 milliseconds

Ethernet OAM (802.1ag and 802.3ah)

RPR/RRPP

DLDP

VCT

Smart-Link

ISSU

Green

EEE(802.3az)

Operating environment

Temperature: 0°C to 45°C (32°F to 113°F)

Humidity: 10% to 95% (non-condensing)

Input

voltage

100~240V AC; 50/60Hz; 16A

Dimension

(H x W x D)/mm

353x440x660
8RU

353x440x660
8RU

620x440x660
14RU

886x440x660
20U

620x440x660
14RU

797x440x660
18RU
Distributed data centre solutions
Together with the Load Balancer equipment, S10500 switch seires can be used to build next generation distributed data centre solutions:
S10500 provides innovative virtualization technologies, IRF2+MDC, one set of physical core switch can be virtualized as three different set of core switches for different functions segment.
S10500 EVI technology can help customer to extend L2 via any L3 network with merely five commands.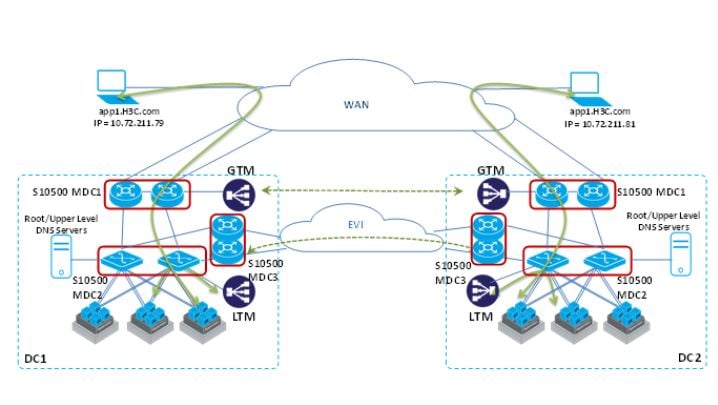 RPR (Resilient Packet Ring) Ring Solution
Together with H3C IRF2 technology, S10500 switch series supports hardware level RPR 2.0 solution, which can connect large enterprise different sites smoothly and provide the following benefits:
Unique load balancing 20G double ring solution
With the help of SDH self-healing high reliability and Ethernet based technology, RPR 2.0 provides hardware based milliseconds level convergence