Home

Products & Technology

Enterprise Products

Network Management

H3C iMC WSM
Wireless Service Manager (WSM), a component of the H3C IMC platform, is developed in compliance with the service-oriented architecture (SOA) to enable distributed and modular service deployment as well as flexible service orchestration.
Based on the IMC platform, WSM provides unified wired and wireless network management. With WSM, you can add WLAN and IoT management functions to the existing wired network management system, saving investment and maintenance costs. As a Web-based management system, WSM also brings simplicity and convenience to WLAN management.
By cooperating with other IMC components, WSM provides the following features: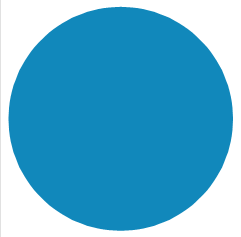 Panel management.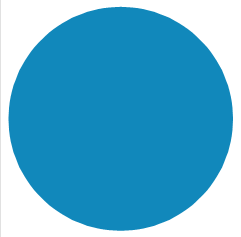 Alarm management.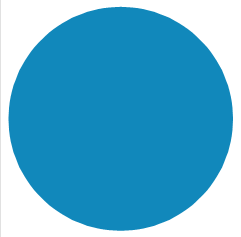 Performance monitoring.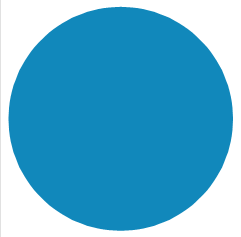 Software version management.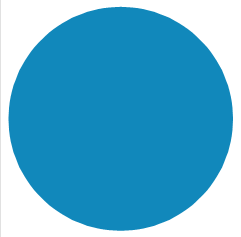 Configuration file management.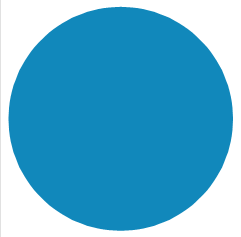 Access user management.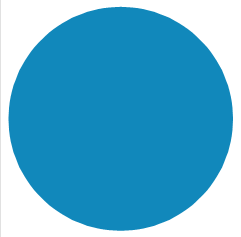 User authentication management.
Unified wired and wireless management
WSM provides centralized management of ACs, Fit APs, Fat APs, and wireless clients, allowing you to view device and running information in various views, and supporting device grouping in each view to help device management.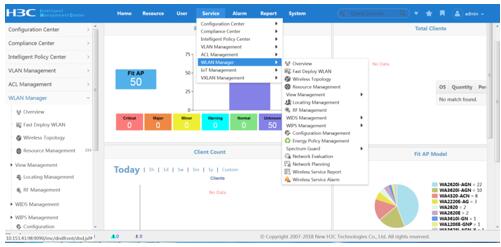 WLAN Manager Overview
WSM offers dashboard functionality to present WLAN statistics such as online client quantity, AP quantity, data traffic, client vendor distribution, and client locations, helping you gain visual insights into the network for easy maintenance.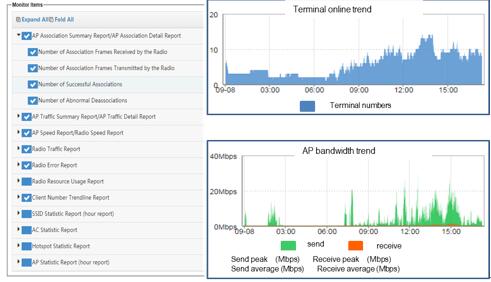 Visualized maintenance
Desktop view
The desktop view allows you to add frequently-used functions to a desktop as applications so that the functions can be accessed with a simple click.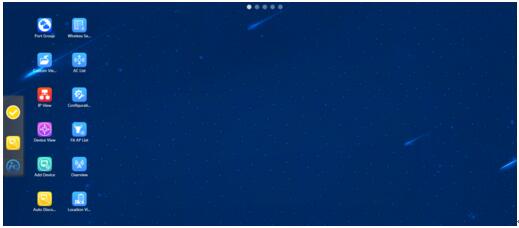 Desktop view
Diversified topology management
WSM provides the following topologies to help you get a quick overview of network conditions, device and link status, and alarm status: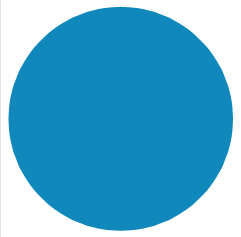 Wireless device topology—Displays all ACs and Fat APs in WSM. You can double-click an AC or a Fat AP in the topology to view its information.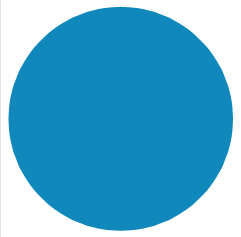 Location view topology—Displays information about APs and associated clients in location view.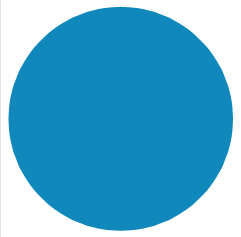 Custom view topology—Displays Fit APs and associated clients managed by a specific AC in custom view.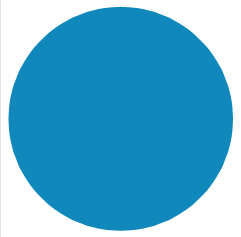 Converged topology—Displays wireless and wired devices and their connections in a network.
These topologies allow you to deploy devices in WSM according to the network setup to simulate actual conditions.
Wireless device topology
Beacon management
Through monitoring and bulk beacon configuration, you can view beacon information, such as remaining battery time, MAC address, and associated AP, and configure UUIDs, major IDs, and minor IDs.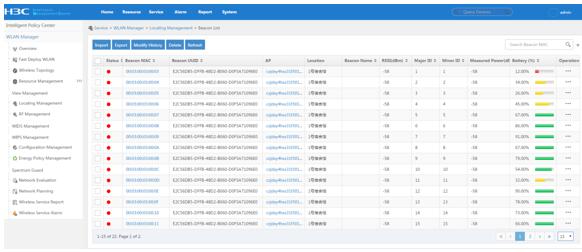 Beacon management
Client monitoring and roaming audit
WSM records client roaming and allows you to view client information, such as MAC address, signal strength, online duration, transmit power set, negotiated power set, RSSI, SSID, channel, associated AC, associated AP, and roaming records. This allows you to audit client movement.

Online client list
RF heatmap
WSM provides RF heatmaps in location views for verifying the WLAN design before network setup. In a heatmap, you can configure wireless settings, such as signal strength, rate, and channel, and draw obstacles according to the actual conditions to identify whether the wireless coverage is as expected.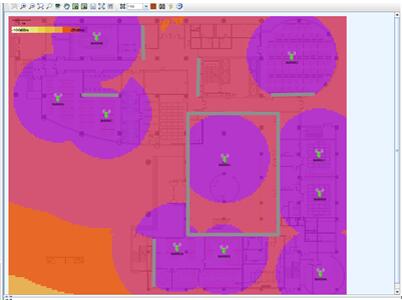 Wireless coverage
WSM allows for both manual and automated network design and provides an AP calculator to help determine the number of APs required in your network.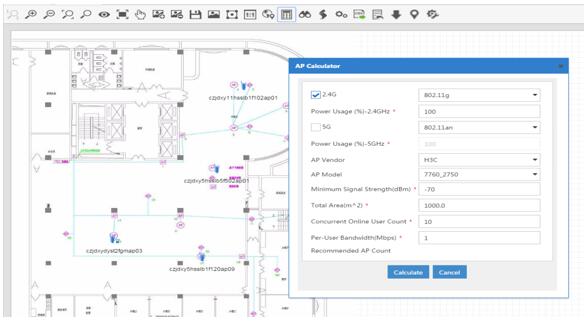 AP calculator
Spectrum analysis scans the 2.4 GHz and 5 GHz frequency bands to detect interference and affected channels and records real-time spectrum analysis data for you to determine wireless spectrum performance and WLAN security.
Spectrum guard summarizes and displays the spectrum analysis data, including history data, in graphs and charts, such as channel usage, channel quality, interference strength, FFT, FFT Duty Cycle, and Swept Spectrogram graphs. Based on the data, spectrum guard automatically adjusts radio settings to ensure optimal wireless performance. You can filter interference devices and AP channel quality information as needed.

Interference devices
Wireless location and GIS view
Wireless location locates online clients, rogue clients, rogue APs, and iNode clients. Together with the GIS view that associates hotspots in location views with a map, you can easily determine the physical location of a device.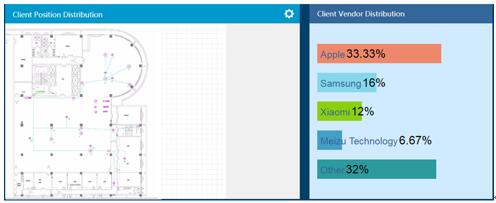 Client Position Distribution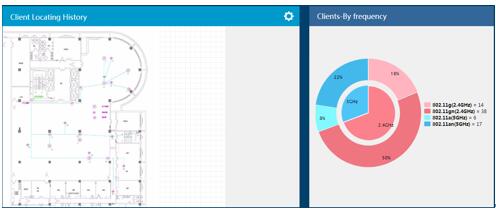 Client Locating History
PoE management
WSM provides the AP access port management function. You can view AP access ports that directly or indirectly connect APs to uplink devices. For a PoE-capable AP access port, you can enable or disable the PoE function to remotely perform a cold startup or shutdown of the AP.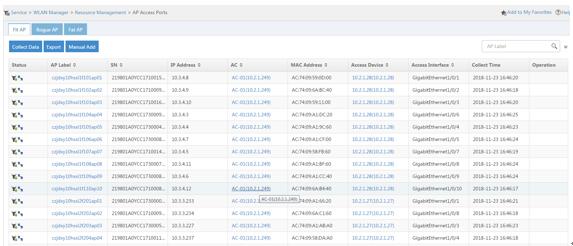 AP access ports
Green design
Energy policy management in WSM allows you to apply policies to wireless devices for energy saving. An energy policy can perform the following operations: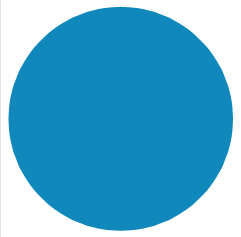 Scheduled startup and shutdown of APs or their radios.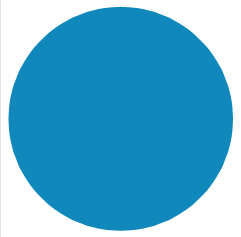 Automatic adjustment of AP transmit power.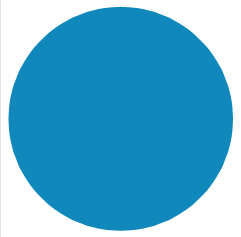 Scheduled enabling and disabling of SSIDs.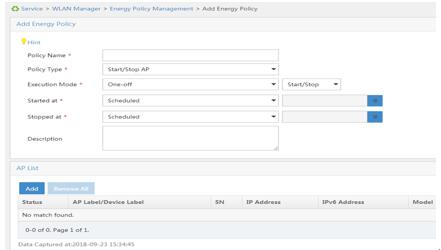 Energy policy
Primary and secondary AC management
WSM uses a primary/secondary AC mechanism to guarantee high availability, and both the primary and secondary ACs are taken into consideration during network performance analysis to improve analysis accuracy. You can view the status of connections between APs and the primary and secondary ACs, and, through AC grouping, deploy configuration to a primary AC and its secondary ACs in bulk.

AC grouping in AP template
Wireless intrusion prevention system (WIPS)
WIPS helps protect enterprise networks and users from unauthorized wireless access based on user-defined security policies. WSM provides the following WIPS functions: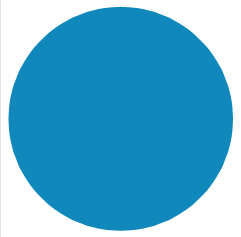 WIPS configuration.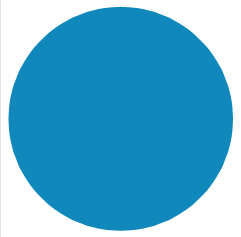 Information detection.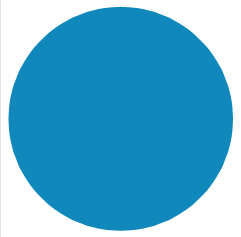 Viewing security events.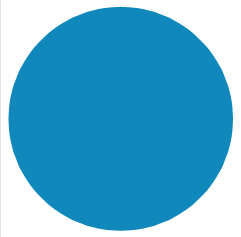 Virtual domain management.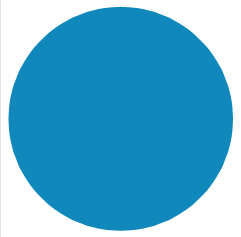 Intrusion prevention policy management.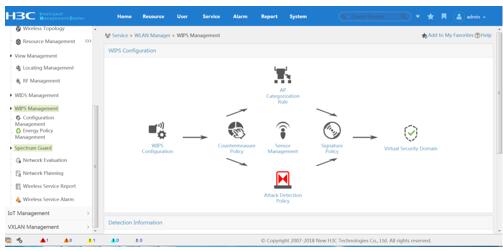 WIPS configuration
Fault location and troubleshooting
WSM provides a troubleshooting function, which allows you to perform RF ping or NQA operations to troubleshoot client access failures or unstable link status. In addition, you can view the spectrum analysis data in the troubleshooting page and export WLAN troubleshooting reports to locate problems in the WLAN.
Support of third-party devices
WSM allows you to manage 3rd network devices, including viewing basic device and client information, configuring global AC settings, managing groups and WLANs, and configuring radio parameters.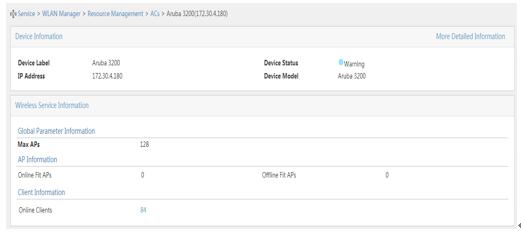 3rd device management
Hierarchical management of wireless services
IMC provides a management component named WSM Supervisor (WSMS) to manage WSM components. Each WSMS supports up to 10 WSM components and a maximum of 30000 APs. A WSMS administrator can manage resources of all subordinate WSM components globally or log in to a subordinate WSM component from WSMS for management.
WSMS enables you to manage a large-scale WLAN remotely, orchestrate wireless resources comprehensively, collect critical service statistics, and get a quick overview of the entire network.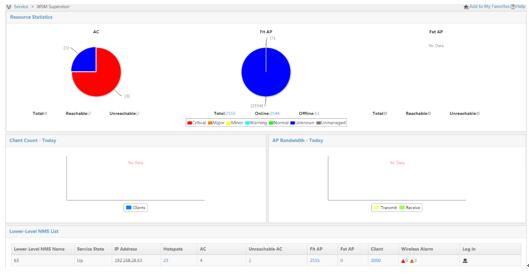 WSM Supervisor
Network evaluation
Network evaluation helps you determine AP operating status and user experience in an area and optimize the network based on the evaluation result and records.
After an evaluation task is created, WSM periodically collects data for APs and clients in the specified location view. When data collection completes, WSM evaluates APs and clients based on the predefined thresholds. You can view the evaluation report to obtain AP information in each location view, AP and client history records, and the evaluation summary.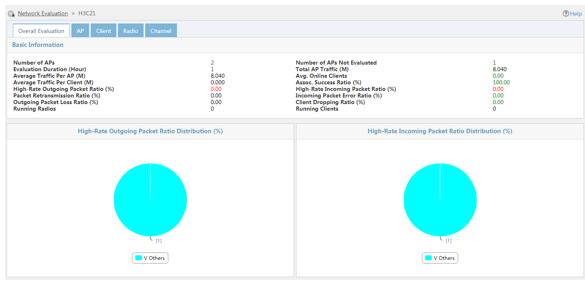 Network evaluation report
Wireless service report
WSM provides redundant wireless service reports to help you manage networks comprehensively. Through the hierarchical report system, you are able to manage reports of a large-scale WLAN, a service provider network for example.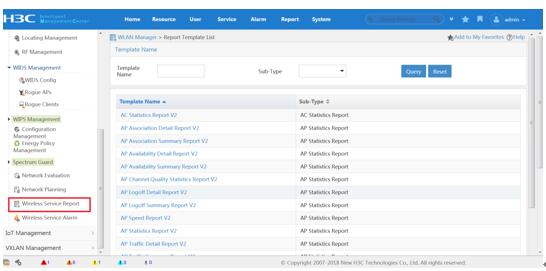 Report template list
System requirements
Item

Specifications

Operating system

Server

Windows Server 2012(KB2836988)/2012 R2/2016 or Red Hat Enterprise Linux Server 7.3/7.4 (64 bit)

Client

Windows, MAC OS, or Red Hat Linux

Browser

Recommended: IE10/11, Firefox 50 or later, Chrome 44 or later

Database

Oracle 11g Release 1/Release 2 or Oracle 12c Release 1 (Linux only)

SQL Server 2012 Enterprise SP2 (64 bit) or SQL Server 2014 Enterprise (64 bit) or SQL Server 2016 Enterprise (64 bit)
Hardware requirements (Minimum)
Specifications

Managed AP

Max. online operators

CPU ( ≥ 2.0 GHz)

Memory

Java heap size

Disk space for installation (imcInstallDir)

Disk space for data storage (imcDataDir)

Max. disk IOPS

Fit AP: 0 to 500

Or Fat AP: 0 to 300

10

2-core CPU

4 GB

2 GB

3 GB

60 GB

Windows: 120

Linux: 990

Fit AP: 500 to 1000

Or Fat AP: 300 to 700

10

4-core CPU

8 GB

4 GB

3 GB

100 GB

Windows: 160

Linux: 1210

Fit AP: 1000 to 3000

Or Fat AP: 700 to 2000

10

6-core CPU

16 GB

6 GB

4 GB

200 GB

Windows: 300

Linux: 2530

Fit AP: 3000 to 5000

Or Fat AP: 2000 to 3000

10

8-core CPU

24 GB

8 GB

5 GB

250 GB

Windows: 330

Linux: 3910
Service provider applications
A service provider network can adopt the AC+Fit AP or Fat AP architecture. As shown in the following figure, in an AC+Fit AP network, the AC uses a fixed IP address and connects to the IMC platform. The administrator can manage Fit APs through the AC from the IMC platform.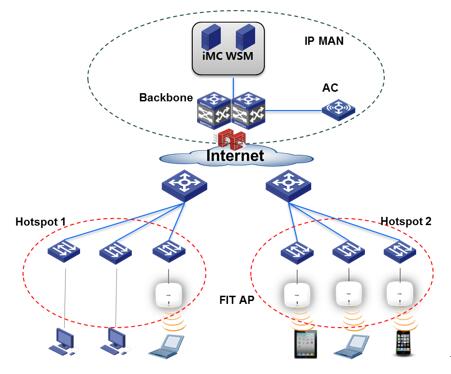 Service provider AC+Fit AP network
Enterprise network application
Enterprise WLANs mainly adopt the AC+Fit AP architecture, where the AC uses a fixed IP address and connects to the IMC platform for Fit AP management.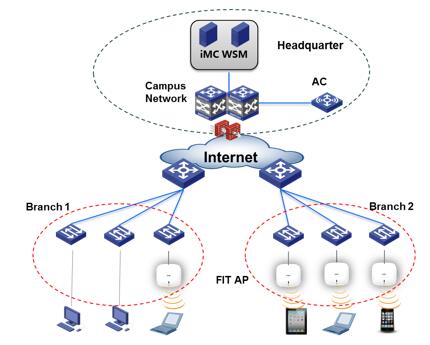 Enterprise AC+Fit AP network
SMB network application
SMBs mainly adopt the AC+Fit AP architecture, where the AC uses a fixed IP address and connects to the IMC platform for Fit AP management.
| | |
| --- | --- |
| Product ID | Description |
| SWP-IMC7-WSM | H3C iMC, Wireless Service Manager Component |
| LIS-IMC7-WSMA-50 | H3C iMC, Wireless Service Manager Component, 50 Licenses |
| LIS-IMC7-WSMB-100 | H3C iMC, Wireless Service Manager Component, 100 Licenses |
| LIS-IMC7-WSMB-200 | H3C iMC, Wireless Service Manager Component, 200 Licenses |
| LIS-IMC7-WSMB-500 | H3C iMC, Wireless Service Manager Component, 500 Licenses |
| LIS-IMC7-WSMB-1000 | H3C iMC, Wireless Service Manager Component, 1000 Licenses |
| LIS-IMC7-WSMB-2000 | H3C iMC, Wireless Service Manager Component, 2000 Licenses |
| LIS-IMC7-WSMB-5000 | H3C iMC, Wireless Service Manager Component, 5000 Licenses |
| LIS-IMC7-WSMA-50-W | H3C iMC, Wireless Service Manager Component, Intrusion Prevention System, 50 Licenses |
| LIS-IMC7-WSMA-100-W | H3C iMC, Wireless Service Manager Component, Intrusion Prevention System, 100 Licenses |
| LIS-IMC7-WSMA-500-W | H3C iMC, Wireless Service Manager Component, Intrusion Prevention System, 500 Licenses |
| LIS-IMC7-WSM-H | H3C iMC, Wireless Service Manager Component, WLAN Health Assessment License |
| SWP-IMC7-WSM-S | H3C iMC, Wireless Service Manager Supervisor Component |
| LIS-IMC7-WSMA-50AP-L | H3C iMC, Wireless Service Manager Component, Location Service, 50 Licenses (AP) |
| LIS-IMC7-WSMA-100AP-L | H3C iMC, Wireless Service Manager Component, Location Service, 100 Licenses (AP) |
| LIS-IMC7-WSMA-200AP-L | H3C iMC, Wireless Service Manager Component, Location Service, 200 Licenses (AP) |
| LIS-IMC7-WSMA-500AP-L | H3C iMC, Wireless Service Manager Component, Location Service, 500 Licenses (AP) |