H3C Intelligent Management Center
Home

Products & Technology

Enterprise Products

Network Management

H3C Intelligent Management Center
H3C iMC (intelligent Management Center) is a comprehensive, modular platform with the flexibility and scalability to meet the network needs of small-to-medium-sized businesses as well as global enterprises. It consolidates a host of traditionally separate management tools, including those for managing the network infrastructure, its services and its users.
Based on years of accumulation and in-depth understanding of the network, iMC platform provides customer with practical and easy to use network management functions. On the basis of centralized management of network resources, the topology, fault, performance, configuration, and security of H3C are realized. For the network with large number of equipment, wide distribution and relatively centralized, the iMC platform provides hierarchical management, which is conducive to the clear division of power management and load balance for the whole network.
The management platform's integrated toolset covers the entire network, from the data center to the edge, even if it is geographically dispersed. And it supports the management of all H3C network equipment as well as over 8,000 third-party devices from multi vendors.
iMC provides visibility across entire networks, enabling complete management of resources, services, and users. The management platform unifies management of wired, wireless, physical, and virtual resources—and their users—leading to increased performance, enhanced security, and reduced infrastructure complexity and costs.
Single platform management
The single platform management feature of iMC enables you to get the information you need at a glance, including a display of both physical and virtual assets as well as wired and wireless elements. Convenient color-coded displays, topology overlays, and focused zooming make it easy for you to view the entire network or to concentrate on an area of interest.
Unified resource management of network and servers
More management equipment types: besides the traditional routers and switches, iMC can manage the wireless, security, voice, storage, monitoring, server, printer, UPS and other equipment in the network to realize the centralized management of the network resources.
Supporting the batch configuration and verification of equipment access parameters, providing the function of searching, modifying, deleting and importing / exporting of network equipment resources, and also providing user batch management functions, including batch modification of user additional information, batch cancellation of users, and batch user import functions to save operator's time.
Flexible and fast automatic discovery algorithm: Based on H3C patent algorithm, iMC platform not only provides rapid automatic discovery, but also provides five advanced automatic discovery methods, including routing, ARP, IPsec VPN, network segment, PPP, and so on, which can quickly and accurately find network resources. Support panel management, which displays the composition and running state of the device via WYSIWYG.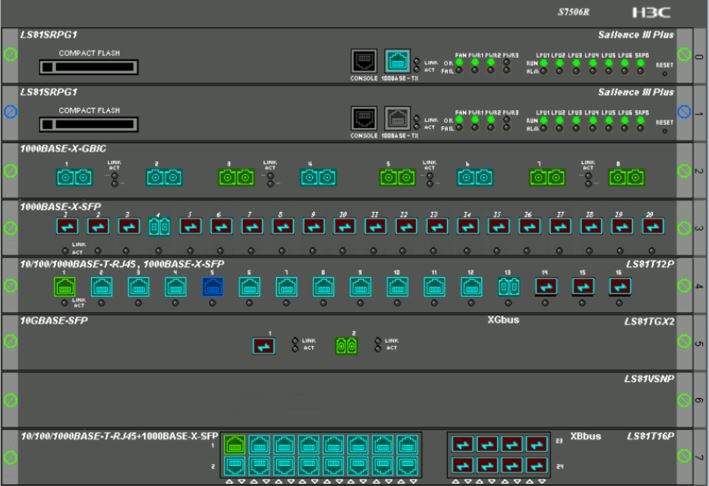 Unified control of virtual and physical worlds
iMC unifies physical and virtual network management and helps IT overcome the challenges of administering the new virtual server edge. It maps the topology of the entire network, making it clear which devices are virtual and which are physical. Management focus and policies remain linked to virtual assets, even if those assets are on moving.
Unified management of wired and wireless networks
iMC provides a unified view of wired, wireless networks and stations with enhanced network performance monitoring and management. From access points (AP) to edge routers, administrators can manage these devices in a consistent manner using policies. iMC delivers role-based access and centralized policy enforcement for users and their devices. Identity-based access helps ensure that the appropriate security measures and policies are applied consistently to users, whether each user connects through a wired or wireless LAN.
Flexible centralized reporting
iMC receives and logs SNMP traps and syslog reports, and it can generate online and historical network performance information in highly adaptable report formats. The reports enable powerful fault finding and event generation. In addition, flexible historical reports provide the information you need for network trend analysis and capacity planning. You can also easily create inventory reports that show network device details, such as model, firmware, available memory, IP address, and serial number. The reports can be run with a mouse click or can be scheduled to run at regular intervals. And you can view reports in a number of formats, including pdf,.csv,.rtf and .xls, and send them automatically via email.
Hierarchical management
The standard version of iMC offers distributed management capabilities that allow multiple servers with different installed modules to retain the appearance of a single UI. The professional version provides the greatest span of control, with a hierarchical deployment mode that can extend visibility across multiple networks, multiple countries, and even multiple continents. For greater flexibility and convenience, you can combine the distributed and hierarchical modes of deployment. iMC provides hierarchical rights management which enables the hierarchical authorization on device or user or operation.
Management

Overall management of H3C and thousands of third-party vendor network resources such as routers and switches

Network element-level management for data communication devices

Management of network assets

Management of VLAN resources

Management of virtual network elements

Management of guest accounts

Configuration

Extraction, transformation, and loading of databases

Configuration of access control lists for devices to implement traffic flow control

Intelligent software upgrade management for network devices and device configurations

Monitoring and analysis

Monitoring and analysis of network performance

Monitoring of network events

Monitoring and troubleshooting of network faults in real time

Sampling and analysis of network performance data

Analysis of data collected from managed devices to measure network service performance

Collection, filtering, and analysis of device syslog messages

Reporting and scheduling

Issuance and display of service reports

Task scheduling

Alarm generation
End-user Intelligent Access (EIA)
The EIA component includes User Access Manager (UAM) and TACACS+ Authentication Manager (TAM). UAM provides policy-based Authentication, Authorization and Accounting (AAA) services. UAM software extends management to wired, wireless and remote network users and enables the integration of network device, user, guest and terminal management on a single unified platform. TAM provides basic AAA functions for network devices or IT users for network device management security. TAM can assign users with 2 different privileges, monitor login and command execution operations, and simplify user management.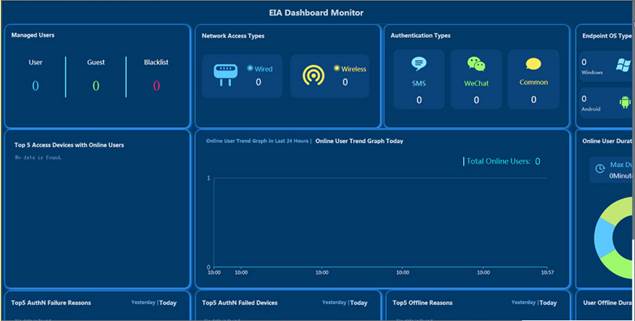 Wireless Service Manager (WSM)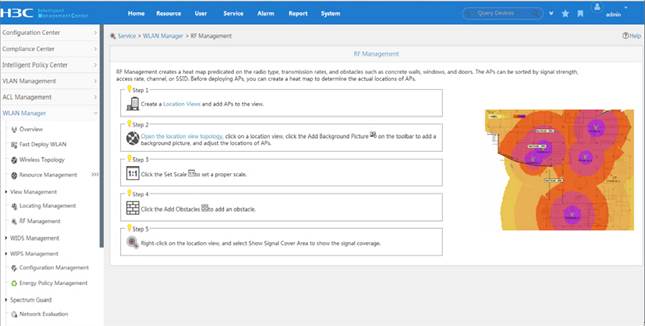 The WSM module provides unified management of wired and wireless networks. With this module, you can add wireless network management functions to your existing wired network management system, instead of establishing a new IT management platform, safeguarding your legacy network investment from obsolescence and reducing maintenance costs. WSM software offers wireless LAN (WLAN) device configuration, topology, performance monitoring, RF heat mapping, and WLAN service reports.
Network Traffic Analyzer (NTA)
The NTA module provides easy-to-understand network traffic monitoring reports to enable a better understanding of your network bandwidth utilization. This graphical network monitoring tool uses industry-supported traffic-flow standards to provide real-time information about the key users and applications consuming network bandwidth.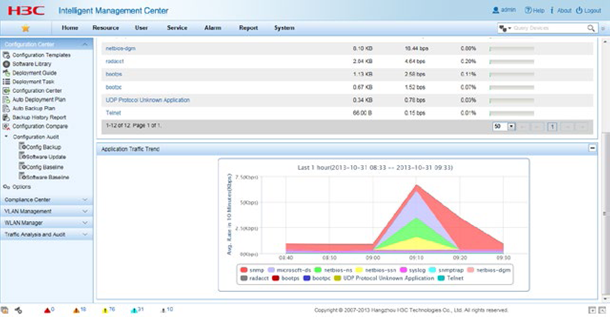 Intelligent Analysis Report (iAR)
iAR is composed of the iMC report platform and the report designer. The iMC iAR system helps an IT manager clearly understand the condition of services, resources, and users in the current IT environment in detail and provides sufficient basis safeguard and decision support for the IT manager through intelligent analysis, report data mining, and personalized presentation.
Application Performance Manager (APM)
The APM module provides key performance indicators that are based on the performance of various applications. When used with SHM, this module provides you with a holistic view of the performance of your servers and applications. Applications such as Microsoft Exchange and Oracle databases are supported.
Branch Intelligent Management System (BIMS)
The BIMS module provides zero-touch deployment for remote branch devices. It also offers resource, configuration, service, alarm, group, and privilege management. And it allows the remote management of customer premise equipment in the WAN.
Service Health Manager (SHM)
The SHM module enables you to graphically monitor the health of services based on quality indicators. Key performance indicators can be applied to various aspects of service delivery controlled by the infrastructure—including bandwidth, configuration, link performance, and traffic patterns. Indicators are aggregated to key quality indicators to provide information on the overall service health and compliance to SLAs. This information allows network administrators to adjust network parameters to meet service delivery requirements.
User Behavior Auditor (UBA)
The addition of the UBA module helps you deal with potential security threats from internal users. Leveraging and mining data from other iMC service modules, the UBA module provides an essential view for observing user activity, allowing you to discover and preempt potential network security risks.
Quality of Service Manager (QoSM)
The QoSM module provides real-time network detection of QoS configurations, enabling unified management of QoS policies. The module allows administrators to organize traffic into different classes, based on configurable criteria, to provide differentiated services as well as insight into committed access rates, generic traffic shaping, priority marking, and queue scheduling.
Operating system requirements (x86-64-bit preferred)
Windows
Windows Server 2012 with KB2836988 (64bit)
Windows Server 2012 R2 (64bit)
Windows Server 2016 (64bit)
Windows Server 2019 (64 bit)
Linux
Red Hat Enterprise Linux Server 7.3 (64bit)
Red Hat Enterprise Linux Server 7.4 (64bit)
Red Hat Enterprise Linux Server 7.5 (64bit)
Red Hat Enterprise Linux Server 7.6 (64bit)
Red Hat Enterprise Linux Server 7.9 (64bit)
Red Hat Enterprise Linux Server 8.1 (64bit)
Red Hat Enterprise Linux Server 8.2 (64bit)
Red Hat Enterprise Linux Server 8.3 (64bit)
CentOS 7.3 (64bit)
CentOS 7.4 (64bit)
CentOS 7.5 (64bit)
CentOS 7.6 (64bit)
CentOS 7.8 (64bit)
CentOS 7.9 (64bit)
Database requirements
IMC embedded database
IMC provides an embedded SQL Server 2016 Express database with a size limit of 10 GB. You can use this embedded database only if you use the following IMC settings:
Default data retention settings.
Fewer than 20K performance collecting units.
Fewer than 100K alarms.
Fewer than 1K managed device nodes.
Oracle (Only for Linux)
The following are supported Oracle databases, which can be used only on Linux:
Oracle 11g Release 1 (64 bit)
Oracle 11g Release 2 (64 bit)
Oracle 12c Release 1 (64 bit)
Oracle 12c Release 2 (64 bit).
Oracle 18c(64 bit).
Oracle 19c(64 bit).
SQL Server
The following are supported SQL Servers:
SQL Server 2012 Enterprise SP4 (64 bit)
SQL Server 2014 Enterprise SP3(64 bit).
SQL Server 2016 Enterprise SP2(64 bit).
SQL Server 2017 Enterprise (64 bit).
SQL Server 2019 Enterprise (64 bit).
Typically, you must use SQL Server Enterprise Edition. However, you may choose to use SQL Server Workgroup Edition if you are using the following IMC settings:
Default data retention settings.
Fewer than 100K performance collecting units.
Fewer than 500K alarms.
Fewer than 2K managed device nodes.
MySQL
The following are supported MySQL databases:
MySQL Enterprise Server 5.5.
MySQL Community Server 5.5.
MySQL Enterprise Server 5.6.
MySQL Community Server 5.6.
MySQL Enterprise Server 5.7.
MySQL Community Server 5.7.
MySQL Enterprise Server 8.0.
MySQL Community Server 8.0.
Mariadb
Mariadb 5.5.x.
Mariadb10.3.x.
Mariadb10.5.x.
Dameng
The following are supported Dameng databases, which can be used only on Linux:
Dameng V7.6.0.60.
Dameng V8.1.1.126.
VM requirements
VMware
VMware ESXi 5.5
VMware ESXi 6.0
VMware ESXi 6.5
VMware ESXi 6.7
CAS
CAS 2.0
CAS 3.0
CAS 5.0
Hyper-V
Hyper-V 2008R2
Hyper-V 2012
Hyper-V 2012R2
Nutanix
AHV 2019
AHV 2020
| | |
| --- | --- |
| Product ID | Product Description |
| SWP-IMC7-IMP | H3C iMC, Intelligent Management Platform Standard Edition |
| LIS-IMC7-IMPA-25 | H3C iMC, Intelligent Management Platform Standard Edition, 25 Licenses |
| LIS-IMC7-IMPB-50 | H3C iMC, Intelligent Management Platform Standard Edition, 50 Licenses |
| LIS-IMC7-IMPC-100 | H3C iMC, Intelligent Management Platform Standard Edition, 100 Licenses |
| LIS-IMC7-IMPD-200 | H3C iMC, Intelligent Management Platform Standard Edition, 200 Licenses |
| LIS-IMC7-IMPE-500 | H3C iMC, Intelligent Management Platform Standard Edition, 500 Licenses |
| LIS-IMC7-IMPE-1K | H3C iMC, Intelligent Management Platform Standard Edition, 1000 Licenses |
|   |   |
| SWP-IMC7-IMP-PFS | H3C iMC, Intelligent Management Platform Professional Edition |
| LIS-IMC7-IMPB-PFS-50 | H3C iMC, Intelligent Management Platform Professional Edition, 50 Licenses |
| LIS-IMC7-IMPC-PFS-100 | H3C iMC, Intelligent Management Platform Professional Edition, 100 Licenses |
| LIS-IMC7-IMPD-PFS-200 | H3C iMC, Intelligent Management Platform Professional Edition, 200 Licenses |
| LIS-IMC7-IMPE-PFS-500 | H3C iMC, Intelligent Management Platform Professional Edition, 500 Licenses |
| LIS-IMC7-IMPF-PFS-1K | H3C iMC, Intelligent Management Platform Professional Edition, 1000 Licenses |
|   |   |
| SWP-IMC7-IMP-PFS-T | H3C iMC, Intelligent Management Platform Professional Edition (Replacement for Intelligent Management Platform Standard Edition) |
| LIS-IMC7-IMPA-PFS-T-25 | H3C iMC, Intelligent Management Platform Professional Edition (Replacement for Intelligent Management Platform Standard Edition), 25 Licenses |
| LIS-IMC7-IMPB-PFS-T-50 | H3C iMC, Intelligent Management Platform Professional Edition (Replacement for Intelligent Management Platform Standard Edition), 50 Licenses |
| LIS-IMC7-IMPC-PFS-T-100 | H3C iMC, Intelligent Management Platform Professional Edition (Replacement for Intelligent Management Platform Standard Edition), 100 Licenses |
| LIS-IMC7-IMPD-PFS-T-200 | H3C iMC, Intelligent Management Platform Professional Edition (Replacement for Intelligent Management Platform Standard Edition), 200 Licenses |
| LIS-IMC7-IMPE-PFS-T-500 | H3C iMC, Intelligent Management Platform Professional Edition (Replacement for Intelligent Management Platform Standard Edition), 500 Licenses |
| LIS-IMC7-IMPF-PFS-T-1K | H3C iMC, Intelligent Management Platform Professional Edition (Replacement for Intelligent Management Platform Standard Edition), 1000 Licenses |
|   |   |
| SWP-IMC7-IAR | H3C iMC, Intelligent Analysis Report Component |
|   |   |
| SWP-IMC7-QOSM | H3C iMC, QoS Manager Component |
|   |   |
| LIS-IMC7-ACL | H3C iMC, ACL Manager License |
|   |   |
| SWP-UCENTER-IOM-NTA | H3C UCenter, IOM, Network Traffic Analyzer Component |
| LIS-UCENTER-IOM-NTAA-1 | H3C UCenter, IOM, Network Traffic Analyzer, 1 License |
| LIS-UCENTER-IOM-NTAB-2 | H3C UCenter, IOM, Network Traffic Analyzer, 2 Licenses |
| LIS-UCENTER-IOM-NTAC-5 | H3C UCenter, IOM, Network Traffic Analyzer, 5 Licenses |
| LIS-UCENTER-IOM-NTA-DIG | H3C UCenter, IOM, DIG Log Probe License |
|   |   |
| SWP-IMC7-WSM | H3C iMC, Wireless Service Manager Component |
| LIS-IMC7-WSMA-50 | H3C iMC, Wireless Service Manager Component, 50 Licenses |
| LIS-IMC7-WSMB-100 | H3C iMC, Wireless Service Manager Component, 100 Licenses |
| LIS-IMC7-WSMC-200 | H3C iMC, Wireless Service Manager Component, 200 Licenses |
| LIS-IMC7-WSMD-500 | H3C iMC, Wireless Service Manager Component, 500 Licenses |
| LIS-IMC7-WSME-1K | H3C iMC, Wireless Service Manager Component, 1000 Licenses |
| LIS-IMC7-WSMF-2K | H3C iMC, Wireless Service Manager Component, 2000 Licenses |
| LIS-IMC7-WSMG-5K | H3C iMC, Wireless Service Manager Component, 5000 Licenses |
| LIS-IMC7-WSMA-50-W | H3C iMC, Wireless Service Manager Component, Intrusion Prevention System, 50 Licenses |
| LIS-IMC7-WSMB-100-W | H3C iMC, Wireless Service Manager Component, Intrusion Prevention System, 100 Licenses |
| LIS-IMC7-WSMC-500-W | H3C iMC, Wireless Service Manager Component, Intrusion Prevention System, 500 Licenses |
| LIS-IMC7-WSM-H | H3C iMC, Wireless Service Manager Component, WLAN Health Assessment License |
| SWP-IMC7-WSM-S | H3C iMC, Wireless Service Manager Supervisor Component |
| LIS-IMC7-WSMA-50AP-L | H3C iMC, Wireless Service Manager Component, Location Service, 50 Licenses (AP) |
| LIS-IMC7-WSMB-100AP-L | H3C iMC, Wireless Service Manager Component, Location Service, 100 Licenses (AP) |
| LIS-IMC7-WSMC-200AP-L | H3C iMC, Wireless Service Manager Component, Location Service, 200 Licenses (AP) |
| LIS-IMC7-WSMD-500AP-L | H3C iMC, Wireless Service Manager Component, Location Service, 500 Licenses (AP) |
| | |
| SWP-IMC7-EIA | H3C iMC, End-user Intelligent Access Component |
| LIS-IMC7-EIAA-50 | H3C iMC, End-user Intelligent Access Component, 50 Licenses |
| LIS-IMC7-EIAB-200 | H3C iMC, End-user Intelligent Access Component, 200 Licenses |
| LIS-IMC7-EIAC-500 | H3C iMC, End user Intelligent Access Component, 500 Licenses |
| LIS-IMC7-EIAD-2K | H3C iMC, End-user Intelligent Access Component, 2000 Licenses |
| LIS-IMC7-EIAE-5K | H3C iMC, End user Intelligent Access Component, 5000 Licenses |
| LIS-IMC7-EIAA-50-EIP | H3C iMC, End-user Intelligent Access Component, End-user Intelligent Profiling, 50 Licenses |
| LIS-IMC7-EIAB-200-EIP | H3C iMC, End-user Intelligent Access Component, End-user Intelligent Profiling, 200 Licenses |
| LIS-IMC7-EIAC-500-EIP | H3C iMC, End-user Intelligent Access Component, End-user Intelligent Profiling, 500 Licenses |
| LIS-IMC7-EIAD-2K-EIP | H3C iMC, End-user Intelligent Access Component, End-user Intelligent Profiling, 2000 Licenses |
| LIS-IMC7-EIAE-5K-EIP | H3C iMC, End-user Intelligent Access Component, End-user Intelligent Profiling, 5000 Licenses |
|   |   |
| SWP-IMC7-UBA | H3C iMC, User Behavior Auditor Component (1000 Licenses) |
| LIS-IMC7-UBAA-1K | H3C iMC, User Behavior Auditor Component, 1000 Licenses |
| LIS-IMC7-UBAC-5K | H3C iMC, User Behavior Auditor Component, 5000 Licenses |
|   |   |
| SWP-IMC7-BIMS | H3C iMC, Branch Intelligent Manager Component (50 Licenses) |
| LIS-IMC7-BIMSA-100 | H3C iMC, Branch Intelligent Manager Component, 100 Licenses |
| LIS-IMC7-BIMSB-200 | H3C iMC, Branch Intelligent Manager Component, 200 Licenses |
| LIS-IMC7-BIMSC-500 | H3C iMC, Branch Intelligent Manager Component, 500 Licenses |
| LIS-IMC7-BIMSD-1K | H3C iMC, Branch Intelligent Manager Component, 1000 Licenses |
| LIS-IMC7-BIMS-M | H3C iMC, Branch Intelligent Manager Component, Mobile Branch Manager License |
|   |   |
| SWP-IMC7-SHM | H3C iMC, Service Health Manager Component |
|   |   |
| SWP-IMC7-VCM | H3C iMC, Virtual Connection Manager Component |
|   |   |
| SWP-IMC7-APM | H3C iMC, Applications Manager Component |
| LIS-IMC7-APMA-25 | H3C iMC, Applications Manager Component, 25 Licenses |
| LIS-IMC7-APMB-50 | H3C iMC, Applications Manager Component, 50 Licenses |
| LIS-IMC7-APMC-100 | H3C iMC, Applications Manager Component, 100 Licenses |
| LIS-IMC7-APMD-200 | H3C iMC, Applications Manager Component, 200 Licenses |
| LIS-IMC7-APME-500 | H3C iMC, Applications Manager Component, 500 Licenses |
| LIS-IMC7-APMF-1K | H3C iMC, Applications Manager Component, 1000 Licenses |
| | |
| SWP-IMC7-IPM | H3C iMC, Intelligent Portal Manager Component |
| LIS-IMC7-IPMA-50 | H3C iMC, Intelligent Portal Manager Component, 50 Licenses |
| LIS-IMC7-IPMB-200 | H3C iMC, Intelligent Portal Manager Component, 200 Licenses |
| LIS-IMC7-IPMC-500 | H3C iMC, Intelligent Portal Manager Component, 500 Licenses |
| LIS-IMC7-IPMD-2K | H3C iMC, Intelligent Portal Manager Component, 2000 Licenses |
| LIS-IMC7-IPME-5K | H3C iMC, Intelligent Portal Manager Component, 5000 Licenses |