H3C UIS 9000 Blade Hyper Converged Infrastructure
Home

Products & Technology

Enterprise Products

Cloud Computing

H3C UIS Hyper Converged Infrastructure

H3C UIS 9000 Blade Hyper Converged Infrastructure
UIS9000
The UIS 9000 Blade HCI (Hyper Converged Infrastructure) is H3C's next-generation HCI solution. It comes pre-installed with our industry-leading UIS Hyper Converged 6.5 software, enabling the easy integration of six key IT functionalities – computing, storage, networking, security, operational monitoring & maintenance, and cloud platforms. This solution instantly enables cloud services and allows users to build a cloud computing environment in 30 minutes, and create a super-simplified hardware infrastructure platform for servers and switches, as well as a resource pool for a unified, software-defined data center.
The UIS 9000 HCI supports unified monitoring and management of physical hardware, virtualized computing, storage, and network resources via a very simple interface. The result is an outstanding infrastructure platform that allows fast and flexible deployment and lower TCO.
With integrated virtualized computing software CAS, the enterprise-grade UIS 9000 HCI is built for data centers. It provides robust virtualized functionalities and resource pool management capabilities. Unique kernel data acceleration and storage block multi-queueing significantly increase the operational efficiency of virtualized machines within a businesses. These also contribute to the solution's leading performance in SPECvirt benchmark tests which evaluate the performance of virtualization servers. It also offers innovative technologies, such as Dynamic Resource eXtension (DRX), Cloud Point and Cloud Rainbow.
The UIS 9000 HCI support ONEStor storage software, which is an industry leading software-defined storage product, offering rich enterprise-grade features, such as snapshot, cloning, data simplification, erasure coding, data stratification, and read/write acceleration. At the same time, it allows strong consistency of user data and offers data protection.
In addition, the UIS 9000 HCI integrates seamlessly with H3C's NFV network virtualization technology, and converges vSW, vFW, vLB and vSR components, allowing for the protection and monitoring of traffic between virtual machines, automated deployment of network equipment in a cloud computing environment, and security isolation for multi-tenants.
The UIS Manager HCI Management Platform provides a unified portal for data center infrastructure resource, including servers, virtual machines, networks, storage and upper-layer
businesses.
It supports:
• Displays on ultra-large screens
• One-key health inspection
• Statistical reports on data center resources
•"What-you-draw is what-you-get" deployment
• Visualized operation with automation and intelligence
• Unified management of data center without the need to switch between management interfaces
The H3C UIS 9000 integrates blade servers, storage, switching modules, power modules, cooling modules and management modules. Available in a 12U form-factor, it can support 16 half-width blade servers, 8 full-width blade servers, or 8 full-width storage nodes. It can also be configured with up to 2 management modules, 6 switching modules, 12 fan modules and 6 power modules, depending on what the business needs. The blade servers, networking modules and cooling modules are all managed via OM management modules, and two built-in slots are provided for that purpose. The UIS 9000 units also support E1 slot for optional LCD modules.
Security & Compliance
The UIS 9000 satisfies confidentiality and compliance requirements by providing monitoring, security audits and protection at different layers of the system. They include:
Security at the data layer: One-key encryption for designated hard disks on specific virtual machines safeguard confidential information systems in trusted areas.
Security at the management layer: Supports access control based on a variety of approaches, including a timeslot strategy, an IP subnet, double-factor identification mechanism based on USB keys and passwords, self-defined passwords, a self-defined password change cycle, and the separation of management roles (system administrator, security administrator and audit administrator).
Security audits: Provides a unified and standardized audit functionality port for Syslog and Web Service to third-party security monitoring platforms to satisfy the need for centralized control and monitoring of confidential networks.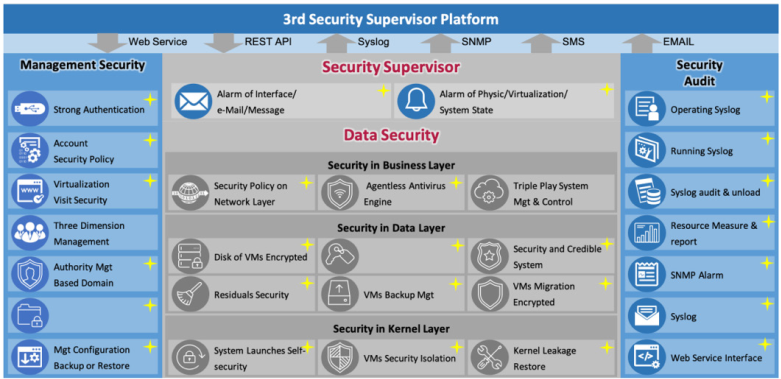 Agility
Agile delivery: Mature virtualization computing technology and internet-based software-defined storage technology, make it easy to build a flat, on-demand, flexible and scalable agile service delivery platform that can quickly deploy virtual machines and businesses, using simple drag-and-drop commands.
Agile operation and maintenance: Sharp, highly-detailed dashboards displayed on ultra-large screens allow straightforward status monitoring. One-key HCI health inspection enables customers to visualize the situation, while automated and intelligent operations and maintenance keep things under control.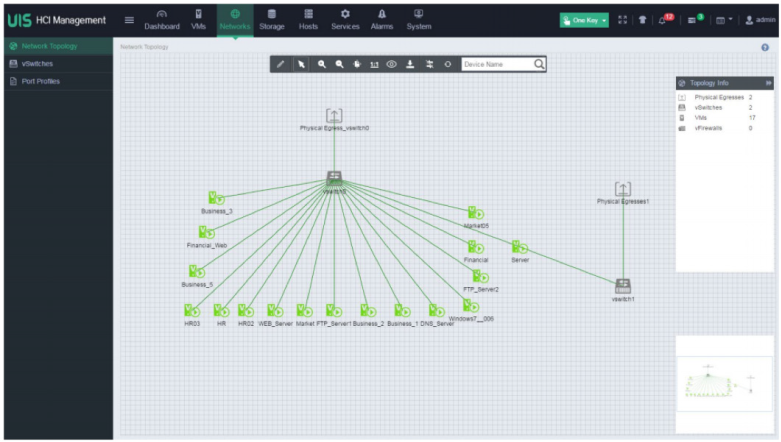 Convergence
Management convergence: Unified management platform for software capabilities, from computing to storage, network, security, operation & maintenance, and cloud business. Converged cloud delivery uses features already in-the-box.
Kernel convergence: Virtualized kernel and IPv6, high performance virtual network switching, SR-IOV hardware network card driver and seamless GPU display card driver integration, with kernel level control for efficiency, reliability and stability.
Cloud platform convergence: UIS 6.5 integrates with cloud platforms and provides rich cloud functionalities, such as resources self-service, hierarchical management of clusters, and management of heterogeneous virtualization.
Openness
Open ports: Open, standardized REST API ports, compatible with OpenStack (versions H/J/K/L/M/P) ports and plugins.
Open platform: Compatible with over 200 common guest operating systems (GuestOS), and more than 20 open source and commercial VNF network components.
Open collaboration: Open security, backups, industry applications and cloud management platforms enable collaboration among verticals, the cultivation of a business ecology, and cross-industry convergence.
Other Highlights
New platform & architecture: Based on the latest Intel Purely Skylake series processers, UIS 9000 single-frame model supports maximum 16 single-height blade servers, 8 full-width blade servers, and 8 full-width storage nodes to meet the needs of hyper-converged scenarios. Also, it can cover scenarios with different networking needs with 42T backplane bandwidth and maximum 8 network slots support.
Flexibility & scalability: Through various combinations of blade servers, storage components, management modules, switching modules, power modules, and cooling modules to meet different application needs.
Simplified management: UIS 9000 HCI OM modules supports centralized management of equipment and unified monitoring of all components in a multi-frame cascade. Compared with traditional rack servers, UIS 9000 significantly reduce cost and complexity of networking. All-round business management can be realized through independent UISM management module, LCD module and pre-installed UIS management software.
High efficiency: Lower power consumption, smaller footprint and fewer cabling compared to traditional rack servers.
Hot-swappable components: Blade servers, storage and other modular components can be added or removed without powering off UIS 9000 HCI.
Totally-redundant design: Powerless backplane, all core modules support N+1 or N+N backup; support link convergence and system-grade equipment stacking; provide various choices of reliable application modes
Integration of shared power supply and heat dissipation system: UIS 9000 HCI blade systems come with the best energy consumption ratio and cooling efficiency.
Investment protection: UIS 9000 HCI can install servers and network equipment with various specification. It can effectively lower the TCO through speedy deployment of business via a super simplified and unified interface for computing, storage and network resources management.
Features

H3C UIS 9000 HCI

Dimensions

(L*W*H)mm : 898*447*530(12U)

Maximum Slot Support

Half-width single-height: 16

Full-width single-height: 8

Single-width full-height: 8

Full-width full-height: 4

UIS Management Modules

Maximum support 2 UISM modules

LCD Modules

1

Management Modules

2

Interconnect Modules

6

Fan Modules

12

Power Modules

6

Input Voltage

110V/220AC/240HVDC

Operating Temperature

5-40˚C

Relative Humidity (noncon­densing)

Operating: 8~90%RH

Non-operating: 5~95%RH

Altitude

<=5000M