Table of Contents
Related Documents
The VPLS VPN Manager provides management solutions for enterprise VPLS VPNs of various sizes, and provides four major function modules, namely, VPN list, VPN resources, deployment management, and auto-discovery. It is capable of managing VPLS VPNs consisting of devices of various vendors, including H3C, Huawei, and Cisco, and provides functions such as service discovery and deployment management for VPLS VPNs.
This video takes a hierarchical VPLS (H-VPLS) VPN as an example to show you how to use the VPLS VPN Manager.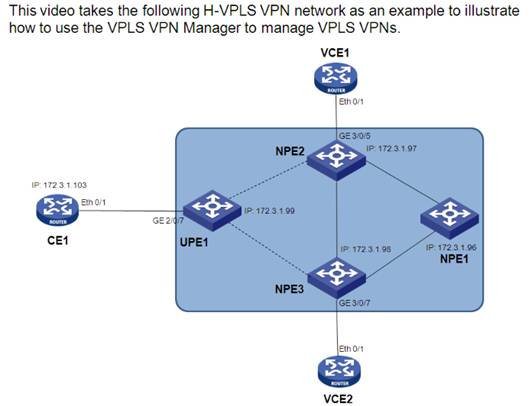 Note:
1) This video was recorded based on the versions of iMC PLAT 3.20-R2606L05 and iMC MVM 3.50-E530. Web interfaces of different versions may vary.
2) To view the video, click the download link.
Copyright © 2010 Hangzhou H3C Technologies Co., Ltd. All rights reserved.
No part of this manual may be reproduced or transmitted in any form or by any means without prior written consent of Hangzhou H3C Technologies Co., Ltd.
The information in this document is subject to change without notice.