Table of Contents
Related Documents
The MIB Manager displays loaded MIB files in a navigation tree, allows you to browse and configure information about MIB nodes by performing operations such as Get, Get Next, Walk, and Set, and supports MIB file compiling and loading.
This video helps you get familiar with the MIB Manager and shows you how to use it to manager MIB files.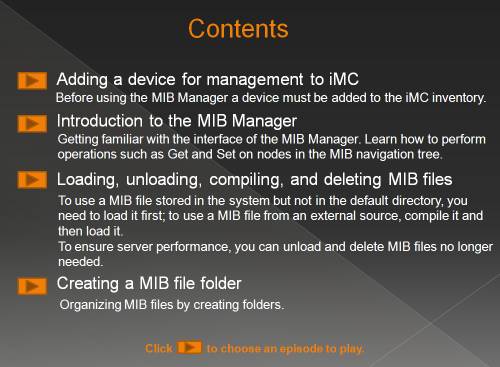 Note:
1) This video was recorded based on the version of iMC PLAT 3.20-R2606P07. Web interfaces of different versions may vary.
2) To view the video, click the download link.
Copyright © 2010 Hangzhou H3C Technologies Co., Ltd. All rights reserved.
No part of this manual may be reproduced or transmitted in any form or by any means without prior written consent of Hangzhou H3C Technologies Co., Ltd.
The information in this document is subject to change without notice.