Why H3C is confident in releasing over 30 products at a time and declaring to become one of the top 3 providers of servers and storage in China? 《hindata.com》
13-06-2018
Seasoned journalists like Tony Yu's straightforward manner as a spokesperson.
Yu is president and CEO of H3C. Since he became the leader of the Group, Yu seldom accepted public interviews. First is when the H3C was established last year, he delivered a speech on the reason and methods behind the Group's integration at the Diaoyutai State Guesthouse. And then in the 2017 Navigate held in April, he explained achievements H3C gained over the last year and its strengthens. His next talk was about how H3C would become one of the top 3 providers of servers and storage in China after its launch of more than 30 products in these fields (including 12 independently-developed ones) at the end of August.
"Chip and operating system are two shortcomings of China's hi-tech industry;"
"The one who disagrees with the culture of organization would be the damage to that organization;"
"Being a manufacturer of servers is valueless as upstream vendors took most of the profit. We are now competing in the Red Ocean;"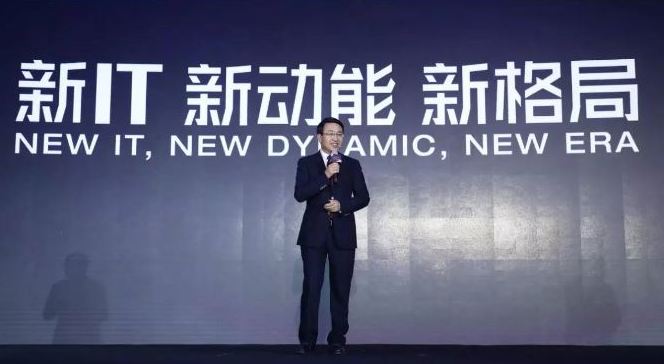 Tony Yu, President & CEO of H3C Group
He had a lot of valuable words like these, concerning his prediction on the future trends, integration and culture of H3C and expectations on its IT products' market performance. From these words, it's not hard to find out why H3C's IT product lines of servers and storage can rank top 3 in China.
Integration: H3C has gone through the stage of personnel change
The Group now gets prepared for a stage of fast development, with comprehensively sound integration as the solid foundation. However, H3C had a relatively slow pace of new product release. Or maybe it was waiting for an appropriate chance to release them at a time. It turned out that the Group indeed surprised the industry with its promotion of brand and strategy in spring and launch of products and technologies in autumn.
It's not new for the industry to pay great attention to H3C's integration. In fact, the Group has finished its internal integration and welcomed a fresh start. A detailed explanation would be provided as following as the integration has a long-lasting influence on H3C's culture and core competitiveness and Yu bore a great pressure in the first half of 2017 because of it,.
Yu said that there were fast and slow modes of integration within the industry, while H3C chose the former as "better a little loss than a long sorrow." The most difficult part was integration of cultures for HPE and H3C had different backgrounds. As for the standard of integration, the Group promoted "being reasonable and logical." "Generally, people are lack of logic and common sense."
Yu explained: "Most people are afraid of change, but we have to be confident. One of the reasons is that H3C is competitive in products and wages. It's worth noting that we have recruited more people and resources in the second quarter and greatly improved the market performance of our IT product lines. We have survived the rough ride."
The ups and downs can also be read in market reports. According to the statistics of the first quarter, H3C fell to the sixth in China's server market. It then sparked buzz. However, the Group probably could rank top 4 in this market based on the latest prediction on second quarter's performance.
It's an explanation from the perspective of integration on why H3C is able to get into the top 3 providers in the next year. Therefore, Inspur, Huawei and Dell should make great efforts to hold their current places.
Provided that the Group is striving for a sustainable development, the pain brought by integration is not a big deal. As long as effective measures can be carried out firmly, success is around the corner. Actually, the number of H3C's staff rises from 8,000 to 13,000 after integration and the Group witnesses a stable improvement on performance and profit. In addition to that, it has built a wider sales network and service channel while achieving the integration of products and R&D systems as well as the settlement of its architecture and development direction, which remain sound running.
Product line: the most complete one in the industry with a launch of more than 30 new products at a time
H3C must have been through a great deal of difficulties over the past year's integration, which was also a stressful period for Yu. In response to that, team and performance stability came to his first priority. And this can also explain why Yu accepted few interviews in the first half of the year.
It turns out that after integration, H3C gets rid of confusion and rises up as a new force to actively answer to the industrial revolution.
One of its responds is the launch of over 30 new products, including 12 independently-developed ones. Of course, the success can't be achieved without upstream cooperators' supports and clients' opinions. Everyone has a great expectation on H3C's products in that the Group has a strong enterprising spirit, incorporates high-end products of HPE and wins capital support from Tsinghua Unigroup. However, the key of its success lies on how to balance the three strengths and exert the joint force.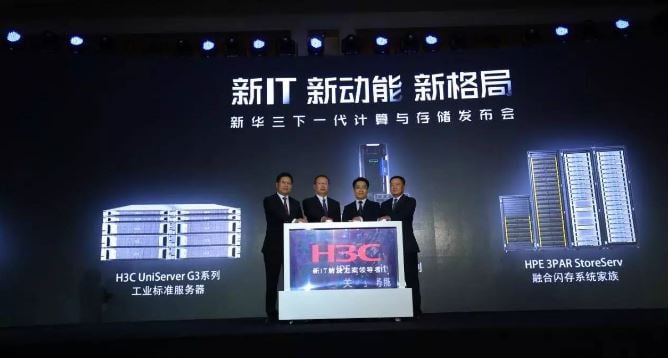 Yu was confident: "The reason why we can set high prices on some of our internet products is that we have technology superiority." And the most favorable feature of H3C that distinguishes it from competitors is its HPE-originated industrially-leading minicomputers and high-end storage products.
You Xuejun, senior vice president and chief technology officer of H3C, added that R&D system in the Group was flat with 11 product lines. The R&D investment accounts for 15% of current year's sales volume, which realizes more than 40% of year-on-year growth in the past two years. At present, R&D goals of H3C are comprehensive cloud and cloud computing with a focus on technological controllability; technological preparation for the 5G, IoT and AI.
Objectively, H3C has the most complete range of servers, storage and network in terms of IT products with Huawei as its only competitor. However, the revenue and size of the former are far smaller than the latter. And they have gained successes and failures in their battle of IT products. In other words, H3C needs time to become the leader of the industry.
It is valueless to be a pure server manufacturer at the turn of industrial realignment
The audience got excited when Yu said that H3C would become the top 3 provider of servers and storage in China in the next year. It has been a long time before such a confident and challenging statement comes out.
Yu said: "Some server manufacturers will sacrifice their profit to get orders, which brings unhealthy competition. An industry cannot realize sustainable development if it has no release of new products. Currently, almost all of the R&D of hi-tech products are carried out by manufacturers in European and American countries. Then how far can we develop relying on low price and negative profit only?"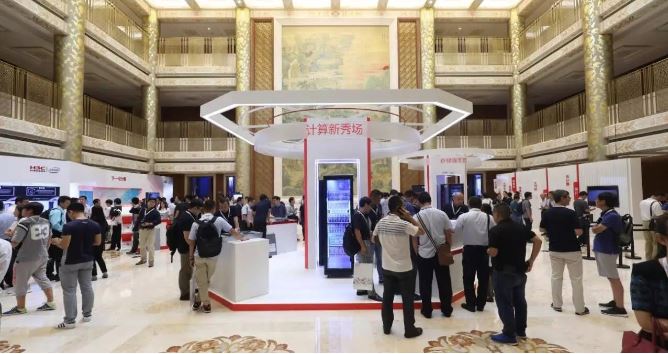 Yu stressed this kind of view in various occasions. It's obvious that he disagrees with these behaviors, stating pure server manufacturers have no future in the industry other than destroying the industrial chain; H3C would survive the industrial realignment, while most of others might not.
Yu required all IT products of the Group to rank top 3, of which some have realized the first or second place in the industry, to compete with others.
It's an explanation from the perspective of products on why H3C is able to get into the top 3 providers in the next year. However, the Group will attach greater importance to the upgrade of its overall strength and sustainable ability rather than waiting for competitors' failures. It will make active movements for it has some unique trump cards.
For example, it keeps the two brands of H3C and HPE and strengthens the promotion of independently-developed products to enter all business industries and industries with high requirement on independence and controllability; it relies on China's "the Belt and Road" initiative and takes advantage of its products and technologies to enter IT markets in foreign countries.
Generally speaking, H3C tries to use products and technology solutions to find a unique growth path in the environment of cloud computing. It focuses on fields like cloud computing, big data, software definition and security, which are actually infrastructure of current ICT (information, communications and technology). Decisive factors for a manufacturer becoming platform of ICT include more complete product line, stronger service ability, more expansive sales network and more easily-implemented technologies and products. As a result of that, the new product release in this autumn indeed lies a solid foundation for the further development of H3C.
H3C is expected to surprise us with its technological prowess.
Tips
H3C released a series of the next generation's computing and storage products in fields like industry standard servers, critical business computing platform and storage systems. More than 30 new products include H3C UniServer G3, HPE Gen10, HPE Integrity i6, H3C UniStor X10000 and HPE 3PAR. These products feature high efficiency, agility, security, continuous evolution, flash memory and massive storage.